As per the peace treaty with the wasps; I went to fire up the BBQ grill for the first time, and found a small nest in there. I wondered if I could move it. It was much for the fun of the challenge as anything, I wasn't going to spend a lot of time or effort on it. 'Fun' is an important word there; in my world, I'm constantly having to deal with physical details, and looking for better ways to do so. It could become a psychotic disorder if it got too bad. Since just about everything is high mileage, it has a special way to turn on the switch, move the handle, tilt the tool, warm the motor, on and on it goes. In my work, I've learned how big a difference a slight change of method can be when using a sharp hand tool, so it's all quite deliberate. So it's either a big game or a big stress. One part of the game is driving, being an inertia master specifically. If I see a red light down the road that I know I'll have to stop at, I'll see how far I can coast to it. What's really cool is when all the other cars zoom past me, stand on their brakes at said red light, then, without touching my brakes once, the light turns green, and I accelerate past them all. Bonus style points for growling the words "Arrrg, learn how to drive, ye scallywags!" as I go by.
Ah, the life of the maturity challenged...where was I? Oh yeah, playing with bugs. Well anyway, I had the fire stated teepee style in the opposite corner of the grill; I use hardwood pieces because they taste great, and I'm way too cheap to pay for briquets when living in a hardwood forest I knew that most bugs can't stand smoke, they just get out of Dodge. So I scooped and pushed puffs of white smoke toward them, and after a few minutes, even the most gallant ones left.. Then I pulled their nest down, then sprayed some 3M adhesive on a board. I didn't want to spray it right on the nest, the stuff has solvents in it. I figured having it on a board first would release some of the solvents. I used a small stick to apply some of the glue to the top of the nest, and some to a spot just under the edge of the porch. I waited a few minutes for the glue to tack up, then stuck it in the new place. I had already dropped it once from about waist high; so it was even worse when the glue let loose, and the nest dropped about 7 feet. This time, there was clear goo coming out from on of the chambers, and I figured this project wasn't looking so good. But I reattached it, and left it at that. The new place was about 10 feet 8 inches from the where they had built it in the grill. You can go on line and find where people have chilled large colonies, and moved everything at one time, but hey, no such sophistication here. If they find it, they find it. It appears they found it. Six days later, I took the picture, there were 3 adults on the nest. Maybe these are ones that hatched out and said "where's everybody at?" But I think the existing ones found it. One or more of them made the brown colored reinforcement straps you see between nest and wood.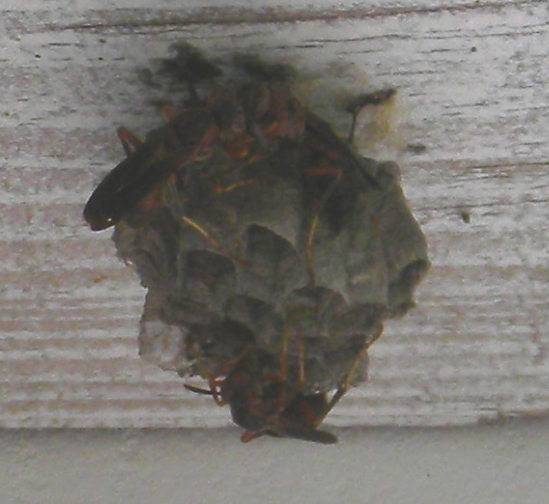 I'm not sure what you come here for, but always remember the blog title. Which reminds me; I was searching around for SEO information, to see if irrelevant links can hurt more than help. I came across a discussion where the tech guy was saying that there are blogs he and others go to just to see what the bozo is writing next. Can I combine a few words here? Bozo + blog = blozo? (Just checked, the word's already being used by some clown) I wonder if something can be worked up for "patsy". Speaking of government, can we combine debt and denial to get debtnial? They're trying to regain the standards of the past, with debt. You know how when a saucer is dropped a certain way, and it spins on the floor? Then, as it gets closer and closer to the floor, it spins faster, till it stops altogether? Borrow more and more... Or principal plus interest, plus lots of things like lost manufacturing sector; all combine into a medieval mace that spins around and slams one on the head.
Back to weird, I've been wondering about becoming the behavior you adapt. There is a book about a maximum security POW camp in Germany, in WW2. It was called Colditz Castle. The guys were ever trying to escape, but individual plans had to be approved by the allied CO; a British chap. One thing he wouldn't approve was the Kooky tactic; act like you're going loony so that you would be released. One guy disregarded the order, and did end up losing his mental faculties. So maybe there's something to it. That and the Pirate talk, I guess I need to be careful. This lead me to wonder about teenagers. There could be several reasons they would act responsible; one is because they actually want to become that, another reason would be that they have a superficial act, and the third would be that it's a deliberate acting out what they consider unnecessary burdens, just to conform to the standards of the household. But if they did it long enough, might it 'rub off' on them? (Shouldn't that be 'rub on'?)
Arrrgg, buckos, whatever, I'll try to better act the part of an intelligent writer next time.