The myth of continuity shows up in all
manner of places...As if my schedule hasn't been busy enough, I lost
some days to a mystery on my Toyota truck. It got to where I couldn't
drive it, it would backfire upon the slightest acceleration. Upon
adjusting the distributor all the way one direction, the backfiring
stopped, but it ran rough. So I concluded that it was no doubt an old
timing chain. My oldest son has replaced several in a row for
relatives and others, so he quickly volunteered to do this one; to
see how many he could do in a row. The old chain was very loose, but
this wasn't an instant fix. A number of knowledgeable people looked
at it, but it was a mystery as to why it wouldn't start. Sometimes it
would have spark, but not others. I already had about $100 in parts
cost for the chain, but ended up buying a new distributor pick up
coil, and a replacement ignition module. The original equipment
module costs $247, but several years ago I found out how to rig a $25
Chevrolet module in place. I think the site was Monster.com, a big
off road web site. When I started having this ignition trouble, the
plugs looked to be firing fine, there was no unusual deposits on
them. But after days of not knowing what the problem was, I spent
about $45 more on plugs, wires, cap and rotor.

At that point, the truck acted as
though it wanted to roar to life with the slightest turn of the key,
but it still ran very rough. If I turned the distributor all one way,
it ran a little better; so I thought it must be positioned one tooth
off on the camshaft. When I moved it over a tooth, it was too far the
other way. It was as though my distributor shaft had been neatly
twisted. Before, with the old loose chain, and well used plugs, wires
and cap; the two wires from the module to the pick up only worked one
way. That's the myth of continuity, I was assuming it was the same
now. I was quite baffled about the distributor position thing, when a
thought suddenly occurred to me. That good of a thought, that fast,
might be God talking. Anyway, I realized that if the pick up parts
were asymmetrical, or even symmetrical in relation to the shaft in
the center, there's two wires going in there, and therefore an order
in regards to the spinning shaft. So I reversed those two wires, and
the truck ran great. Of course, with original components, the wires
would have fit together only one way, so that part of the mystery
would have been eliminated.

Here's a diagram I made of how to
wire a 1976 Chevrolet Camaro 350 ignition module into a 1978 Toyota
pick up truck. The voltage reduction part is from the factory, it's
not something I added. The two screws in the module are to remind you
to ground it. The Module is shaped a little different than this, but
close enough. The wire colors in this diagram mean nothing, they're
just to make it easier to see.You might also have to rig up a toggle
switch to throw full voltage to the hot side of the coil during start
up.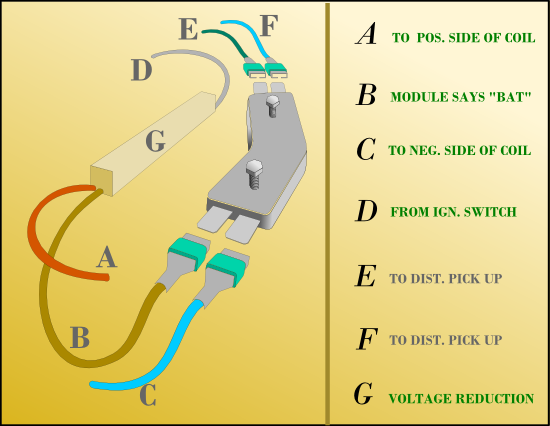 As usual, every month brings more of
the gay, gay, gay, takeover and tyranny. The court in New Mexico
ordered the photographers to render their services to the homo
couple, then the IRS announces that it will treat all homo couples
with the same tax policies that normal couples get, regardless of the
state they live in. I'm further compelled to leave the country, but
then I hear about the possibility of President Obama striking Syria,
and the reality of Russia sending warships to their ally. A tension
there could hinder travel between the two countries. Worse than that,
it could prove quite dangerous. Some might consider the warships
necessary posturing, a political move. But imagine what a ranking
U.S. Naval officer would think. This is just a guess on my part; but
something like: Never under estimate a potential foe, and never under
estimate the ability of a situation to quickly escalate.
President Obama has been crass in his
treatment of President Putin; I've tried to imagine a Russian reply
to this situation: President Obama is quite inexperienced in the ways
of the world, he is like teen-ager who is drunk on own power. He
should be careful he doesn't awaken with very bad hangover, da.
Now, I understand that he has approved of strikes against Syria, but
will let congress have final approval. Probably a face saving
gesture, including the NPR oft repeated announcements that the
President is working vigorously to get Congressional support. One of
the first he met with was John-I salivate over war-McCain.
Interestingly, there was a conversation about all this between a man
and woman on NPR, she accidentally referred to the leader of Syria as
Saddam Huessian.

I don't know what makes us the
world's policeman; so the following is not an endorsement of a quick
strike; but, my guess is that the approval delay not only gives the
Syrian government time to hide things, as a WND article suggested, it
also allows for preparation of air defenses by Syria's ally, Russia.
Does anyone remember the drone captured by Iran? Not that the
Iranians are stupid; but is there a chance that the technology behind
that incident came from somewhere outside of Iran? If the Obama-McCain war machine does
strike, maybe they should count their missiles and bombs as they're
launched. Then again, maybe not, less hangover that way.