Well, depending on how you define
bad. I recall an episode Old Man Harvey once told me, while I was
still living in California. It's about a place on Highway 50 in
Northern California, not far from South Lake Tahoe. That highway was
only 2 lane then, rather winding, and at one point, the view is
incredible. The cliff you're driving on drops far down into a valley,
with tiny little houses visible down there. I don't remember every
exact word; but this is pretty close:
"Hey, you know that place on Highway
50 where the road goes way out to a corner, up on those cliffs?"
"Yeah". "Well you remember that little dirt driveway that goes
up the hill there?" "Yeah." "I knew a guy that would drive an
old hay truck up that highway, fully loaded. It took a long time, and
he would get cars backed up behind him. What people don't know is
that the dirt driveway comes back out onto the highway, like a
shortcut. So this guy would get all these cars backed up behind him,
then he would shoot up that driveway; and everybody thought they were
rid of him. Then he would sit up there, and wait for the now fast
moving bunch of cars to get near the other end of the driveway. Then,
he would pull right back in the road, and have all the drivers
astonished that the slow hay truck was back!"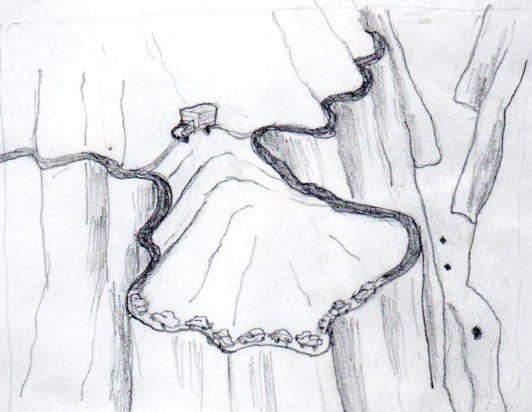 "Fast" forward 20 something years,
and I was in a situation that made me recall that conversation; and
even act on it. I was driving home late at night, just doing my usual
inertia driving bit, when a zippy little mini car is behind me. A lot
of people have difficulty driving behind me; not because I drive so
slow all the time. It's because I accelerate slowly, then coast to a
stop, depending on the situation. So this guy behind me is obviously
impatient. I guess you could call them binary drivers; they're either
standing on the accelerator, or standing on the brake. Not a way to
make a vehicle last 35 years, folks. He's right on my bumper, wanting
me to go faster. My thought is: "OK, I'm about to be up to speed,
and, you've had a couple of chances; if you've got such a hot rod,
why didn't you already pass?" Too much of a binary thought, I
guess. Anyway, follow the lower diagram, and I'll tell the rest.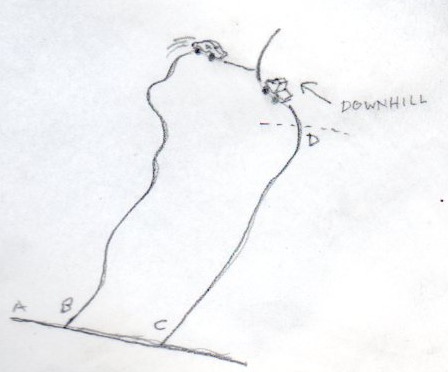 We're both heading from A to the
intersections B, and C. He makes a quick left turn onto B. At this
point, I guess what he's up to, so I make my usual turn onto C, but
don't drive slow, Not a big speed required here, as the road I'm on
is wider, smoother, and less winding than his road. So I zip down the
road, to the crest of the hill at D. I can see him heading downhill
to the intersection with the road I'm on, and he's moving fast. I let
off the gas at the ridge, so as to not appear to be putting any
effort forth. We meet at the little intersection, as I'm coasting by.
He's standing on his brakes, slides into the intersection, just
misses my truck by a few feet. It was quite close; there is a certain
prerequisite demeanor in these situations: Face forward, stoic look,
eyebrows raised, no snickering allowed, Not at least until the chap
is again behind you. Yes, I was a bad man.