How easy it is to take things for
granted. I had a client in the tourist area, their business has an
old time theme; and they regularly had me make hand painted signs for
them. The last call I had was to make a small sign that said "Please
use other doors". I thought a rectangle in the vertical format,
made to the "Golden Mean" dimensions would look nice. The stand
would be four legs, made from Eastern Red Cedar that I split to size
with wedges. Then I would use an adze to true up the places where the
cedar pieces joined. The gal in charge of purchasing the sign said
that she needed a sketch, for approval by her boss.
I've made enough signs for them, that
I regarded the sketch as a mere formality. I hastily threw a sketch
together in a sloppy way. You can see it here. The lettering is
rough, isn't centered, and there's no description of colors. There's
no mention of how I would construct the Cedar frame thing, so they
had little idea of how much work was involved.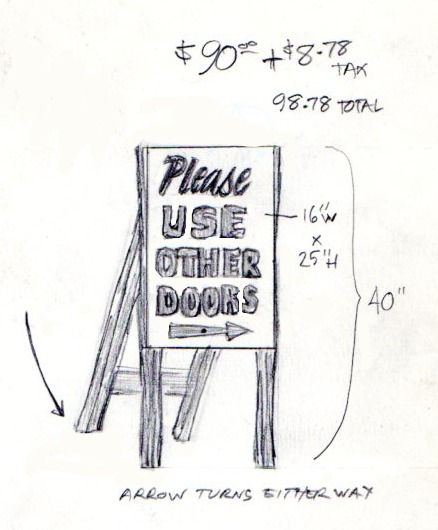 The sign never was approved, and I
haven't heard from them since. It's likely I lost the account. All
because I took it for granted.
Another job I lost was a logo to be
painted on an interior wall for the local branch of a nationwide
bank. I've had this persistent cough/cold thing, and was resting in
bed to recover. I was handed the phone, without regard for my usual
policy, said a ballpark price without learning more about it. They
emailed me the logo, and the color of the wall, a dark olive green.
This meant that I would have to make several trips downtown, which is
about 30 miles away. The logo is white, gold, and red; the best way
to make everything show up would be to paint a white rectangle, and
let it dry. Followed by the red and gold; then finally the letters.
This doubled the price of the job, and probably caused me to lose it.
Should have stuck with my own rules. This at a time when I really
couldn't afford to lose work. Things look potentially better now, I
still have to wait for some processes to go through, but it's better
than no prospects at all.
___________________________________________________________
Here's a picture of a wood chair we
have, we were given several of them. They look nice, but are always
the last ones used; after the others are occupied. The reason is how
straight the back is. Having a chair back tilt a few degrees back
makes a huge difference in how comfortable it is. So I was looking at
this chair, thinking about chairs, and remembered Mel Gibson's movie
about the passion of Christ. If I recall, there's a scene in the
movie where Jesus has invented a piece of furniture for sitting (a
chair). His mother jests about how people will sit in it. Then I
remembered the chair scenes from another Mel Gibson movie, The
Patriot. I think Mel has an interest in chair making.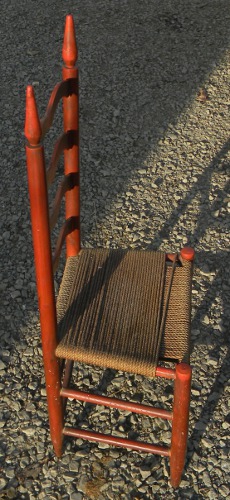 As I said before, I have a website
hosted in Russia. At this point, there's not much to it; it also has
a few technical glitches to work out. I'll post a link when it's in
better shape. My other site, the one that took a page rank hit; it's
down from 800 visitors a day to 150. One thing I have neglected is
new content, so I'll be taking care of that. In fact, I made a new
page last night,
Dad-daughter funky crate desk.
There really is a huge spam problem
from .ru sites, so it's likely that this is all just a technical
thing, nothing political...yet. But what if Google and other search
engines decide to penalize Russian sites because of the country's
stance on homosexuality? It's not far fetched at all; just look at
the left lean Google news has. Yandex is the big search engine in
Russia, but trying to promote more use abroad might be like getting
more people to use Linux. Nice idea, but we'll see. Yandex is worth
looking into, they have lots of cool and fun features.
Speaking of fun, here's a couple links
to the Yandex clubs: Guy anticipating spring, and foggy Moscow night.