Is it just me, or is life getting
really strange? Stable people starting to crack up. Jobs getting
unpredictable. Lives all around me falling apart, because somebody
got involved in something they thought they could handle, but were
wrong. I wonder how many of us would really "go around the bend"
if it weren't for scripture. You get spared the kooky fate because
you read a passage about forgiveness, or humility, or not looking at
women to lust after them. I wonder how many minds have been spared.
Anyway, I finished a big job that was
very difficult to complete. I've done a number of these large pieces
of equipment, but this was the worst I recall.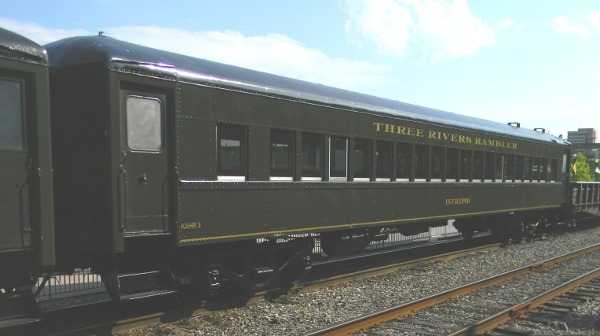 I'll spare you the
details, only that I'm glad it's over, and I've had time to recover
from the 30 hour shifts. It's been weeks, actually. I've taken time
to do a few projects that I've put off for years. I don't have a good
picture of the lumber/ladder rack I made for the truck. I already had
one, but it was far from aerodynamic, and it was ugly. I came out of
a sports stadium where I had lettered some concrete. My truck was a
ways off, and I could see the back end. I had this fleeting idea that
not only was it ugly, but it was evil ugly. Hard to explain. I'll
have to contemplate what that was about. I like this one much better.
I have a picture of the back section. This piece either lifts off,
allowing easy walking onto and off of the bed, or it hinges on the
right pin.

Both pins are the same diameter, but the right one is
longer, which allows it to act as a hinge. I made the curved supports
with a heavy duty pipe bender I bought at a low price. Funny how an
additional piece of equipment can change your abilities and design so
much. I like the curves SO MUCH more than straight pieces. I also
painted the frame under the truck. These things are not only
practical, but they're theraputic, in their own way.

Just when I need money the most, it's
seems harder to obtain. I did manage to save some expense on language
instruction. I was looking at free online sites, but realized that's
not practical. I can't sit at a computer for that long, when the same
thing is available on CDs. Pimsler or Rosetta Stone are probably
great, but I didn't have 3 or 4 hundred bucks to shell out right now.
After spending several hours with a non productive pursuit of free
language downloads, I decided to Google "free Russian language
downloads". That was the key. Sort of like getting free children's
educational programs. It got to the point where so many were online;
that the downloads were hard to find. Then I tried "free children's
educational DOWNLOADS", and found what I wanted.
The site I found was "50
Languages". I downloaded about 95 4 minute lessons, in MP3 format.
Then I burned them onto 6 CDs, which I take with me. I very pleased
with the whole arrangement. I can recored them loud enough to play in
my truck while driving with the widows down.

Speaking of kooky, if you think my
plan to move to the Russian Federation is unrealistic, I'm in
agreement. But that's the kind of project God handles, so I'll leave
it up to Him. I know a man in another state that thinks the idea is
ridiculous. He went so far as to mock me with a little sing-song idea
about fist moving the family to NYC; then, if we could handle that,
move to Russia. I'm aware of that old saying about making it in New
York City, but I have no intentions of urban dwelling. Who would be
more suited for life in the Russian countryside: someone that could
keep themselves employed and housed in a dense city; or someone with
a lot of experience living in the country, raising cows, chickens,
hogs, and horses? Someone that provided all his firewood for several
years in a row with only non motorized tools, firewood being his only
source of heat?
Then he boasts how his state has the
best conservative government around, and that I should move there.
It's just amazing how blinded people are. His political arrangements
are useless. I tried to think of an analogy a few days ago. Not
spending much time on it, this is what I came up with: Picture a wood
barn out in a field. The fire department is far away, no chance of
their intervention. There are a number of fires burning toward the
barn; but one has already reached it, and the flames are climbing the
outside wall. This country is the barn. The fires are all the
irreparable events and policies which are the demise of the barn.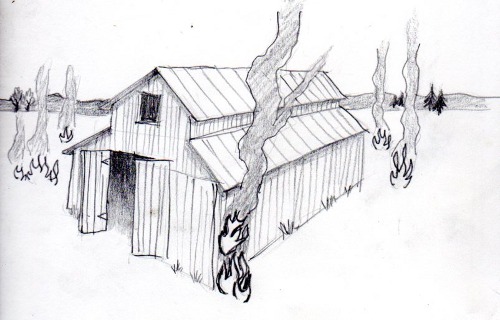 When the Attorney General started choosing which laws to enforce;
that was the first flame reaching the wall. Think about it. Some
expert was testifying as to whether we should allow fatal drone
strikes; the Supreme court passes verdicts about free speech, big
whoopty-do. The Fed no longer recognizes law. You aint got no law,
y'all. And your great conservative politics at the state level,
pfffft, junk man, useless. That sovereignty ended in 1865. So who
really deserves mockery?

I was reading the latest issue of
Material Handling and Logistics, a periodic magazine about supply
chains for industry. They interviewed an Army general about the
similarities between military supply chains, and those for industry.
He could have just talked about the difficulties of getting supplies
around the world, but no-o-o-o, he had to throw in a line about how
Russia desires to reconstruct the old Soviet empire. Sure, he has
access to a LOT better classified info than I do, considering I have
zero access, other that what God might show me. On the other hand how
reliable is his intel? With the blunders in U.S. foreign policy we've
seen lately, ya gotta wonder. Me wonders if there's not an element of
job security, along with a big dose of maintaining the approved
propaganda.
You need to be really careful about
the way Western media presents the news. Maybe you're very skeptical
of the liberal slant, be careful of what they say about Russia too.
Russian – Ukrainian relations go back hundreds of years, before we
even existed as a country. There are people groups who have
populated both regions for decades; the Cossacks, for example.
Ukraine owes Russia a boatload of money for natural gas they've
received from Russia. WND has an article about Russia planning a
financial "attack" on the U.S. Dollar. You know I've been talking
about this emigrate to Russia pipedream for awhile right? Well, I've
also been doing a bit of investigation into visa requirements,
citizenship requirements, employment, villages, transportation,
geography, even folk music. While doing so, I keep seeing people
imploring President Putin to look into their difficulties. Not
personal problems, but things like labor relations, employment, and
street children in Saint Petersburg. That's just some of the domestic
issues, then there are foreign policy issues, some of which involve
objectively irrational leaders of other countries. The Russians are
smarter than me, if I can see the perils in current world affairs,
they are all the more aware of them. I have to wonder if President
Obama is qualified to own one handgun, yet he has his finger on "the
button". I wonder of he's qualified to run an island populated by
15 people, yet he rules over 300 million. Think how hazardous that
looks to the Russian leadership.

It is my impression that President
Putin is a man burdened by many internal and external affairs; that
his sincere desire is the well being of his country. When someone
makes a sensationalist headline about Russia attacking the U.S.
Dollar, think twice. The U.S. Dollar has been the world's reserve
currency for some time now, but the U.S. Is in such very bad economic
shape, that relying on that to continue, is not wise. My take is that
moves by Russia and other countries to start making exchanges in
currency other than dollars is the only sane decision a leader could
make. It's my guess that doing so places one in great disfavor with
certain persons, even to a mortal risk. Enter paradox, the
interesting element that permeates so much of life. President Putin
was a lieutenant colonel in the KGB; I'm thinking he can arrange his
staff to cover his backside. This looks to be a man that takes risks
for the well being of his country. How very different than our
leadership, which has been systematically destroying this country for
years. So_very_different.