So the investigative crews have arrived
at the crash site. Why bother, when everybody's already decided that
it's the Russians' fault? Maybe I missed it, but have you seen a
single Western media outlet that wasn't biased? Even conservatives,
who distrust the media and President Obama, don't give the benefit of
the doubt. What's also interesting is how few people here seem to
question the validity of sending a loaded passenger plane over a war
zone where other aircraft have been shot down in the very recent
past. You'll no doubt hear that they were at a higher altitude, that
the other craft were shot down at lower altitudes. Say What??!? If
you discern from this cartoon that I'm saying the Separatists shot
down the plane in a case of mistaken identity, and that I'm
attempting to shift half the responsibility to the air traffic
controllers; that would be a reasonable inference. But a better
inference is that I find the flight route bizarre to the point of
being very suspicious.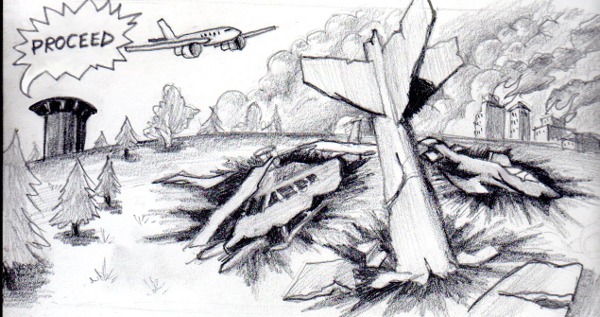 One site I saw said that the planes
fly in big circles, because of the Earth's shape. This lets them
reduce miles traveled, which means a fuel savings. So let's see, the
war zone in East Ukraine is the size of China? The route is a long
one. A detour around the war zone wouldn't amount to much difference
at all. In fact, that would be a good project, calculate the
difference in distance, then translate that to a percentage of the
entire route, and, according the the fuel consumption of a 777, the
actual fuel cost that would have been added.

If you visit Russian news outlets,
and pro-Russian sites, you'll read things that never make it into the
Western press. Here are a few: The plane was re-routed over the war
zone. There were two Ukrainian military planes following the
passenger plane. President Putin's plane was in the vicinity at the
same time. It's similar in terms of size. To the untrained eye, the
two planes could be confused, because of colors. An air to air
missile leaves different evidence than a surface to air missile.

If any of the evidence found
implicates anyone other than the Separatists and Russians, I very
much doubt you'll read about it. I go to Russian sites every day,
with few exceptions, and believe me, the news is different. What's
becoming clear is how controlled the Western media is.

President Putin is very popular in
Russia right now, my guess is because the people see what's been
going on in terms of US interventions. It's not because they've been
brainwashed. Remember, information is harder to conceal, at least
from those who want to know. Get Google Chrome browser, which has
convenient translation features, and look at Russian sites. They're
like us, they have comment sections after news stories,and in blogs.
Man do they have it out with each other, just like here. They are not
an uninformed populace. They have bitter arguments, with obvious
ancient insults thrown in, for good measure. The translation is
choppy because of sentence structure, in fact, right now, that's my
biggest concern in terms of learning the language. But here are a few
of the insults, best as I can remember: "Go hide behind your
mother's skirt", and, "Go tend the sheep". I_do_not_know what
they mean, so use them at your own risk. Here's one from a bitter
feud I saw below a news article about a cafe opening in Serbia: "You
obviously belong to a sexual minority".
The biggest problem here in the West
isn't that people don't have information, it's that they do not
connect the dots. If it looks like you see another story behind what
the media is saying, you probably do. If it looks like your president
feels he's been dissed, and is looking for revenge, you probably see
that. When did the US ever make an issue over Ukraine before? If the
big fuss is over them joining the EU, why isn't the EU handling this?
America is falling apart before our eyes, and our president is
spending a lot of attention on a financially tanked country on the
other side of the world? Makes total sense.
-------------------------------------------------------------
I wrote a bunch of notes the other
night; stuff I might expound on. One was a reaction to a term you've
no doubt read: Rant. This gal was going on how she just had to rant
about this and that. I thought that I need a different word. Instead
of "I want to write how angry I am about this", I need one for "I
want to write about Just when I thought I had seen it all".
Something that includes jaded amazement, disbelief, and maybe a
quarter teaspoon of hopelessness. Well shoot! Tonight I might have
been led the right direction. Like the word "decimated" , the
word "disillusionment" has been used in a wrong manner by many.
Decimated is a Roman military term regarding the destruction of a
tenth of your enemy's army.

Tonight, I was reading from "My
utmost for His Highest", by Oswald Chambers. The reading for July
30th starts thus: "Disillusionment means having no more
misconceptions, false impressions, and false judgments in life; it
means being free from these deceptions" He goes on to give a good
lesson on having realistic, but balanced expectations. The facing
page, July 31st, is also very good. A book mark goes there
for me. In spite of other people raving about the book, I don't
always agree with it. But those two pages, man, easily worth the cost
of the book.