In Russian comments sections, they have a better awareness of the forces and motivations that are creating headlines. Western blogs comments tend to see everything as political or as caused by a group ( the Zionists, the bankers, etc.) My self, I regarded the events in Eastern Ukraine as being caused by differing motivations; with varying degrees of awareness as to the other forces moving the same direction. For example, I see the US President acting in an immediate, vengeful, irrational way, and at the same time, the liberalism of the west (homosexuality, loose living, big government, ungodly filth) moving the same direction, but in a slower, more calculated way. 
But I just had a new thought, actually a tying together of ideas. I've been thinking that the hostilities between President Obama and President Putin go back to the Snowden incident. I regarded the asylum in a Libertarian way, the way that many saw Julian A. as a defender of liberty. I was also wondering if the extreme levels of surveillance are a way for Satan to be omniscient, which he isn't on his own. At least, a way for him to force universal compliance. So what if the Snowden revelations were actually an interference with dark designs? And President Obama is Satan's loose canon, to bring European liberalism to Ukraine?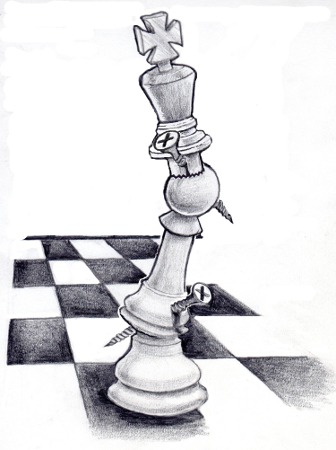 _____________________________________________
Here's another tying together of ideas, a more succinct thought, which I want to contemplate: he uses good for bad; He uses bad for good. Satan uses the strengths of a once prosperous nation to spread filth. God uses difficulties in a person's life to bring about good. The ultimate case is where Jesus was punished for  the sins of others, but they now can be part of God's Kingdom.
________________________________________________
  On a note related to the conflict in Ukraine, I had previously wondered if there was a face and a story to the separatist fighters there. Here's a link to a video. The video is posted at another blog, The Vineyard of the Saker. I have to say though; while it's good to see another westerner looking at things from a Russian perspective; I do rather selective reading at that blog. So many kooky speculations. Anyway, I watched the second one, haven't seen the first. I tend to cut Israel a bit of slack. Here's the link:
_____________________________________________________________
Several weird thoughts (what about the ones above?!?) The first is actually a kid's thought: to make a fireworks show REALLY grand, then mount some of the pyrotechnics on aircraft. Helicopters, zooming jets and the like.
_Last year, it was quite cold here, and much milder than normal in Moscow, RF. So what if the North Pole gets moved? Somewhere in the middle of Canada. Outer Mongolia or China will be the new tropical tourist destination, rivaling the Bahahamas and Virgin Islands. Montana will be Siberia.
_For years I've read that governments use war as a means to stimulate the economy. And I keep reading that the US wants one now. Maybe just kooky speculation; but what if...this time, instead of pumping up the economy, the best they can achieve is to put a better face on a bad economy. Retro stuff, get out your grampa's patriotism, yer gonna need it: scrap metal drives, and rationing cards! Posters all over with President Putin's face, and "sock a blow to the Bear, do your part!"