Sunday, May 30. 2010
There was a place where I would work long hours, by myself. Not exactly alone, Ed the security guard would make his rounds. We would converse, and got along fairly well. At one point he said to me:"Hey Brutha..." Bear in mind that if I pull up my pant leg on a sunny day, people could go snow blind. I took it as a compliment, but couldn't respond favorably, because I had already thought about it. 
 The easiest way to describe my thoughts is to do a time warp, to about 1963, sometime in the heat of the civil rights movement. Let's say that I was involved, picketing on behalf of blacks, doing things like that. Then one day someone threatens to burn my house down. At that point, I could stay the course, or, I could pack up everything, move to Oregon or Alaska, start an antique store, cleaning business, get a job, whatever, just wear sunglasses and hide out.
A black man doesn't have that option, everywhere he goes there could be someone there who will give him a hard time. It must be difficult not knowing whether this guy you had to deal with is grouchy to everyone, or just a racist. I caught the tail end of a radio interview with an author named Ruffus. I don't recall whether it was his first name or last. One of the things he was saying was that white people can choose if they want to be around blacks or not, but blacks don't have that option. The loan officer is white, the zoning official is white, so many of the people encountered are white. Ed was saying that racism can show up in subtle ways. If someone on the east side of town calls about a pothole in the road, it can take months to repair. But if someone on the west side calls, it's done that afternoon. I'm so caught up in my own survival that I don't know what it's like.
Tuesday, May 25. 2010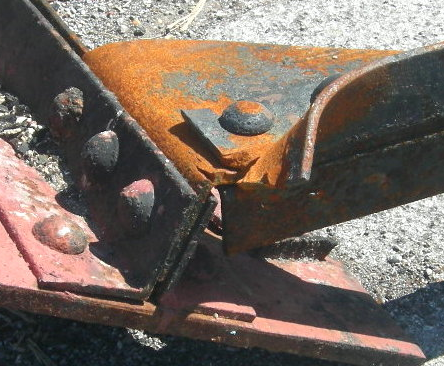 In the interest of being reasonable, I present pictures I took of a local structural fire. I've made a web page with some big pictures, hope you're not on dial up. My suspicions on the matter are there also.
Bent metal
Sunday, May 23. 2010
I was driving d

own Chapman Highway, when I saw an older pickup truck. In the back window was a simple sign. Probably just white 8.5 X 11 paper laminated. The copy read:
"Government is a disease masquerading as its own cure. Robert LeFevre."
This is excellent, for 3 reasons:
1: The guy is reaching the public, outside his immediate friends, outside the control of the MSM.
2: The medium is very simple, yet effective. I've put some effort into making free Christian and political vectors available for people to take to a sign shop, and have a sign made. This guy (His name is Ken, I was glad to meet him) used common software, made a black and white copy, then taped it in the window of his truck. I'm a huge fan of doing more with less effort and equipment, it doesn't get any better than this. This is exactly what I was talking about in a recent post about destroying Liberal ideology.
3: Last by certainly not least is the content of the message. So succinct. So accurate. An example is government meddling with the economy. Creating a housing boon with low interest rates and forced loan procedures. Now, the government further enslaves the grandchildren an an attempt to bail out the economy. One of my all time favorite quotes.
Dear readers, it couldn't be simpler than what Ken has done, and I hope you'll do the same. He has a blog speaktruthtoliberals
Friday, May 21. 2010
There's a tool accident discussion going on at a popular sign makers website, the following is part of what I related, thought you guys might get a laugh out of it:
Then
there was the time I was giving an antique tool demonstration at a
well known theme park. It included crosscut saw, foot adze, froe,
rail splitting, broad axe, pit saw, draw knife. The last part of the
show was where I would talk about how the pioneers used the great
variety of woods found here. I got to the part where I lit a piece of
fat pine, as a substitute candle. The thing lights alright, but then,
in front of 75 people, however many were watching, a big drop of
flaming pine pitch drips onto the top of my left hand. And it STAYED
lit. I'm there in front of these folks desperately slapping my left
hand with my right, trying to put out the flame, wishing I could hop
around yelling "IT HURTS!, OH MAN, OH GOLLY, IT HURTS!!" I
tried to be ever so British, and cool about it, but man, talk about
seriously suppressed anguish. Just a tad of humiliation thrown in.


Thursday, May 20. 2010

We have a neat family bible study at night, I call it the Synapses Family Bible study. You can learn more about it at http://www.twoedgegraphics.com/pages/Synapsis.html Sometimes, I follow that with a reading from a book. We do the Bible study about 6 nights a week, but the other book is less often. The book we're reading now is "How Now Shall We Live?" By Chuck Colson, and Nancy Pearcy. It always sparks some lively discussions, many which are related, but peripheral It's a great chance to talk about how the bible fits life today. Whether you agree with the book or not, I recommend it just for the sake of the discussions. Tonight we read the page where he says the cultural mandate is as important as the great commission. At first I really balked at that idea, but then realized that Jesus did talk about a how well city on a hill can be seen, and to let your light so shine before men.

My caution lies with a concern over erroneous interpretations of the Bible. As a cultural and political approach, I am very much in favor of the ideas in the book. I guess it was ten years ago, but back then, vehicle graphics were more popular than today. I'm not sure why, but that's one of my favorite forms of expression. Certainly not going to be regarded as high brow art by many, but it's a very visible medium, and one that bring beauty or ugliness to an area. I think that my ideas (right or wrong) apply to other mediums as well, so bear with me.

Sure...in today's world, I'm not supposed to call anyone's work ugly, at least not for the reasons I do. If I see amateur unlearned work, I figure well, at least they were having fun, and maybe it's better than leaving the jalopy in it's unattended state. What I call ugly is the look of death. To clarify, often the ONLY reason it can be called ugly is it's theme. The artists doing the work are top rate, often better than me. They do first rate work as far as method and ability goes. The look of death is all the skulls, skeletons, prickly tribal flames, barbed wire, and so on. It includes guns, gangs, violence, and degradation of women.

So, what does Christian vehicle graphics look like? I've thought about it some, always open to discussion. What I've come up with so far is this list:

>About life...Uh-oh, I just remembered an event, an epiphany I guess. This post is getting long, but it was good to me, please let me relate it. I was in Pigeon Forge, a nearby tourist area. I stepped back to look at a sign I was working on, and I saw the Jim Gray Gallery on the corner. At the time, I was trying to define the word 'art'. Look in the American Heritage Dictionary, probably a dozen definitions. So all this is swirling in my head (maybe sloshing?) and I looked at the paintings in the window. Nice stuff. Maybe heavy on a genre, it was a painting of a mountain scene with trees in bloom. Whatever you think of it, it was nice, and so well done. I mean the guy's tops in the skill department. I thought about the typical buyer of a painting like that. A lady buys it, knows just which room it's intended for. She takes it home, and sets up a terrific decor, and her home is better than before.
If I bought that painting, it wouldn't have a moment's rest. Not that I'd be hugging it or anything, but I would study it. I'd study the layout, the colors, brush techniques, whatever I could. Then it hit me! I was asking the wrong question. Instead of asking what is art, I should have asked what is an artist? An artist is a teacher. An artist gets us to see things we've been overlooking. An artist can glorify God by showing the beauty of His creation.
What I'd like to do is make some graphics that bring the message of Romans Chapter one, the part about people being unexcused, because creation testifies of God. Not in a condemning way, but to show that these things couldn't have come about by themselves, further, that many are beautiful beyond function. Consider flowers, if bees have such primitive eyesight, and tiny brains, then why would flowers need to evolve to the point of design that they are today. Subtle stripes, dots, color blends, petal shapes, and a lot more. Surely an effective attractant for a bug flying in the distance would be a basic screaming yellow, red, or purple blob, a simple shape that would stand out in a background of irregular foliage. One of my favorites is a Cicada wing. Aside from the incredible engineering it takes to make something that light be a component of flight, which grows from an egg, aside from that fantastic complexity, look at the vein pattern in the wing. It is art. So cool looking. When I say 'life', I mostly mean not glorifying death. If you deplored the use of an atomic bomb, or some other violent act, and made art about it, I wouldn't dismiss the work, because it was dark. Art is expression.

>Well made. Christian artists shouldn't get slack in the abilities department, because the message is so important. When Christians make music, it should be the BEST music. When Christians make a movie, it should be VERY well made. Whatever the medium, we should be putting out the best quality. The work will be appealing and memorable. The song will replay in people's mind because it sounds neat, people will tell their friends about the movie because it was so riveting.

>Intelligent. I could quickly get out of my league on this one, but you gotta try, aim that way and all. Integral to a project well made is that intelligent execution be obvious to those who examine the work. It needs to challenge and compliment the audience's intellect. The adversary has made great effort to present Christians as backwoods simpletons. I'm sure I've helped him out a time or two. But as liberals lose control of the media, a greater audience will be reached by Christians, and stereotypes can be diminished.

>A message. Sometimes you can be more explicit than others. I don't even try to put a Bible verse on every graphic project. Right now, I'm working on artistic camouflage. Right, it sounds bizarre, but see it before deciding. Not only am I trying to make it appealing, but also a different visual theory. Not done yet, so no pictures. Sure is a lot of fun though, which come to think of it, is a category in itself.

>Fun and joy. I once commented on another blog, something about how an artist should bring beauty even in dire circumstances, like a flower persevering in a bleak urban setting. Easier said than done. Lately I've met my dark concrete alley. Nonetheless, we are allowed to have fun, part of that is innovation. Try new stuff. Experiment! It's a blast, and it will put you at the front of you field. Tradition can be such a shackle, maybe casket is the word. There has been discussion regarding drawing attention to oneself, I can in no way dismiss the subject as unimportant. However, I quickly counter that tradition is the false assurance that many die in, far more dangerous that unusual graphics. Wait, wasn't I talking about fun? Yeah, so I suppose it wouldn't hurt for people to see us having fun...might even vanish another stereotype.
Thursday, May 13. 2010
I just read that gold hit $1250 at some
point. My first thought was that man, that's a lot of money, but I
quickly caught my self, and realized that I need mental
reconditioning. I need to think, my how the dollar has fallen! It
takes $1250 of them to buy one ounce of gold.
- - - - - - - - - - - - - - - - - - - -
- - - - -
This is one of those weird fly-through
thoughts that are interesting to ponder for a minute, but only as a
strange analogy. At what point are the state workers the new
bourgeoisie? Living off the production of the proletariat? Some are
more equal than others, and all that. They don't explicitly own the
means of production, but if they heavily affect it's use, through
regulations, is the analogy less of a stretch?

- - - - - - - - - - - - - - - - - - - -
- - - - - -

The phrase "To protect and
serve"...who is that referring to? The people or the state?
- - - - - - - - - - - - - - - - - - - -
- - - - - -

I saw a sign in an auto paint supply
place, it read: The only thing more over rated than owning your own
business is natural child birth.

In the 28 or so years that I've been
making signs, a couple of consistent truisms never vary:
If someone approaches and asks for my
card, no matter how sure they sound about hiring me, they never do.
Once, maybe twice in 28 years. Conversely, if they give me their
card, the odds are the opposite.

Never, ever give a price range, like
"it'll be between $225 and $275." They ALWAYS cement the lower
price in their mind, and the higher price completely vanishes. I've
been around enough to know people's manipulation games, and I don't
think it's that. I can tell by how hostile and extreme their
reactions are, they genuinely think I'm ripping them off with made up
inflated prices when I submit an invoice for the higher number. They
have zero recollection of it. I guess it's human nature to want the
lower price, so they latch on to it.
One thing that's helpful for me when
bidding a job is to use Open Office free software to make a table
with rows and columns. In the rows are all the possible steps for
that kind of work. In the columns are different pricing or time
estimating methods. One column has hours, another has days, and
another might have price per square foot. So I look at a step in a
row, like computer drawing time. My first thought is that on this
job, this step will take 6.5 hours. Then I look at the days column,
and realize that no way, this is an all day job, so call it 8 hours.
By cross referencing two pricing methods, I do much better. It's
making a quick guess off the cuff that gets me into trouble with
underbids. By using this method, I can say one number, not a price
range.
Wednesday, May 12. 2010
You get older...you learn more. Or you
should. If you're the same person you were five years ago, bzzzzt!
Something is wrong. I've been learning about faith. About twenty
years ago, I read a tract that compared the theory of evolution to
the theory or creation. I became a creationist, and later, a
Christian. I've been reading about it since, and the evidence in
favor of creation is overwhelming.

According to the bible, faith is not
believing that God exists, it is trusting that He will keep His
promises. But that's not what I'm writing about.

My understanding of faith has gone
through changes. There was a time when I thought: "I know God
created the heavens and the Earth in 6 days, He can do this thing
too." Then I thought:"I know God created the heavens and the
Earth in 6 days, He will do this thing too." Now I realize:"I
know God created the heavens and the Earth in 6 days,
He_is_doing_this thing too."
It was a couple days after this
realization that I was put into an uncomfortable situation. I had
just painted some numbers on a piece of equipment using the same
materials that we've used for years. There is usually always a time
crunch, meaning that a clear coat has to be applied the next day. If
this is done with careful technique, there won't be a reaction. As it
turned out, this particular equipment was older, and has a handrail
just above the numbers. When the painter applied the clear, he made
quite a few runs under the handrail, which ran down into the
lettering, and caused a bad reaction.
Paint peeled off the letters. This
equipment is owned by a --big-- government agency, they had a group
of managers and honchos coming out the next morning to look over
their freshly painted equipment. A high pressure situation.

I finished some errands and what not,
and was setting on the couch thinking to myself: "Man, this is bad.
We've done it this way lots of times, so I know it's not my fault,
but I'm the one who will be blamed. The executives will be ticked at
the repair facility, the repair guys will be ticked at me, and even
if I manage to fix the thing, will I be able to charge for my time?
All these unexpected interruptions are what keep us "financially
challenged". It's going to cost me how much in gas, just to give my
time away. I hate this."
Then I remembered: God IS doing
something. In fact, God, the Angels, and any people that are involved
are all waiting on guess who?!. So I got up and headed straight down
there. When I arrived, I got out my digital camera, and started
taking pictures. I was in the building by myself, and was thinking
Aha! Clear evidence that it's no my fault! And I have pictures! I put
the camera away, and got out one of the odd tools I use only every
five years or so. This day it was perfect. I was able to precisely
repair the ruined places, to where only a close inspection would
reveal there ever was a problem. It was late in the day, after
closing time I think. In walks the new shop superintendent. He asked
me what was going on. The painter apparently had made a bit of a
point that the problem was not his fault. I was able to show him what
had caused the problem. By that time, I had a couple of numbers
fixed, he looked at those too. He asked if it was possible to have
them all fixed by the morning. I told him I wouldn't leave till it
was finished. He was pleased when he left, and I DID get the job
fixed that evening. I submitted a bill for my full shop rate the next
day, and the big inspection went off without a hitch.
So remember...God IS doing something,
in fact, everyone is waiting on YOU!
Monday, May 3. 2010
Random thoughts on the immigration
thing...You've heard of that term "De facto"? Meaning the way it
really is, regardless of what they're telling you, or what name they
give it. So if a bunch of people are coming into your country, and
it's having an effect, like having to compete for lower wages, or
your country giving away social services which it can't afford, then
who is ruling your country? Their leaders have made a royal mess of
things there, and now people are feeling the consequences here. The
consequences of foreign rulers' decisions. So who is your de facto
ruler? Just pondering.
Since we're the world's policeman,
maybe we could liberate Mexico. Give the people there a chance to
run things a different way. Not sure it would work. It's by no means
a scientific survey, but the Mexican guys I've worked around were
into the macho-machismo thing. They have a hard time taking orders.
Can you have order if guys can't take orders? What a racist I
am...no, just commenting on a CULTURAL reality.

Of course, I'd rather have a Mexican
neighbor than a Muslim. I think. Some of these guys are into this La
Razza thing. It's a desire to take over parts of the US as Mexico
north. What are the odds that they would ever be treated as espionage
agents? You know...out of uniform and all? Don't get me wrong, it's
not that I dislike Mexicans, or their culture. If you've observed
much of life at all, you know that life isn't always conveniently cut
and dried.

 So it is, I try to look at things a different way... maybe these people are just a
replacement for all the babies that have been aborted. What does God
think of all this? Is he under any obligation to protect a country that
doesn't care much about Him?
I like their food, the way they talk,
and, in my field, sign arts, they are among the best. I don't mean
that a few of them do nice work, no, they are known for great work.
But think about some of the refugees from southeast Asia. These
people had to dodge bullets, swim across dangerous rivers, and wait
in refugee camps for years before they came here. These people
really_wanted_to_be_here. So it is, immigration should sort people
out. Not with the above survival stuff, I don't wish that upon them.
But they should be required to speak a little of the language, know
something about the republic and it's history. Know what makes this
country different, and have an appreciation of it.

We don't have TV in our house, but the
other day, as I was getting an (of all names) Arizona brand tea out
of a convenience store cooler, I saw a TV show in progress. There was
a gal using a putty knife scraper tool on some canvas. I thought to
myself, hey this could be a cool artist show. Turns out it was one of
those forensic shows. The gal leaves the lab, and talks to a woman
who is an illegal immigrant. The forensic gal talks to the other one
about going to the hospital. There was an issue about papers.
Forensic gal, in a lofty intonation says something like:"You're
still a human being, you still have rights".Well sure, but
hello-o-o-o, WHAT ABOUT THE RIGHTS OF THE PEOPLE BEING TAXED AND THE
GRANDCHILDREN BEING FLEECED? Whatever happened to "No taxation
without representation". The debt being placed on future
generations is unjust. Maybe it's OK as long as they're white?
The problem is, that if immigration
policies should work as a filter, our federal government wants to put
the filter on backwards. Let anybody in, no questions, and drive
others away. Seriously. I'm thinking of leaving. I've looked at visas
and other stuff. Goodbye United STATE of America.
Monday, May 3. 2010
We have a large family. Years ago, I
had this idea about hooking a trailer up to the van, and taking a
bunch of bicycles out to the lake to ride around. I figured we needed
a trailer, a shed to store and repair the bikes in, and the bikes
themselves needed a bit of repair. We did get the trailer, but the
shed never was built, and the bikes weren't repaired. The children
are pretty good at fixing up bikes, so that's what they've done, they
haven't been without, but it could've been better.

Today a lady we know was cleaning out
a storage unit, and gave us the bicycles that were in it. They look
nice. Not brand new, but better than the ones we had. So I figured
this is it, I'm going to do what I should have done before. I took a
notepad, found out who had a bike, and which one it was. Those with
no bike got to choose one of the new arrivals. Then we traded some of
the older ones for the newer, where appropriate. Wrote it all down so
it was easier to deal with. The plan is to make sure each bicycle is
working, before tossing out any old bikes or parts.

I manged to get all the bikes sorted,
and 4 repaired this afternoon. Thank you Lord. I'm not done, but it's
a great start. I didn't want to just cover the bikes with a tarp,
because it would be inconvenient, and the bikes might not get used as
much. I realized that the non working bikes and parts could go under
a tarp, because that won't inconvenience anyone. As far as the shed
goes, maybe a simple lean to made of roofing and T-posts. I'll figure
it out.
It wasn't that tough, a lot of spray
lube, fixed some tires and tubes, adjusted brakes. The kids were
riding all over. So fix those bikes Dad, you'll be glad you did.