Monday, June 28. 2010
This is speculation, so bear that in
mind, I really don't have a definite idea what heaven will be like.
I've heard a number of eschatology positions (theological study of
end time events), but I don't endorse any, because I haven't taken
the years required to know the thing. So when I talk here about
heaven, I'm not talking about a "new heaven and new earth" or a
thousand year reign of Christ; or anything that specific; I'm
referring to a time when God has intervened and removed the
difficulties of this world.
I look at those difficulties, and what
the best contemporary choices are. Do this for long, and you end up
with a knowledge of some of the ways people shortchange and mistreat
others. So it is that I let my mind wander, and started thinking
about a place where men did not and/or could not take advantage of
one another. I realize that this is only part of the suffering we
see.

Men play shell games with money, money
on a larger scale: Make all other mediums of exchange illegal, then
control the distribution of the one legal form. Control means
borrowing large amounts of money, spending it on preferred and
profitable causes; then creating more of the money units, so that
when you pay back the borrowed money, you're actually paying back
less. Control means setting interest rates, so that a lot of people
will borrow money to invest in the latest hot trend. When the trend
gets unsustainable, people start to lose jobs. Banks and others are
left holding overpriced mortgages. The controllers make more money
units, to pay back their banking friends, and try to create jobs. But
now, everybody's money units are worth less than before, so retirees
who saved for years aren't able to cover costs. The salaries of wage
earners don't buy what they did before. This is a crude and partial
analysis of the shell games the controllers play with the money.
Then think about taxes. Even if you're
low income, and think that you don't pay much in taxes, think again.
I've heard it said that trucking is the most heavily regulated
industry in America. How many of those regulations involve no fee,
just fill out the forms? Does the trucking company just say:"Oh
well, I guess we'll just operate at a loss, so goods can continue to
be distributed"? You pay. Think about how much the labor for every
part in a truck is taxed, before the tuck is assembled. Do you still
wonder why your paycheck evaporates as it does? That's just trucking.
Millions of government workers have to be supported, who in turn make
more regulations, more inspections, more fees. What does the
government do with this money? All kinds of things really, like pay
for research to determine if there are lesbian seagulls. I'm not
making this up; I'm creative, but I don't know if I could think of
that one.
So I wondered about a place where
money wasn't mandatory. It's pretty cool having a medium of exchange;
so that the violin maker doesn't have to barter with the ice cream
maker, who doesn't have to barter with the car manufacturer, who
doesn't have to barter with the diode maker, who doesn't have to
barter for a 20 acre parcel of land. I'm not talking about no money,
just a place where it's optional. Imagine vast interconnecting tracts
of land, all owned by God. You can travel as you wish. If you want to
use a car, OK, they're fun; but time is no more, so if it takes
(longer?) to get where you're going, so what? Lots of nice scenery
and people along the way. There are no freezing winter storms, so if
you want to sleep under shrubs and trees, that works fine. You won't
need a house, so they can't tax your property. Fruit grows year
round, so you won't need money for restaurants of grocery stores. If
you want to spend a hundred (years?) learning to be masterful at
music, blacksmithing, or any other skill, go for it. You won't need a
job to support yourself while doing it.
The sabbath is a picture of a final
rest. The bible talks about saints in heaven dressed in white. This
is probably a picture of being clean from sin, but I saw a possible
additional meaning. Peasants have long worn dark colored clothing to
hide stains acquired at work. When I see someone wearing phosphorous
white tennis shoes, to me it's a status symbol. I couldn't wear those
for 20 minutes without getting them scuffed and stained. My idea of
the sabbath day not only excludes work, but the pressure of work.
Think about a world with no deadlines, no getting fired, no past due
bills. Think about a world where no one can trick you out of part of
your earnings. Not here on earth. When people here start talking
about how the state needs to own the means of production, or any
other Utopian scheme; the solution is always worse than the problem.
Heaven is very real, and coming sooner
than you might think (time flies). You can be there, the offer is
open to you, but only on God's terms. His terms are that your sins
will keep you out. If you find the One that lived a sinless life, and
was willing to trade his sinless standing for your guilty standing,
then you will be adopted into God's family. There is only One who can
do this for you, His name is Jesus. If you have not already, ask him
to forgive you today. This life is the only chance you get to meet
His terms, otherwise, hell. You don't know how long you have before
your end, and remember, "time flies".
Monday, June 21. 2010

If I made a sign that simply read:"HE'S A TRAITOR", I'm guessing
that 95% of the populace would know who I meant. Funny thing is, even
if they adore the guy, they would know who I'm talking about. Think
about that for a minute.

If the police can't distinguish between
the good guys and the bad guys, they shouldn't be surprised when
people return the favor.
People, liberals in particular, need
to remember that the rude tactics they employ here won't happen at
the judgment of God. The shoutdowns, cliches, logical fallacies, and
interruptions won't work there. They will be quite long enough
to hear what He has to say.

We were at an intersection downtown,
waiting for the light. A group of "homeless" people stepped off
the sidewalk, and started crossing the intersection. One of them
turned around, and threw an empty container back on the concrete. The
light turned, and as we drove by, we noticed that the container was
an energy drink! Bwa-ha-ha-ha! I've got so much energy, I can't be
bothered to pick up after myself.
---------------------------------------------------------------------------
Edit to add a couple more ideas I had this morning:
 If an arsonist burned down a third of an old west town, and the people formed a bucket brigade, could he be called a community organizer?....Then I clicked on the news and saw that there are wildfires burning in Arizona; strange enough.
 I've read that police will act differently at wealthy homes, compared to low income homes. Without a lawyer on retainer, what's one to do? How about security video cameras on the porch and inside? Little red flashing lights to show they're operational. What are the odds that they would say "Turn those off!"
Monday, June 21. 2010
I recall a scene from either the book
"Company Aitch" by Sam Watkins, or the movie "Red Badge of
Courage"; I don't remember which. There was a battle going on,
carnage everywhere; mutilation, agony and death. The man relating the
story tells of looking up and seeing sunlight in the trees, and birds
singing. A bizarre contrast, but an apropos analogy of how sin with
devastating consequences comes to us.

How peaceful it must have been in the
garden when the first couple decided to eat of the forbidden fruit.
What was the weather like when Saul decided to keep some of the
livestock? So seldom do you hear of people having an earthquake and
dramatic message from God warning them of the impending results of
their decision. It's so easy to move smoothly into a choice that is
devastating to the rest of your life, and those around you.

So this is both a warning, and an
expression of intrigue, amazement. We really need to develop or keep
our own inner warnings. I do know this: it is a lot easier to resist
temptation if you're disgusted with the thing. If your first reaction
is something like:"Oh gee, it's that again, I've got to think about
something else, I've got to resist..." then you're in for a
struggle. If you take the time to think about the consequences, how
awful they will be, how much God disapproves if it, how clueless, out
of touch, and weak a person that does that sort of thing is...then
it's a lot easier to resist. And of course, pray the whole time. Pray
that God will give you a right revulsion.
Tuesday, June 15. 2010
I've been experimenting with camo paint schemes for years,
this page
records my efforts.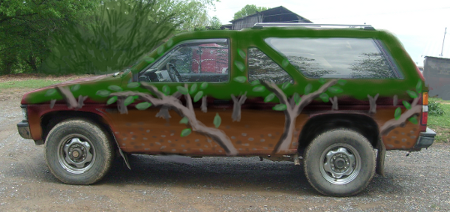 Thursday, June 10. 2010
I guess that once you hit the big
five-oh, being a kid was a long time ago. So remembering the source
of the things you heard is nigh unto impossible. The one I'm thinking
of now is how we always heard that if you hold a baby bird, then put
it back in its nest, the parent birds will reject it because of the
human smell. I recently read that this was not so, but hey, how often
does one get the chance to verify this sort of thing? Got my chance
today. Sure, it looks like a definite likely hood of God's
intervention, but it was satisfying.

Out in my car port-workshop area,
there is an old sheet metal cabinet thing. The door is missing, but
it works well to store spray paint cans in. In the top shelf, a
couple of little birds have made their nest. Whether they made it
before we sat those van bench seats there, or were just dumb birds,
and did it after, I don't recall. At any rate, the cats got up there,
tore down several cans of paint, and got at the hatchlings. We
snatched one from the cat's mouth, and put it back in the nest. But
the parents hardly paid it any attention. They kept flying lowly
about the shop, and acting as if they were looking for something. As
we approached, they moved just outside the car port, to a bush. This
looked like the typical bird maneuver that I've seen many times; the
decoy and distract tactic. But with all the commotion, we decided to
follow them. Keep in mind that there were cats all over, they would
not leave the scene. As we looked under the bush, one of the little
birds was flying toward a place on the ground, then back into the
bush. This happened more than once, as I recall. I turned on my
flashlight, and on the ground at that spot was another hatchling. I
had my daughter pick it up, and return it to the nest. I moved the
van bench seats away, and made a hardware cloth (wire mesh stuff)
cage covering most of that shelf. There is an opening big enough for
them to fly in and out of.
Of course, the big question was if the
parents would resume housekeeping. I went out there this morning,
confirmed that both hatchlings were in the nest, then stepped back to
watch if the parents were coming around. Within a minute they showed
up, feeding the little ones. Pretty neat stuff.

Wednesday, June 9. 2010
If you're going to have a blog, I
recommend having a notebook always handy. Maybe others can recall the
ideas they had for new posts, but they slip by me rather easily. Even
if you remember the subject, you might forget the cool title you had.

Yeah so anyway, in my note book was
this entry: Maybe there's a similarity between man's fall into sin
and Israel wanting a king. Both are a replacement of God. Upon
thinking about it today, I realized that I would rather consider the
similarities of US national debt and ancient Israel wanting a king
(instead of the theocracy they had).
The similarity could be this: People
shielding themselves from the consequences of sin. Maybe in Israel
they were just fed up with Samuel's sons, and wanted a different form
of government, one like the nations around them. But notice how they
wanted this king to go out and fight their battles for them. Surely
by this time they knew that they lost God's protection when they did
wickedly. So is it a stretch to think that they wanted to live as
they pleased, but wanted a king to defend them from the consequences?
Even if that's not the case, the point
of this post is that our national debt is the anesthesia that keeps
us from seeing our real condition. Whatever ideas people grew up
with, that we're the purveyors of truth, justice, and democracy; that
we have the highest standard of living in the world; these ideas are
outdated. We're broke. We're worse than broke, we're un-BUH-lievably
in debt. Our economy is all an illusion; an attempt to perpetuate a
bygone standard.

Even if we didn't work on paying off
the debt, and only balanced the yearly budget, think of the
consequences. A cut in military spending would have numerous effects.
Some military personnel would be added to the list of unemployed. A
reduction in small arms ammunition purchases would affect bullet
factories, brass casing factories, and primer factories. Which would
affect those making the chemicals in the primers and those mining the
metals. More people added to the list, less consumer purchases by
those people; which affects those making washing machines, microwave
ovens, so on.
That's just small arms ammunition; man
alive, think about what goes into a modern tank or aircraft.
Specialty metals, technical computer equipment, seat cushions; a lot
of stuff, a lot of people affected. You see, take away debt spending,
and > THAT < is our real condition. Does it sound blessed by
God? No way. Would people finally examine things to see what went
wrong? Probably more than now. Sure, some do at this time, but far
too many are drunk on the numbing daze of debt.
We_are_not_blessed_by_God. That's the
USA.

It's who we are NOW.
Poor, broke, pretenders.
Tuesday, June 1. 2010
I was reading the blog of an economics
professor. He made a post about the way the Arizona immigration law
is being defended by certain talk radio hosts. The discussion went to
the law it self, and the administrator moved it back to what the
radio hosts were doing, so I didn't make my comments there. Some of
the replies were by Libertarians, to the effect that the law further
empowers the jack boot authorities.

Being that I'm not an anarchist, I
figure there is a time and place for laws, this being one of them.
But the blog administrator and the Libertarian commentators –really
are-- knowledgeable, and the best I can do is ask questions. So here
goes:
According to the 'law' of supply and
demand, if there is a huge influx of blue collar workers, how can
this NOT drive down blue collar wages?
If blue collar wages are decreased,
then how can this NOT have an effect on consumer sales? Oh but there
will be more consumers to buy stuff, so the effect will be offset.
Sorry, "I'm not buying it"...sure maybe all the newcomers and
blue collar workers will need Tide detergent, but how many will buy
new cars? New houses? I don't think minimum wage laws will help, if
anything, they'll just keep US workers from getting the job that an
illegal will do for less than minimum wage. So the US worker can
compete for the same wage that the illegal gets, or have no work. How
many new cars do we sell in Mexico? That'll give you some idea of how
many new cars you'll be able to sell to US blue collar workers.
Wait, I know, maybe all the blue
collar workers can use their decreased wages to get a higher
education? Right...just as soon as they pay the red letter notices
from the electric company, the water utility, and the phone company,
they'll get right on that tuition bill. It seems like most of those
in favor of open borders are short sighted, or so indoctrinated that
they're clueless, or white collar workers who think that it won't
affect them. That's where I think they're wrong. If blue collar
workers can't earn livable wages, then they'll be living in shanty
towns, and not buying the goods and services of the white collar
class. White collar workers had better hope sales at their place of
employment don't drop, or that the relatives can put you up for a
long time. Otherwise, you'll be asking the blue collar guy which end
of the hammer to use when you nail your own shack next door together.
Sometimes the answer is just painfully
obvious: I say that we take a state where the residents approve of
open borders, probably California, and totally open the border to
that state. Then, all residents of other states that approve of open
borders would be required to move there. Everybody happy!!! Yay!!!
You just know they wouldn't want to go. I could start my own
magazine, call it Surrealism Today. Totally bizarre, but real.

Maybe God himself has decided that
it's over for the US. Maybe He's letting the people that are so proud
of their own thoughts and abilities inflict the end upon themselves.