Friday, March 25. 2011
This is from a comment I made at Code Monkey Ramblings, a popular (for good reason) blog....
If being homosexual is genetic, then what would happen to someone that aborted a "fetus" because they learned it was going to be "gay". Why, that would be murder! Er, well, sort of. Some blobs of tissue are more equal than other blobs of tissue, and all that.
 The whole mess would be easily resolved by appointing medical commissars at the hospitals, who would have access to the blob's confidential genetic information; and be able to determine if the parents were allowed to abort the blob.
Wednesday, March 23. 2011
There's a ministry I highly recommend, it's called The Berean Call. They're what I would call a watch man ministry, to keep people from being led into false spiritual teachings. I just visited their web site for the first time, and it's better than the newsletter I get from them, because you can do searches, see past articles, etc.
I've recently become wary of political activism, but they were way ahead of me on that one. They have a current article warning about Glenn Beck's beliefs. These guys are always worth reading, check it out yourself.
The current newsletter has two things concerning the animal deaths I mentioned a few days ago: The have a timeline of events, and a commentary. Check out both for yourself at: animal deaths article What's interesting is that there were more than birds, crabs, and fish dying; there were also manatees, starfish, jellyfish, bats, octopuses, cows and seals.
These guys are great, but I'm going to have to analyze their ideas before I can accept them. In the article, the author leans strongly toward the idea that the animal deaths are caused by government experiments and abuse of technology. He mentions the HAARP project in Alaska, and sonic experiments, and explosive tests. His explanation seemed to make more sense than other ideas, until I thought about it. What strikes me is how "clean" most of the deaths were. What I mean is that it was usually -one- type of animal. Why would a whole bunch of ONE KIND of fish die in a location? Wouldn't the kill be at least a -little- across species? It was usually reported as one kind. The incident of the octopuses dying; doesn't it seem reasonable that a few squid would have been affected too?
I'll be the first to believe that the US government is 'good' at killing things. But it's NOT believable that it would be so tidy. When you go zapping, blasting, blowing up living things in a group, there are always INJURIES BY DEGREES, with a certain number being fatal injuries. In other words, where were the wounded ones? There should have been some flopping around, some disoriented, some in shock, swimming in circles, floating at a list, but no; in the vast majority of cases, the report was of all dead. OK, to cross examine that idea, I realize that we're talking very cold weather in some places where these critters live, it easily stands to reason that the wounded would not last long, and join the dead ones. Another thing, can cold account for the demise of the wounded among warm blooded mammals? What about the places where it was summertime? What happened to the wounded and disoriented there? And again, why all one species? If the Starlings are zapped or boomed or whatever, wouldn't there be a few Blue Jays and Cardinals? One or two?
I'm having a real hard time believing that something could come along and PRECISELY kill a bunch of animals. The critters are hardy...look where they live. I have hunted before. More frequently than that, recently, has been my butchering of farm animals. These things don't just die that easily, you have to know what you're doing, and have some intent. The idea that something powerful and big, aimed from a distance wouldn't injure as many as kill is far fetched to me.
 So, again, my point is, be really careful about grabbing an answer without cross examining it. The earthquakes and wars have a very specific mention in the Bible. The animal deaths...no. Not as far as I can tell. There is a mention in the book of Revelation about a third of the creatures in the sea dying, in chapter 8 verse 9. But what we've been seeing isn't a third. Granted, the book of Revelation is very allegorical, so maybe there is a connection, but I'm not trained in Bible interpretation, so I have to leave off at that point. I don't know WHY God would be causing or allowing these things to happen, but be_very_careful about ruling God out.
Wednesday, March 23. 2011
Be careful with used computers and hard drives, OK? The other night, some of my daughter's pictures got deleted from a computer. Some time back, I had been online at a hotspot where I have permission to use their connection. I was asked if I wanted the latest version of CClean (registry cleaning software). I did, and while at the site, was asked if I also wanted other free software. They offered a data recovery program, so I got it. As a note, I'm quite pleased with CClean, use it all the time.
 So I decided to install the as yet unused software on the computer, and see if we could retrieve the lost pictures. We did, but what was shocking was how many other pictures were also pulled up...something like 12 thousand. A lot of them were repeats, so the real number was a third of that or less, but it was still amazing. Things I hadn't seen before, maybe from the previous owner of this computer.
 I know a guy that's a lot more computer savvy than I am, I asked him about it. He said that if you've ever seen the abbreviation F.A.T., like in FAT32, what it means is file allocation table. There's a little place at the beginning of the hard drive that tells your computer where stuff is stored on the hard drive. So, when you format a drive, you THINK you're erasing it, but you're not. You're only erasing the info about WHERE it's stored on the HD. All the data is still there.
 I get a kick out of taking old throw away computers, and seeing if I can make them work. Most are so locked up that they take 20 minutes to fully boot. the cursor will hardly move. So I install CClean, clean the registry, empty the temporary internet files, do the basic clean up stuff, the defrag the disk. The computer has new life. It's really dumb what people leave on their computers, they don't even try to delete files. The ones with bank names, names on accounts, etc, etc. I have no need for the stuff, but had it fallen into the wrong hands, watch out.
What you need to do is overwrite the disk. 'Google' "zero out" and you'll find info on how to overwrite you disk with new data, which will erase the old data. Hmmmm, I just thought of a new question for the tech guy: If I delete the data out of a certain folder, and load new data of equal or greater size into that folder, will the first data be overwritten? That way, you could give away or sell a working computer, and know that sensitive info is erased.
 Always new stuff to learn, but for sure, be careful when disposing of computers and drives. Seriously. I'm only an intermediate tech guy, at best, and I can easily retrieve this stuff. Even if I couldn't boot the computer, because of password issues, or a virus, I can put the drive in an external HD enclosure, and take -anything- I want from the drive. I did it for a friend who couldn't get his computer to start. Recovered some pictures he wanted from it.
Friday, March 18. 2011
Back when the news was about mass fish
die offs, I found the reactions interesting. I wasn't surprised to
see the media trying to downplay it, or offer a strictly natural
explanation. Being careful to keep people from thinking about God is
their identity, their self appointed role. The explanations offered
weren't entirely convincing to me. One I heard a few times was that
it was the cold that shocked the fish into dying. Hmmmm, what about
the fish in Brazil and New Zealand, where it was not winter? Another
report quoted somebody from the Midwest, a wildlife agency employee
maybe, or a agricultural advisor, something like that. He was saying
that this is nothing new, there have been occasional bird die offs in
years past. OK, but now there is a long string of continuous die
offs, and, it's not just birds, but crabs and fishes too. Another
report I saw said that the explanation was the internet, that with
news and information available to so many people, we can be aware of
more stories at once. Well OK, but is the internet that new? I mean
if this stuff happens on a regular basis, shouldn't someone have put
these type of stories together before, like 5 or 10 years ago? The
internet was moving along at a pretty good clip back then.
I'm reminded of the woman that wanted
to know if there was ever an exception to God's disapproval of the
situation that her son was in. She clearly didn't want to know the
details of when there was an exception, just that there was one. As
though she could relieve her torment by fabricating an imaginary
exception, even though there wasn't a real one one available.

I've learned to -never- quote a price
range for my services. Customers will invariably memorize -only-
the lower one, then go ballistic when later told something higher. At
first I thought they were trying to manipulate a better price, but
now I think that it's human nature. People hear a partial amount of
evidence, then assume the conclusion that is most comforting. So they
hear the guy say that birds have died before, and ignore any other
evidence, avoid any contemplation that might be uncomfortable.

Now, I see a huge earthquake in Japan and a bunch of new wars in the
Mideast and Africa; and the American stock market is continuing to
climb.

Jesus specifically mentions wars, rumors of wars, and earthquakes in
divers places in relation to end times. He called them the beginning
of sorrows. This can be found in the New Testament book of Matthew,
chapter 24. Verse 23 says:" So likewise ye, when ye shall see all
these things, know that it is near, even at the doors.


But a few verses later, he talks about how it will be as the days of
Noah, when so many people were caught unawares. I used to think that
those are people who will be blind to the indicators because they
don't know the Bible, or are caught up in the business of their
lives. But now I think it refers to people who willfully chose to
ignore the Bible and signs of the times. If the stock market
continues to climb, or at least doesn't fall; and the economy
improves, a lot of people will pretend everything is fine. Must be
comforting to turn off the trouble in one's soul, as a short term
fix, but you won't be able to answer God at judgment, if you've been
ignoring His message about Jesus at the cross.
I
really don't know when the end will be, but my suspicion that it's
near grows stronger all the time. What's for sure is that each one of
us will end. Your lifetime of struggles, education, accomplishments,
sorrows and joys...it ends. You end, end of story. Weird when you
think about it. It's called death, and your soul must answer for what
happened in your story. Please don't take comfort in yesterday, in
the standard of living that will indicate everything's alright. It's
not alright, if you're not born again.
- -
- - - - - - - - - - - - - - - - - - - - -

The
chapter also talks about the abomination that makes desolate standing
in the holy place. I know the theologians will tell you otherwise,
but I can't help but think that it sounds like homosexual "ministers"
in the pulpit.
Wednesday, March 9. 2011
Just when I said I'd be doing less politics, the very next post is economic. Well, when you see a sight like this one, you take notice. Actually, it fits with my very layman's guess as to the American economic condition. Here's a sign I saw a couple days ago: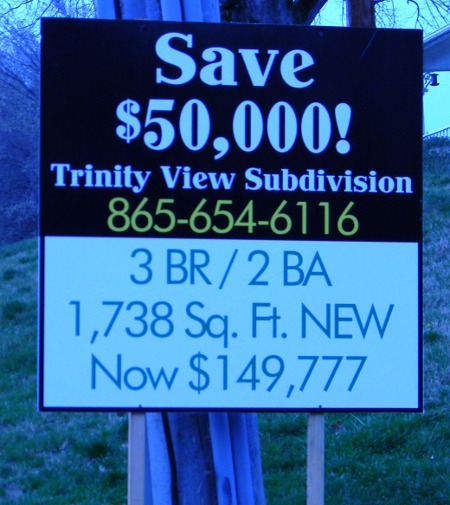 Sure, a mere 50 g's. Like "Save 49 cents on canned pears!" Surreal, man. What I figure is that until housing prices settle, the whole economy is in limbo. What's especially interesting or dangerous to the economy is that this is so central to American life; it's the center of "The American dream".What is certain is that part of the American dream could change in a big way: the buy a house then get something for nothing via the equity. People will need to be glad they have a house, not a grass hut or Nomad's tent.
Wednesday, March 9. 2011
At the end of 2010, we were in difficult financial straits. Since then, a number of good jobs have come into the shop; if you were praying for us, thank you. We needed that. It's always good to know why things happen, the details aren't always easy to be sure of.
 What I do know is that God works in my life in specific ways. It has been very obvious at times. So I was really wondering about this situation. There is a verse in the Bible, Jesus said Seek ye first the Kingdom of God, and all these things (necessities) will be added unto you. I figured that the only way that could change is if we were in some last times scenario, like something from Thessalonians. That, or I just wasn't seeking His Kingdom. I used the Bible software to do a phrase search on "Kingdom of God". That's what's so cool about this software, you can do a phrase search, not just a word search, like a concordance. And it's convenient.
 Anyway, I was looking over the verses, and realized that I had changed how I lived. When I moved here from California, I was always trying to tell people why Jesus died on the cross, that they too could have a new life. But I was met with strange resistance here, so much that I gave up on evangelism. I addressed some wickedness and injustices, but I also moved very much toward political activism.
 When I decided to change this, people started calling about some good jobs. But they weren't committing, this went on for weeks. I had it in my mind that I should be praying -and- FASTING, but disregarded the fasting part, because I didn't fully understand what it was for. So one evening I realized that hey, all those Bible people prayed, and nothing bad will come of it, even if I don't know what it's about. So the next morning I stated fasting, and the phone started ringing.
 Now the pendulum is swinging far the other way, away from politics. In the end, personal holiness and prayer is the only way to see His power here on earth, so it's not entirely different, just a more realistic path.
Wednesday, March 9. 2011
I
wonder if Christians in America are like the men of Ai in the book of
Joshua. In so many blogs, we have decided that we can argue against
the adversary on their own terms, and still win. Their terms are that
they disregard the Bible. So we use things like Aristotelian logic to debate them. It should be remembered that they are
blasphemers. God has said "I am", they say not so; God has said
"In the beginning, God created the heavens and the earth", they
say not so; God has said that homosexuality is "abomination",
they say not so. The danger is that our minds are conditioned to
disregard the POWER of God, and the word of God. The world says millions of years, and we
modify Genesis. The world has no fault divorce, the church is full of
divorce and remarriage. The world says try American dream 2.0, and
Christians have two income families. The world has Women's
liberation, the church gets lesbians in the pulpit.
Then
society falls apart, and we say "there ought to be a law", we
need a manifesto, we follow the likes of Carl Rove into thinking
there's power in politics. We work hard and very carefully implement
Proposition 8 and DOMA, which are shot down by one puny wicked judge,
and a White House administration desperate to shore its base. It that
power?

Is_that_power??? Have we
run out of the fort after a ruse, an ambush, and left our loved ones
to perish?

We
need to seek first the Kingdom of God, then we will see HIS power. I've seen it in my life recently. We
need holiness in private. I gave up TV about 20 years ago, and I am
very blessed thereby. What good I got from it wasn't worth having it
around. Same with the internet, if you can't stop looking at porn,
get rid of the connection. Don't stare at women on the street, not
even for half a second. Draw near to God, and he will draw near to
you; take His word seriously. We need to fast and pray that the local
church will stop being led by the secular world. If it won't we need
to start one that will.
There
is some cool free software called theWord. Get it and do a word
search for "power". To see all these verses together is amazing.
God has used the term many times, especially in the New testament.
God has a lot more to say about Him implementing the church than Him
implementing political structures. Sure, the powers that be are
ordained of Him, but He also said that as the rivers of water, he can
change the heart of the king. Could it be that if we focus on the One
that is power that He will change the political landscape?
I'm not abandoning all politics, just not putting the cart before the horse. I -am- beginning to doubt Libertarian ideas. Years ago I thought that either Christians outlaw wickedness, or wickedness will outlaw Christianity. They don't have to outlaw it in name or appearances, just the tenets. It's headed that way now. My change is that I'm not expecting to overcome wickedness with the political process.