I'm pleased with the house renovation
project. We're only renters here, some might wonder why the
motivation to improve what's not mine. It starts with the simple idea
that we want to live in a nicer place. The good thing is that there
are other benefits; it helps the neighbors retain the value of their
properties, and it says to everyone, this is what happens when the
Christian people come. Previous tenents drank a lot of bottled beer,
and shot up the out building with a shotgun. It's also an analogy of
what Jesus does in a person's life. Then too, we want to return our
landlord's kindness. He had a huge new leach line put in (septic),
and we're glad that he'll let a large family live here.
The broken asbestos shingles were
replaced with a Diebond knockoff, all the white paint is free, or
very low cost. I get it a little at a time; some given to me, some
from garage sales, and there's a city dump where they give away
usable paint . I just make sure that it's white-white, don't worry
about whether it's flat, gloss, or semi gloss. I get enough to do one
side of the house, then paint up to an edge. If the white is a tiny
bit different than the side next to it, or the gloss is different; it
doesn't matter, because the light is always hitting it at a
different angle, and people do not notice. Shoot, I work with very
slight differences in color, and I can't tell. It's about
assumptions, people assume it's all the same paint.
Yes, money is that tight right now,
but the thing is that this sort of project can be done -very- cheap,
if you want to do it. And I'm talking about 15-20 year paint. The
shingle replacement material is scrap from making signs. I did pay $5
for a can of mis-matched green, which I'm using on the trim. The
house is old, maybe 111 years old, and I get real satisfaction from
fixing it up. Good ol' house has been home to numerous families, and
is still being used that way. Which reminds me, if I do end up
promoting the historical aspect of Seymour, doing restoration at
'ground zero' is a good idea. In these pictures, you can see the
progress, the roof will be painted after the sides. I have 4 gallons
of green oil based paint that I got on a salvage run, that will be a
start.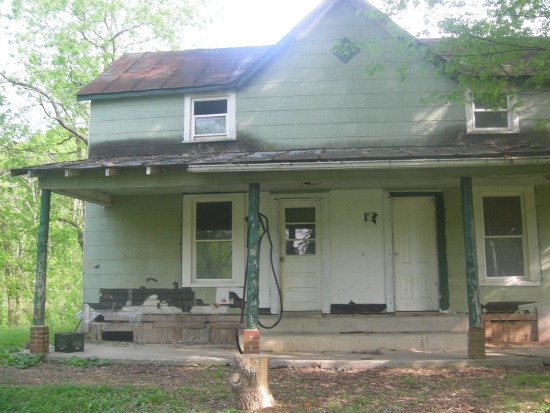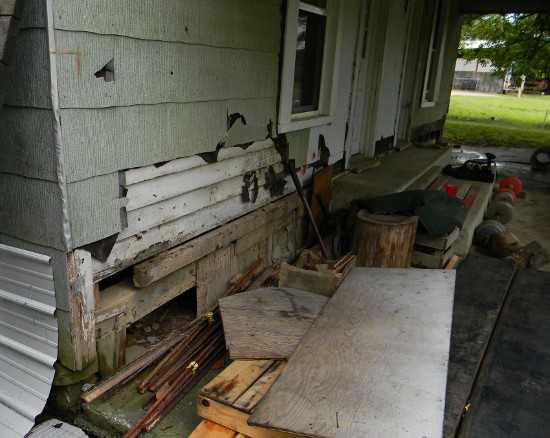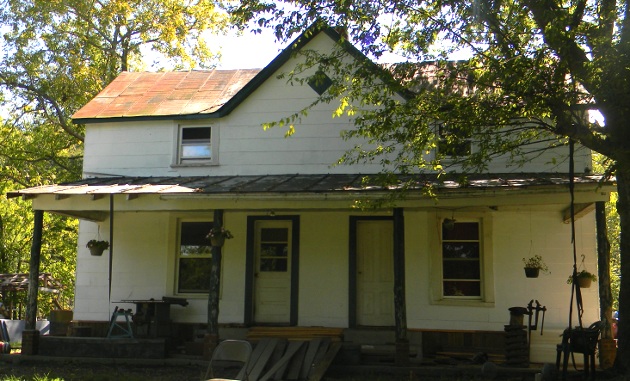 This isn't profound, but I like it when I can see something clearer
than before: Some people lie on the defensive, some people lie on the
offensive. Take your major news media for instance. When a large
group of prominent scientists gather to question or renounce
Darwinian evolution, does that ever make the news? They regularly
fabricate stories in support of the bad theory, but never report
evidence against it.

There should be a new acronym: Chrino. Christian In Name only.
I need to get serious about a certain
investigation, that is, a moral/spiritual timeline of events in the
early to mid 20th century. If you look at the early
1960's, it seems a very busy time of decline for the U.S. The ending
of the gold standard, Ted Kennedy's changing the immigration laws
(importing non Christian religions), increased divorce, rock music,
cultural revolution. Previously, I wondered if the removal of school
prayer was causal, but now I wonder if pornography and a covert
sexual looseness in the 1950's had a role in our losing God's favor.

Of course, some will question why I
look only at the 1900's, and not at prior events; such as the
unleashing of the monster federal government in about 1865. Was that
a curse, or just a force that God would use to shape history? Not
that I'm limiting it either-or; maybe it was a benevolent monster
that shaped world history...you know, Puff the Magic Democracy.