I enjoy classical music. I used to buy
tapes, but these days I just listen to public radio. The music is
nice, but the agenda...it's like if you want to know what Satan is up
to now, keep an ear on our public radio station. I'm beginning to
think that they don't report random news events, but deliver a very
crafted indoctrination.

One reason I think President Obama is
very likely to be re-elected is because the media is sending out a
message at an emotional level; a message of racism. I've heard people
say this before, but pretty much dismissed it until yesterday.
Earlier in the week, the station news reported how the change in
Florida's law regarding self defense was pushed by the NRA and
republicans. Friday, they report how President Obama said if he had a
son, he would look like Trayvon Martin. Then, within a short time,
seemed like an hour, they report this incident at a shooting range,
where a woman yells to Rick Santoram, as he's about to shoot,
"Pretend it's Obama". This might all be coincidence, but it looks
like the hand of Satan and his media workers. To be clear, I can't
understand how one can justify shooting an unarmed youth. And the
African American community has called for civil justice, not riots or
vigilantes. I don't condone the incident.
Another message that will be sent out
is one of economic recovery. They keep reporting how the nailbiters
gambling society, AKA as wall Street has gone above the 13,000 mark.
Whoopty-do. The price of stocks doesn't reflect the value produced by
the companies that issued the stock, but rather, the price reflects
the value the gamblers place on it. Not only that, the 800 pound
gorilla in the room is housing prices. Stocks were an issue...in
1929. The latest bubble to burst was real estate. All this media talk
about rising stock prices does two things: it distracts from the real
issues of the day, things like how many trillions the government
continues to spend; and it props up the failed Keynesian economic
system that made this mess. I expect to see a lot of heavily
stretched and tweaked news about recovery, things like unemployment
down. Right, more people working, what they don't say is the wages.
What they're offering, I can't support my family on. Ol' Karl Marx
talked about the history of man being a history of class struggles,
there are a lot of people taking advantage of this economic downturn.

Another factor in a very likely
re-election is the lead held by Mitt Romney in the Republican
primary. As I've said before, I don't get bothered over the birth
certificate issue because what got President Obama elected the first
time was that John McCain was his opponent. Mitt Romney is McCain
number 2.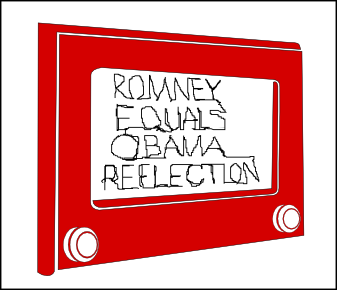 Yet another factor for re-election is
that Mr. Obama is the incumbent. His policies have been terrible
(unless you're a communist) so far, imagine what they'll be when he
doesn't face re-election. I perceived very dark days ahead. I left
California about 18 years ago, because of the changes I saw happening
in this country. California being so liberal, I figured the changes
would 'progress' there first. Ultimately, the plan was to leave the
country entirely, but we got bogged down here in Tennessee. There are
a lot of really neat things about this place, but economically, it
can drain the life out of you.

None of the above things should be
considered without thinking about what God is doing in all this. It's
not as though the working class is so pure and innocent that they can
expect God to bless them with high wages; it's not as though the
country as a whole can expect responsible leadership when they don't
practice it in their own lives. So it is, I think it's time to at
least have the passports ready, make a plan A, B, and C.
Update:
On Tuesday of this week, Congress held a forum regarding the Trayvon Martin shooting. Democrats were in attendance, but not one Republican. My guess is that this is all going to be played out as "Don't vote Republican, because they're racist".