Pornography causes brain mutation.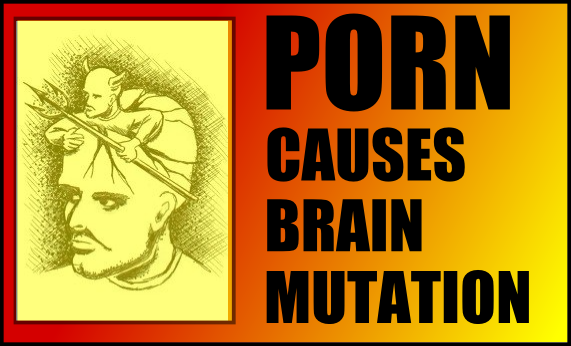 I
don't look at it myself. I try to be careful about looking at women
at all; my guess is that men think "I can handle it. It won't own
me, I've got it under control."

Consider the lives of two guys I know.
Both were married, had children. Both had attractive wives, not in a
small way. The first one got so much lust on his brain that he
molested his daughter, a young girl. How could anyone make a gauge to
measure the effect and damage this does to a child? How can anyone
know the depths of offense and rage a mother feels when this happens
to her child? Her reaction doesn't reveal details in this instance, I
just cut her slack, because I cannot relate. I suppose that it's as
bad as it gets. A note however, if women see pornography in the
home, don't think it's racy adult stuff; know that this is a huge
threat to your children and family. You need to attack it as though
it were a molester caught in the act. Fingernails in the eyeballs,
whatever it takes. Really.
The other guy would be one of the last
I would suspect. Calm, intelligent, responsible, religious; like one
of the straight and narrow guys from a '50's TV show. And his wife,
man, top shelf stuff. There's a saying that I first heard from her
family:"Every lady is a woman, but not every woman is a lady".
This lady personifies the first part of the saying. Nice personality,
great manners, good with children, has memorized lots of Bible
passages, from what I've seen, she's as good as it gets. That's just
how she acts; her looks, well, they equal the way she acts; I trying
to say that as tactfully as I can.
So this guy has her all to himself.
But he gets the mutated brain from porn syndrome, and starts visiting
prostitutes. Think about what a prostitute is: Back when, 40 years
ago, I guess there were two or three venereal diseases going around.
Now I understand there are close to 40. My guess is that some of
these bacteria and viruses wouldn't last long exposed to the
elements, they need to live in a host body. Sort of like a petri dish
in a lab. A prostitute is a walking bacteria repository, billions
upon billions of them being sustained there in her body fluids and
members. Carried about and kept alive in the host organism. Like a
mega bank of microscopic activity where the clients come and make
deposits and withdrawals. They take away more than they bargained
for; they probably don't want to know. It might not be possible to
know till years later. That's just the physical aspect, is it
possible to pick up spirits there too?
This guy traded stunning gal that he
had all to himself; for filthy science lab, that every guy shared.
Lots of guys. No qualifications other than money, day after day, how
many guys does she do in a day? 10? 20? I honestly don't know.

This is brain mutation. No doubt both
of these guys thought they could handle looking at pornography.