You've probably seen a map of Europe
at the end of 1944, as the Allies were closing in on Germany. This
map is similar, except that the great majority of enemies in this map
are self inflicted.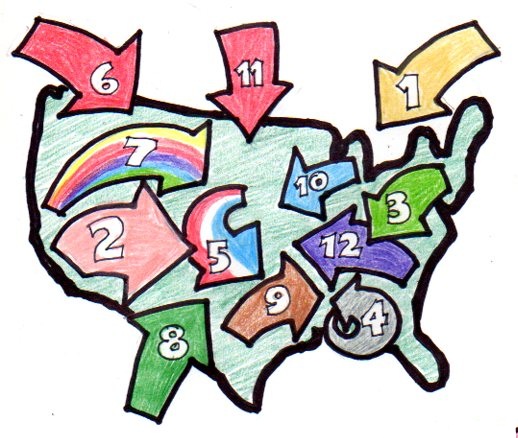 The arrows aren't numbered in order of
significance; at this point things look so bad that there's no need
to prioritize. Most won't be covered in detail, a halfway observant
person should be able to discern their methods and effects. A few
will be covered in more detail, as I think many are misled by their
nature. There are certainly arrows left out; for instance I could
make a furry looking one, for people who consider animals to be
"people too".
Number 1 is Darwin's theory of macro
evolution. Very destructive, I could spend pages describing how bogus
it is; I will just say that I was an evolutionist, but after seeing
the existing physical evidence put alongside both the creation model
and the evolution model, I was persuaded that creation made more
sense. I have studied the issue for more than 20 years since, and now
the evidence is beyond overwhelming. In fact, it aligns with
theological contemplations I have; in that the most valid purpose of
the evolution theory is to cleanly separate those who want to be
apart from God from those who want to be with God.
Arrow 11 is Marxism, it has something
in common with arrow 1; that is that neither arrow needs to be drawn
coming from abroad. The US universities are a much stronger source
than any external ones. Arrow 3 is Liberalism, the hand of Satan. 10
is Islam. Like many of the arrows, this was initially an effect, but
will become a cause of the destruction of the US. Arrow 6 is the
flood of manufactured goods from abroad. It is doubly difficult
because not only does it strengthen the Chinese military, but it
sends jobs away. However, one can't always say oh poor American
worker; the American working class is a huge consumer of the filth
that Hollywood and TV produce. Those who ignore God should not be
surprised if He returns the favor.
Arrow 7 is the homosexual
abomination. As the country moves farther from God; I have been close
to accepting Libertarian policies that would let that small
percentage of the population do as they please, as long as I didn't
have to accommodate it. Now though, I see that behind many issues is
the conflict between Jesus and Satan. Libertarian ideas are like
making a peace treaty with the father of lies. He'll just smile. The
conflict between Christians and perverts is an unending one. One or
the other must be in the closet, and kept there. Homosexuals demand
more than tolerance, yet they are the least tolerant. When in power,
they will hunt down their opponents; more on that in arrow 5. The
homosexual activists have been delivering their forceful agenda
recently by suing a photographer who wouldn't accommodate a perverse
wedding; and by using the (homo) Human Rights Council against a T
shirt printer in Kentucky. Graphic artists spend many hours
communicating to the masses, this might have some unintended
consequences for the Homos.

Arrow 2 is the Hollywood and
television abomination, might as well include internet filth too.
There are more problems with this than I care to write about here;
but a few are: It robs children of their childhood. In fact, I have a
sister in law, Auntie M, that calls TV child abuse. She's right. It
homogenizes the country in terms of trends, fashions, and morality;
all downhill. It relies on excessive action and stimulation to
deliver entertainment, this makes everyday life and pleasures seem
boring.
Arrow 8 is the flood of immigrants.
I've read that because of birth control, places like Italy and
Germany will cease to exist, as the population does not replace
itself. So maybe the US government is preparing for something
similar, but I doubt it. That might actually resemble responsible
behavior. I suspect other motives, in order to have a housing bubble,
it would happen faster if there was a source of cheap labor. I always
slow down and stare in amazement when I see a group of white
construction workers."Made in the USA" doesn't mean much to me
anymore; because it either refers to the last sticker put on the box
of an imported good, or, made in a factory full of illegal
immigrants. I don't work in one place, I go around to different
businesses. The factories I've seen had no white people. I f we're
going to have immigrants, I would rather have a Mexican neighbor than
a Muslim, I can get along with them fine. But many of the ones I've
met have this huge nationalistic streak, and I don't mean American.
The worst are the ones that want to take over parts of the US as
Mexican territory. Let's see if I have this right: You left that
place because it was so screwed up, and now you want to make this
place the same. Hmmmm. I wonder if there's an inverse proportion law
thing with nationalism; the more terrible a place is, the greater its
nationalism. They gotta have -something- to be proud of. Don't be
surprised if nationalism rises here; it will fit with arrow 5.
While on the subject of race, one
news source, World Net Daily, has had the honesty to report a
continuing series of riots and beatings committed by blacks. I've
seen what looked like a near incident of the same, while I was 25
feet away. It can be beneficial to let the mind wander in a
calculating way, so long as one isn't too quick to regard the results
as fact. That said, I wonder about the likeliness of a scenario where
racial tensions are allowed to get to the breaking point. The latest
report at WND said that it's not just race; but there's a high
proportion of homosexuals targeted by blacks in these beatings. I
wonder if homosexuality is just that vile in the black community; or
perhaps they consider homosexuals to be abusing and soiling the civil
rights movement. Either way, the government of course intervenes,
but in order to facilitate enforcement of the peace, a little mark is
added to your driver's license. This would be the tolerance mark.
Other countries have a mark on the license indicating what religion
you are; so it's not too far fetched. A mere verbal agreement would
get you the mark; but any indication of hate thoughts will get yours
revoked. Without the mark, you wouldn't be able to make many
transactions. The mark of course will be inclusive of LGBT
lifestyles. Another thing: how long do you think it will be before
the T at the end will be changed from transgender to
transgenerational? I think that much is certainly coming.

Arrow 4 is the STZR, Southern
Traditional Zombie Religion. Try to evangelize people in this region,
and they will -all- every last one, claim to be Christian, or divert
the conversation with a reassurance that they attend church, and that
there's (Pul-Leaze!) no need to talk about it any further. Zombie
because if you mention how wicked the music or magazines are in a
public place, they give you a blank stare as though the subject is
incomprehensible. This is repeated if you ask which Bible verse
they've read lately. I had an observation the other night, it's far
from scientific; and there could easily be other explanations. I
thought about the house churches in the area. I suppose that most
areas in the US have house churches. They're comprised of families
that have left the spiritual vacuum of the denominations, seeking to
fellowship with other Christians who take the Bible seriously. I
realized that the percentage of people from the local region who are
in the house churches of this area is very low. Most of the people
(like us) are from outside areas. It's not that we feel more
comfortable with other outsiders; the reception one receives in the
denominational churches is very warm, there wouldn't be a need to
leave the established churches because of hospitality.

Arrows 5 and 9 are where I'll lose a
lot of friends, no doubt for life, even likely that I'll receive
threats of violence, it has happened to me before at a forum. That's
what people do when they're losing an argument. Nine is the Western
lifestyle. This is tough to say, because I'm around some Western
people, and they're easy to get along with, help their neighbors, and
are often the kind of people that you never have to worry about
locking your doors on behalf of.
That said, the Western lifestyle
diligently maintains an appearance of good while tolerating and
promoting that which is wicked. It's so persuasive that I'm at the
point of not allowing any of the trappings in this house before age
18. Young people don't have the discernment to enjoy the beneficial
parts of the lifestyle without the good and the bad parts becoming
their entire self identity. Seriously. Once that hat goes on, then
they soak up all the music and loose living that the lifestyle
promotes. I'm certain you can show me an exception, there are
exceptions among the adults too, but that's what they are,
exceptions. I hope that I haven't already lost two of my children to
this subculture. Just because you don't rob banks, do drugs, and you
do dress nicely for church, doesn't mean you're walking with the
Lord. The music on your radio is wicked, same for your TV shows;
even the clowns at the rodeo halftime show are perverted. Why do they
have to resort to unclean stunts to get laughs, and why doesn't
anybody notice? Doesn't seem out of the ordinary? It would if you
were close to God's word. Just what are they teaching at that church
you go to? To put it bluntly, I think the western lifestyle has
become one of Satan's best tactics, a respectable veneer for his
preferred behaviors: adultery, divorce, drunkenness, pride. The cool
cliché right now is "Cowboy Up". To which I say, "Cowboy CLEAN
up your act. That, or quit calling yourself Christian.
Arrow 5, man that's a big one. It's
about what's called God and Country, it's usually God and militarism.
Christian Triumphalism. The problem is that it's a mix of truth and
error regarding the most important things in life. That's why there
so much emotion in this realm, and so much hatred for anyone that
questions it all. I expect some will be very angry at me; it won't be
the first time. But try to prove my words wrong without resorting to
vague, fiery, overused cliches. I'm not a peace at any cost, lay down
your rifle liberal. Far from it. It's just that I'm consistent enough
to know that big tyrannical government comes in different forms, and
must be questioned in every form it shows itself, including a huge
military presence around the world..
Here goes: Lately I keep seeing how
paradoxical life can be. There is a common phrase, one that I
consider ingenious and which I loath as manipulative. Loath is
putting it mildly. I guess the real problem is that the American
public doesn't connect the dots and see this for what it is. The
phrase is:
"I support the troops."
I have tried to research the following
incident, but cannot find it documented. That said, I clearly
remember where I was when I heard the radio news report during the
first Gulf war. There was a high school student beaten because he
"didn't support the troops". I've learned that before entering
the fray regarding this phrase, I should ask:"Can I support the
troops, but not support the war?" Not that it would keep me safe
from the easily brainwashed; but the question is a real one. If at
this point, you're inclined to reply that I'm hiding behind my
keyboard; and wouldn't say this in person, don't count on it. If you
wouldn't let me avoid or change the subject; yes, I would tell you
what I think. I write this not for sake of bravado; no, but to make
an obvious point: it sounds as though you silence the opposing view
by violence. Why is that? It's because that's the only way you CAN
defend your position. One of the beauties of the internet is that all
you have are words, pictures and ideas. Now, moving on with more
words:
Four words, I_support_the_troops.
Ingenious! Now you get the public involved at a very emotional level.
Never mind "United we stand", or "loose lips sink ships";
those only engage people at a level of reason. Now, a person dare not
suggest that he's such a callous traitor he would disregard those
willing to die for him. No-no, better not talk about it, better just
go with the flow.
Look, I know what the troops are
like, I know why they're there. They're there because they are
American troops, the best in the world. I remember reading a magazine
article years ago, maybe a gun magazine. It was just after the fall
of the Berlin wall. A U.S. Military officer over there was commenting
on the nature of the non American troops he was seeing. He said they
were the kind of troops that, upon receiving an order, would
contemplate its legitimacy before following it.
That's not how American troops are.
They don't question whether this war is completely valid, they go
because they are U.S. Military personnel that follow orders. Period.
Another thing, suppose there was a draft back in the 80's, and I was
selected. I was such a skinny, undisciplined, dope smoking bum that I
would have either died or been kicked out. Sure, they deal with all
sorts, maybe I would have had a "life changing experience" but
the point is that the average soldier is a lot stronger, more fit,
and smarter than I was. I'm not knocking the troops, I know the real
score.
In fact, it's reasonable to say I
care more about the troops than a lot of the "I support the troops"
crowd. Seriously. I question why they're placed in such dangerous
circumstances. These L-O-N-G protracted wars, what are they about?
The one in Iraq: it has undergone 3 or 4 name changes since it
started? What was the latest..."Operation Iraqi Freedom?" I
thought we were there to find weapons of mass destruction. Why would
a government have to change the name of a war? What other reason than
to stay awhile longer? What else could it be? Sounds like propaganda
on steroids. Are you THAT gullible? Why not just do what you came
for, then get out? They found Sadaam a long time ago.

Upon leaving office, President
Eisenhower warned of the military-industrial complex. Stop right
here. Pause. Was he a cowardly liberal? A backstabbing traitor? He
was a military HERO. If you're one of the God and Country people, you
should consider him one of your own. He was warning about huge profit
being made from American wars. How do you skirt this in your mind?
"Oh that was back when, we can ignore it now." Why? Because we're
smarter? Because the country is more moral now? You can find a way to
lie to yourself, but you can't make me believe this one.

Somewhere behind this, someone has a
reason for keeping the troops there way longer than they need to be.
I heard one unusual reason put forth: we're there to keep the Chinese
out of the middle east. Just another theory? Look at a map. See where
Iraq and Afghanistan are. There's also the theory that Sadaam was
about to stop using the U.S. Dollar, and go to the Euro. I don't
fully endorse any theory; I just think it's obvious somebody wanted
us to be there a long time.
And still you loath me because I dare
question this phrase "I support the troops". Do they NEED that
kind of emotional propping up? Aren't some things self evident? If we
had glaringly obvious reasons for being there the troops wouldn't
need "support". Did the troops in 1943 have any doubts as to why
they were over there? Maybe the troops don't need emotional support,
maybe that's all stateside manipulation. I did however see a
television clip while out and about, (we don't watch TV in this
house). It was a news clip, at the outset of the Iraq
invasion. An Air force attack pilot was being interviewed. He said
that yes, having the endorsement of the American public was important
to him. Why? Uncertain as to the validity of the mission? There will
always be someone that objects; if you're doing the right thing, go
blow the crap out of your target and consider it an unpleasant job
well done.

I observe that the American public is
letting their emotions rule their minds; instead of the other way
around. That's the essence of my gripe. Look at the animal rescue
people; houses with 60 cats and 50 dogs; because after all, "animals
are people too". Emotions ruling the mind. There was a couple in
Knoxville Tn. Whose large dog got its tongue caught in a paper
shredder. Front page of the News Sentinel. Thousands in vet bills,
and worse, the care that this dog now requires. Since it can't
regulate its temperature with its tongue any more, it has to stay in
a climate controlled environment. It can't position food in its mouth
for chewing, so every time it needs to eat, its owners have to hand
make special meatballs, then feed it by hand. The man of the house
said it was such a special privilege to care for this special animal.
He's a slave to a dog. Emotions ruling the mind. The American way. A
lot like people who get angry at you for questioning propaganda
slogans.

There's more to consider regarding
arrow five. For many people, military service is one of the GER's;
glory exchange religions. This group also contains the STZR. With the
STZR, you attend church regularly, and consider alcohol evil, then
you get the glory of being "Good people". By sending your son or
daughter off to a pointless conflict, the whole family gets glory.
Pointless conflict??? How dare I say that! Why some body ought to
KICK MY ASS!!. OK, then tell me what happens the minute we pull out
of Afghanistan: things revert instantly back to what they were before
we got there. Unless of course we maintain a presence there. That
way, those people can be sure to wear bikinis and have gay pride
parades, American style. That, and their version of democracy: elect
a Muslim government. Tell me again why we're there? A couple times a
week I get a Facebook posting about a young US soldier killed over
there. The last one was 22 years old. So much he could have done with
himself. What will his sacrifice be worth 5 or 10 years from now? I
think it's a shocking waste. You send out facebook postings saying
that those who don't support the troops or the war should get the
F--- out of this country. Does this make you a a true patriotic
American? I think you're like the people that shop at an upscale
store, and enjoy carrying around the bag they gave you with their
name on it.
Oh, but there's more to all this
military stuff: The military is now pro homosexual. Not just
tolerating it, but embracing it as orders from above. In a culture
that is seriously drifting away from its past moral anchors, there is
an increasing tendency toward legality equals morality. Good guy, bad
guy. Good guy follows the law, bad guy doesn't. On the battlefield,
the soldiers learn to think in terms of friendly or enemy. Now the
Federal government has started a program to encourage local police
departments to hire veterans. Makes sense, considering that the
veterans are already trained in things that benefit the department.
But look at this, taken from a site about that very subject: This is
from page 33 of an online report:
https://docs.google.com/viewer?a=v&q=cache:cxRLfi4BTIMJ:www.theiacp.org/LinkClick.aspx?fileticket=kc8Tow5TthM=&tabid=392+&hl=en&gl=us&pid=bl&srcid=ADGEEShywFrhqKOIkZYCk-EzsQWu3DcT0zKYjv4T4ZpsUHBF5sDEfdDo9Yu2HTXmhnpf1Js1wQ2zJsppa7jtCImY0ND-YK97ppeRw2LAJiRTY9RLLStBjIgK5Wj7wAsNir-o5mKWcwQ6&sig=AHIEtbRjQw-2xUD3-2wvkbM5oT1Mf3IJrQ&pli=1
Transition Issues



Many issues surround the transition
from combat to civilian life and the return to law enforcement
careers. Veterans noted that their perspective on a number of issues
has changed based on their military experience.:
-Low tolerance for citizen's
complaints, which they perceive as minor, relative to their own
combat experiences.
-Reduced level of empathy for others.
-High level of frustration with their
families and civilians.
-Impatience with the decision makers
and leaders within their agencies.
-Indifference to spouses' or family
problems.
-Feeling that veterans are the only
people who understand their issues and experiences, leading to
isolation and desire to return to combat theater.
-Only trusting other veterans, an "us
versus them" mentality.
-Different rules of engagement and
operating procedures.
-The need to adjust driving behavior to
domestic streets.
-The need to adjust language to
civilian environments.
-Temporarily feeling stressed and
anxious, along with having nightmares.
-Perception that the Reserves and
National Guard face a different set of issues and have less of a
built in support system compared to active duty veterans.
Now look at another site about veterans
hired as police:
http://www.gijobs.com/protect-and-serve.aspx
Notice this line:
"The
Dallas Police Department, which recruits at Fort Hood, Fort Bliss and
other bases throughout Texas, has filled about 80 percent of its
openings the past two years with military veterans."
"80 PERCENT". This country is
building a police force of personnel from a pro homosexual military.
Guys that think in terms of good guy, bad guy. When laws are passed
outlawing any written or spoken word against homosexual behavior,
they won't hesitate to persecute Christians. The God and Country
people that endorse long drawn out wars will probably live to regret
it.