Thursday, June 27. 2013

Life can be so paradoxical. On the one hand, I have some really rewarding projects I'm involved in. A few of them involve wood working; and I want to explore the idea that some types of art are more an act of worship than others, because they involve materials that show God's design in them. Below is part of the painting I did on an old saw blade for a customer who wanted their logo put on it. This is the background art; I refer to it as an Appalachian tribute. The logo isn't in this picture in the event that they don't want their business associated with the posts I make here. I'll spare you the details, but this project involves some experimental methods that worked well, which makes me quite glad. Also pictured is my truck door, which I just lettered with 23 Karat gold leaf; a project I've wanted to do for a long time.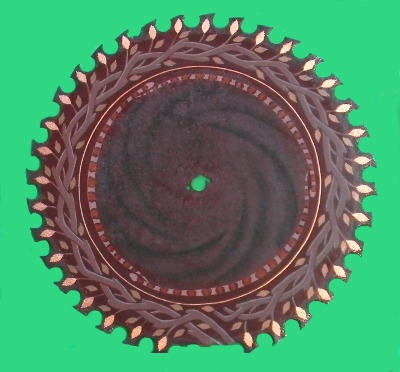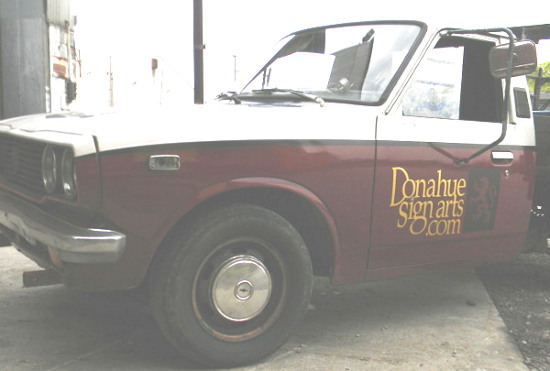 On the other hand, the moral and political changes that are happening are ominous. When I say "we read a book" it means I was driving or working on something, while my wife read a book aloud to the listening family. We read a book about the life and travels of a family in one of the satellite countries of the former Soviet Union, just after the end of WW2. They still had a chance to get out, but the government takeover was fast approaching. The couple was talking about it; they said it's outrageous to think that X could happen, but if it does, that's our cue to leave. They did get out, just in time.
As for me, I try to tell people around me that maybe things are farther along than we realize, that these 2nd Thessalonians events might be what we're seeing. What I get is the same response; that people have been saying this for hundreds of years, and it wasn't the end yet. That is true, but logically, one generation has to be right. A couple of days ago, I got the verse about "if My people will humble themselves and pray, then will I hear from heaven,. forgive their sins, and heal their land". I'm not convinced that it's talking about anyone other than Israel. But for the sake of conversation, when it says that verse in the Bible, it's talking about the country of Israel, in that immediate context, right? Think about it, the WHOLE COUNTRY was Israel. So God was saying that if the COUNTRY repents, then He will save it. I'm in complete agreement that a verse can have more than one meaning; but I'm having a problem with the numbers here. There are a lot of people in the U.S. That claim to be Christian, but those who let God define the term by His word are a minority. So, for the sake of conversation, let's say that ALL of those make a proclamation of repentance. A big portion of them will sneak back to their internet pornography. This leaves a small part of the whole country in repentance. I'm having serious doubts here. It's as though people think the Bible events happened so long ago; and we haven't seen any epic events in our time; so no, something so familiar as the U.S.A. couldn't actually play a big part in the end time, neither could everyday technology like the internet. It's almost always parents that deny the possibility of my end time speculation; one hardly let me finish the sentence without a resounding "No!". Yet they have less evidence for their disagreement than I have for my suspicions, but the answer is always denial of the possibility. I think they don't want to face something that pessimistic for their children's sake. Logically though, there must be one generation that has to face it in their youth. And think about it, the youth might have to forfeit the marriage, children, house and American Dream, but their parents actually have it worse. The parents already have children which are threatened by the encroaching state liberalism. As for the youths themselves, when they know for certain that this is upon them and all of us, they can face it as that noble generation who aided others and did the Lord's work in the last few years.
So I''ll talk to my wife about setting a tipping event, the same way the couple in the book did. Personally, I think we're beyond the tipping event, but I'm pretty much alone on that idea. The more I think about this stuff, some of it gets clearer. For instance, I wondered if I would be told what I was allowed to say on this blog; then realized that the blog will be terminated. I won't have to worry about compliance. A few more thoughts:
Have a list that starts with two possibilities; one, we're able to get out of the country, what will we try to prepare for. Two, we can't get out of the country, what will we prepare for. If I'm not allowed to sell my services, or get a job, then maybe I can arrange a sharecropper type existence. I have a wide variety of skills, I can help a number of operations with maintenance and marketing. If we did have to flee or move, would it be better to have nicer looking luggage? Psychologically, the family might get better treatment than if we had our stuff in black trash bags, or something scruffy looking. It could backfire, in that people would try to exhort more, but I'll have to look into that. Just a few thoughts I want to ponder while I still can do so in relatively relaxed conditions.
Again, I'm not convinced things will get that dire, but they really look to be going a way that is against Christianity. Why would they stop at something less than making it illegal? There are countries in existence right now where Christianity is actually or de facto illegal. On the other hand, The Bible says that the gates of hell will not prevail against His church, and that His return will be like a thief in the night; that is, a lot of people caught off guard. I expect difficulties to fundamental Christians; the god of the liberals is government, and they have no hesitation to use it.
Speaking of this blog, readership is up, that's not to boast, in fact it's a bit intimidating. The reason I bring it up is because the left loves to publicly smear the opposition; and I want to say now that I lived a wicked life prior to being saved by Jesus Christ, dirt can be found if one wants to dig for it. Now, onto more of the offensive blog material:
I was waiting in a line, and handed a local newspaper, the Knoxville News Sentinel, June 11, 2013.
The front page has a story about ex police officers admit beating a guy that was handcuffed. They beat him so bad his ribs were broken. One of the officers was on the guy's back, and asked the guy if he wanted to perform a homosexual act. Shades of the militant left? Two of the officers will be seeking to serve their sentences on probation. I wonder if an ordinary citizen could get that treatment? Extended immunity, I guess. Is this really news? I guess if the public thinks it's an unusual occurrence, then to them, it is news.
Below that is a story about an 11 year old Oak Ridge boy suffering bullying. It was to the point that his folks decided to home school him. The article says "Gay 11 year old". It starts off talking about his fingernail polish and eyeliner collections. His father says the boy wears them when he wants to feel special. How does an 11 year old know he's homosexual? It says he was watching a video and thought "Wow, that guy's really hot". I say poor kid never had a chance. The Bible is clear that parents should teach and talk about God's word as an everyday thing. This kid didn't have that, so when a demon comes along and gives him the "hot" thought, he's defenseless. Not only that, but I have this idea that if your house is welcoming to God's Holy Spirit, you'll have a lot less of the bad stuff happening; less of the dark ideas in kids' minds. Less illness too. If you're skeptical that it's demonic, then I propose that Christians continually pray for this kid. If one day he repents of this homosexual abomination, then you'll see the power of the supernatural. His name is Marcel Neergaard, pray for him daily.
The article says he's become somewhat of a celebrity for launching an online petition. That petition got an award rescinded from state Rep. John Ragan. His crime was being linked to the "don't say gay" bill that failed two years ago. If I recall, the bill was about teachers saying homosexual, instead of gay.
Then, the next day, I believe, was an editorial in the same paper by one Ina Hughes. She started off talking about a cute kid born to an interracial couple. The child was in a commercial, and there were internet comments deriding the interracial marriage. Then Ina goes on to say that it's the same bigotry that disapproves of the Boy Scouts' recent decision. She says that the bigots support their views by picking and choosing which Bible verses they want to live by. Well guess what Ina? You do too. If someone brutally abused and killed someone dear to you, or stole everything you own; would you say there's no basis for that being wrong? You would probably choose a few Old Testament verses to say that it was grievous sin. Maybe you can find a few New Testament verses to say those things are wrong? Try Romans chapter one for a passage about homosexuality. Notice how she uses a case of racism to segue into a case about homosexuality, the classic liberal pattern.
Some days after this, comes the news that a well known ministry for helping people repent of homosexuality has closed, with an apology for being such a problem over the years. The Southern Baptist Convention caved in its response to the Boy Scouts' decision. The supreme court just did away with DOMA; that was predictable. To me, the hearing was just a formality. Knoxville Tn. Now has billboards around town that denounce bullying, allegedly sponsored by the police department. This is a way to bring more pro homosexual agenda into the classroom.
Then there's the case of the Kentucky T shirt printer that's be charged with a human rights violation because he wouldn't print shirts for the homo pride event. I went and read about it last night, apparently there's no case verdict yet. What is interesting though, is the public furor over this. One group has tried to buy the mortgage on the property so that the shirt company would be evicted. Does any of this sound like "not able to buy or sell"? Or the days before Krystal Nacht? To see how people are already conditioned to get angry, read the discussion going on at the sign forum. There's a link in the prior post titled "Typical tirade". Things are moving fast.
I do get glimpses of resistance or a backlash against liberal encroachment, though. The article about the 11 year old made the bullying out to be widespread. NPR played a little news blip the other day, I'm pretty sure it was the same afternoon, the 11th. It said there was something like a tolerance seminar given in Tennessee, about a Mosque that was burned. There was a woman addressing the crowd, and as soon as she mentioned the event; the room erupted in joyous laughter. The woman can be heard saying "Shame on you!". Then there's the prosperity of Chic-Fil-A. I was driving down Broadway in Fountain City, and noticed that a new one was being built. It looked very nice, tip top shape. I know there'll be those who want to say that I'm endorsing the burning and bullying, just run with it, because I'm already a bad guy, a bigot in fact, so heap that on me too..
In spite of the backlash, I know that liberals can't take no for an answer, and I doubt the situation can remain static. For better or worse, I look for patterns in things. The T shirt printer is in Kentucky, which borders Tennessee. The 11 year old kid is in Tennessee, so was the Mosque burning. The events in the discussion at the sign forum are in Tennessee. If that means anything, I don't know.
Whatever happens, Christians need to prioritize some things:
If we are that generation, let's face it to the glory of God, and not be in denial or hope for things from the past.
We're to go into all the world with the gospel. A very good way to do this is radio. I was led to the Lord via radio, so I know it works. It can go where missionaries can't. My plan is to support radio as long as I can, then more of an in person ministry, if it comes to that. It's like doing as much damage behind enemy lines as you can, before being caught. I also want to resist the encroaching darkness as long as I can. What's interesting is the way that discussion at the sign forum went. One guy standing alone at first, then the entire direction turning. I try to look at things more than one way; so, I'm not concluding that society can be changed by people standing up that way, or that there was awesome debate ability displayed. I think it's quite possible the parents were aware of the discussion,and despite all the turmoil created, God wanted them to remember: "Be still and know that I am God".

Saturday, June 15. 2013
Hi all, much to say, but I need time to actually type it. For now, here's a link to a typical tirade at a sign forum:
discussion
Monday, June 10. 2013
As per the peace treaty with the wasps; I went to fire up the BBQ grill for the first time, and found a small nest in there. I wondered if I could move it. It was much for the fun of the challenge as anything, I wasn't going to spend a lot of time or effort on it. 'Fun' is an important word there; in my world, I'm constantly having to deal with physical details, and looking for better ways to do so. It could become a psychotic disorder if it got too bad. Since just about everything is high mileage, it has a special way to turn on the switch, move the handle, tilt the tool, warm the motor, on and on it goes. In my work, I've learned how big a difference a slight change of method can be when using a sharp hand tool, so it's all quite deliberate. So it's either a big game or a big stress. One part of the game is driving, being an inertia master specifically. If I see a red light down the road that I know I'll have to stop at, I'll see how far I can coast to it. What's really cool is when all the other cars zoom past me, stand on their brakes at said red light, then, without touching my brakes once, the light turns green, and I accelerate past them all. Bonus style points for growling the words "Arrrg, learn how to drive, ye scallywags!" as I go by.
Ah, the life of the maturity challenged...where was I? Oh yeah, playing with bugs. Well anyway, I had the fire stated teepee style in the opposite corner of the grill; I use hardwood pieces because they taste great, and I'm way too cheap to pay for briquets when living in a hardwood forest I knew that most bugs can't stand smoke, they just get out of Dodge. So I scooped and pushed puffs of white smoke toward them, and after a few minutes, even the most gallant ones left.. Then I pulled their nest down, then sprayed some 3M adhesive on a board. I didn't want to spray it right on the nest, the stuff has solvents in it. I figured having it on a board first would release some of the solvents. I used a small stick to apply some of the glue to the top of the nest, and some to a spot just under the edge of the porch. I waited a few minutes for the glue to tack up, then stuck it in the new place. I had already dropped it once from about waist high; so it was even worse when the glue let loose, and the nest dropped about 7 feet. This time, there was clear goo coming out from on of the chambers, and I figured this project wasn't looking so good. But I reattached it, and left it at that. The new place was about 10 feet 8 inches from the where they had built it in the grill. You can go on line and find where people have chilled large colonies, and moved everything at one time, but hey, no such sophistication here. If they find it, they find it. It appears they found it. Six days later, I took the picture, there were 3 adults on the nest. Maybe these are ones that hatched out and said "where's everybody at?" But I think the existing ones found it. One or more of them made the brown colored reinforcement straps you see between nest and wood.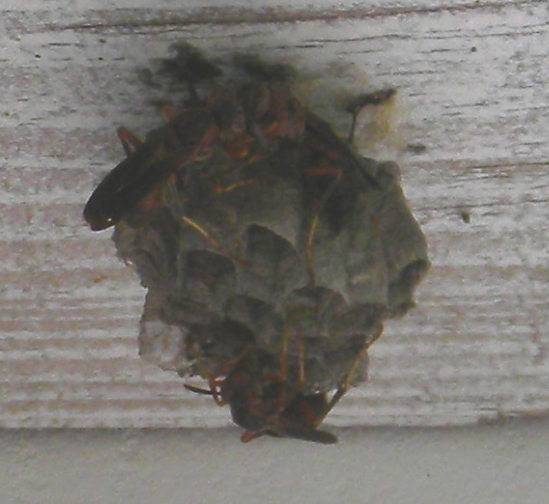 I'm not sure what you come here for, but always remember the blog title. Which reminds me; I was searching around for SEO information, to see if irrelevant links can hurt more than help. I came across a discussion where the tech guy was saying that there are blogs he and others go to just to see what the bozo is writing next. Can I combine a few words here? Bozo + blog = blozo? (Just checked, the word's already being used by some clown) I wonder if something can be worked up for "patsy". Speaking of government, can we combine debt and denial to get debtnial? They're trying to regain the standards of the past, with debt. You know how when a saucer is dropped a certain way, and it spins on the floor? Then, as it gets closer and closer to the floor, it spins faster, till it stops altogether? Borrow more and more... Or principal plus interest, plus lots of things like lost manufacturing sector; all combine into a medieval mace that spins around and slams one on the head.
Back to weird, I've been wondering about becoming the behavior you adapt. There is a book about a maximum security POW camp in Germany, in WW2. It was called Colditz Castle. The guys were ever trying to escape, but individual plans had to be approved by the allied CO; a British chap. One thing he wouldn't approve was the Kooky tactic; act like you're going loony so that you would be released. One guy disregarded the order, and did end up losing his mental faculties. So maybe there's something to it. That and the Pirate talk, I guess I need to be careful. This lead me to wonder about teenagers. There could be several reasons they would act responsible; one is because they actually want to become that, another reason would be that they have a superficial act, and the third would be that it's a deliberate acting out what they consider unnecessary burdens, just to conform to the standards of the household. But if they did it long enough, might it 'rub off' on them? (Shouldn't that be 'rub on'?)
Arrrgg, buckos, whatever, I'll try to better act the part of an intelligent writer next time.