(Matt
12:25 [KJV])

And
Jesus knew their thoughts, and said unto them, Every
kingdom divided against itself is brought to desolation; and every
city or house divided against itself shall not stand:

This
country is getting more divided every day. The liberals fulfill their
role quite well, but the conservatives don't really have an
understanding of what they're supposed to be, or what the problem is.
I guess hope springs eternal and all that; so I keep getting a spark
of joy when I see widespread resistance to the liberal takeover. But
the truth is that there are probably 10 or 20 fatal problems in this
country, any one of them would spell the end by itself. For example,
the Hispanic vote. Republicans are trying to win their vote, so they
take up the platform of those that are the ruin of this country. The
Hispanics vote Democrat, and if their vote is the one that determines
the winner; then it's over, no complicated math needed. Maybe there's
a chance of the country collapsing into regions, and the
conservatives can have a little more time in their own place.
Liberals are the least tolerant of opposing ideas, so they won't let
that happen if they can do anything about it. I even wonder if there
are parallels between the times we live in, and the Civil War. I have
some comparisons already, but I'll wait to see how that unfolds
before posting them. Keep your eyes open. Here's an article that
mentions resistance. Being that I'm a bigot myself, I made the
following clip art out of sarcasm.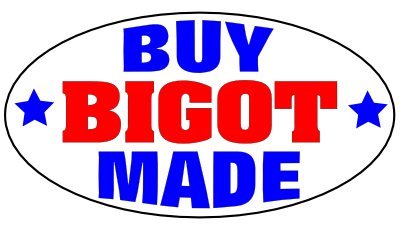 Another
thing to keep an eye out for are strange occurrences in the look of
the sky. This week I've see one or two a day. Not like phenomenal new
star arrangements, UFO's, or angels, but things in clouds, color, and
lighting that I've never seen before. Not in 53 years. As I was
driving home, I saw a condensation stream from a jet running through
a cloud; not like an arrow piercing a marshmallow, but as if the
cloud was a blue-grey linen sheet, spread out across much of the sky.
The jetstream appeared to be at the same level, but it was as though
someone had taken a knife and trimmed a very precise and thin gap
along both sides of it. The lighter sky above showed through these
two thin gaps. The day before yesterday, There was a strong rain
storm arriving. As I looked up at the very dark clouds, there were
two thin orange lines exactly parallel to each other that ran across
the entire sky. It was as though someone had taken a knife and sliced
the sky open, twice. The lines weren't straight, but were very close
together. They looked to be the edge of a cloud, but it was really
strange that the two edges would be that close . To put it in
perspective; imagine looking at an area 20 feet by 20 feet, dark
grey, with two orange lines one inch apart jaggedly cut across the
grey, perfectly parallel. I got out the camera, but by then, two
thirds of the line(s) had been rolled over by clouds. This is the
picture I got, I had to step back under the awning to keep the camera out of the rain. This is at the Pilot station,
corner of Chapman highway and Macon drive in Seymour Tn. Look above
the car wash, and you can see what's left of the two lines, after the
orange faded.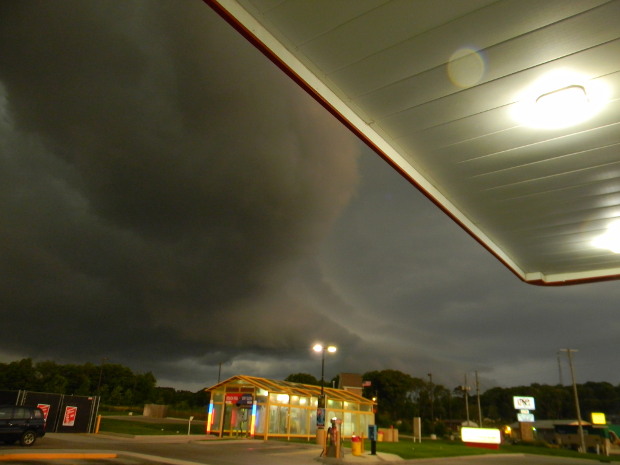 Two
or three nights ago, the sky was overcast, because I could see no
stars. There must have been one cloud a little lower than the rest,
moving from one horizon to the next. I couldn't see the edges of the
cloud clearly, but it was blinking. Seriously, it looked just like a
very rhythmic cloud to cloud lightning. We get a lot of that here;
the clouds have this internal glow, with no lightning bolt hitting
the ground. But this cloud, man, was it different. I first saw it at
one horizon, just beyond the ridge of the valley. Then it passed
over, blinking all the while, and went to the opposite horizon,
beyond the other ridge that defines this valley. It stayed there
longer, so I ran in to get a witness. My daughter said that there was
a spotlight on a hospital in Sevierville which causes that blinking.
So this strange thing did have a probable explanation, but to have
that perfect arrangement of conditions; where only one moving cloud
showed this, was quite unusual. There are other effect which are
harder to describe; and this is all within the last week. I've got
some great pictures of the last 6 months, I guess I'll have to post
those soon.

Not
done with the bigot stuff yet. A lot of the posts I've made lately
really are quite gloomy, but hey, I have to tell it as I see it.
Here's something that was a lift to my spirits, even if only a pipe
dream. It's easy to get glad about one little thing, and let my mind
run with it, making a big story line where one might not exist.
Anyway, I see this article about riots at a homo rally in Russia.
Turns out there was some glitch in the local ordinance that allowed
the parade to go on. I say glitch, because the article also says that
recently Russia has passed laws making it illegal to make public
displays of homosexuality, to teach it in a public media, or to teach
it to children. The article also says
that they're having a big problem with the population not reproducing
itself.


So
all these thoughts came together: I've put on a timber tools
demonstration a number of places, sometimes for extended duration,
several shows a day. The show is historic in nature, talking about
non motorized tools from back when, demonstrating how they were used,
and talking about various woods. The family often accompanies me,
dressed in period clothes. So, what if I get a hold of the Russians,
and say:"Look you have a problem, and so do I. So how about you pay
for my travel. We'll get a Russian company to supply trucks, which I
will loudly, but professionally emblazon with their name. I tour the
country during the warmer months, doing the show, and talking about
practical living skills. Your benefit is that the people get to see a
large family living and working together. The show must be supported
by ticket sales and or advertising; because one objection to having a
larger family is the cost. If people perceive that I'm subsidized,
the message will be lost."

I
told you that I have an active imagination; but this isn't that far
fetched. I've negotiated enough arrangements in my time that lead me
to think this is actually doable. Perfect place for evangelism too.
I'll keep you posted.