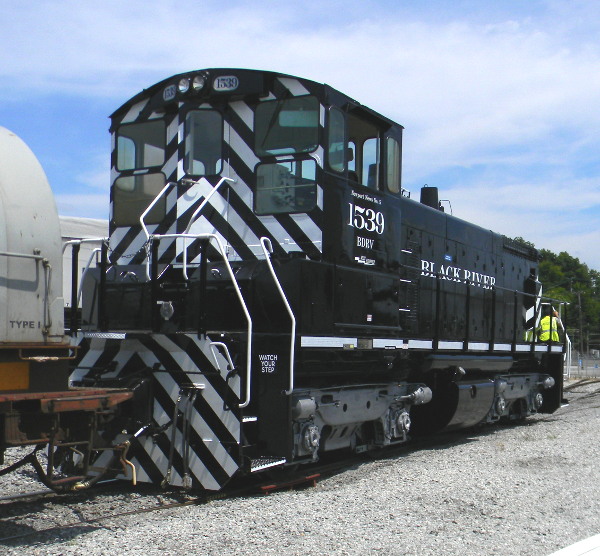 Dear reader, sorry about the lapse, I've been trying to finish a very difficult job; one that turned out to be more work than I initially realized. Here's a few pictures of the completed job. I sanded and painted this locomotive, including the inside of the cab, and the stripes.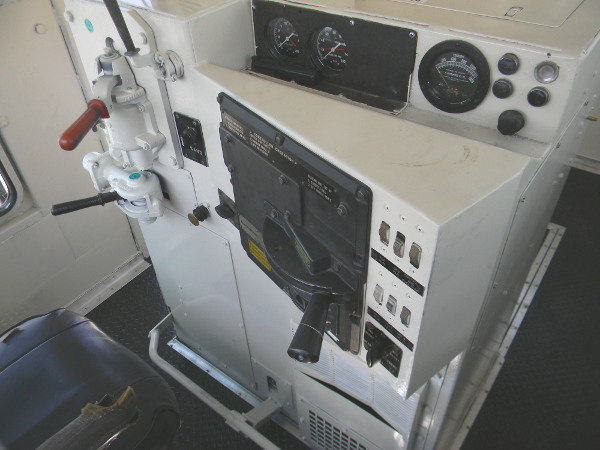 One of the difficulties is that the price is fixed at what I bid, if it takes longer to do, then I earn less. At least it's behind me now. The work is done in an old part of town, I stay down there many hours, day and night. It's in a rough neighborhood; if I want to get a quick lunch or snack, I go to one of the nearby stores. They're owned by immigrants, and often not tidy in appearance.
There is one that I went to for years, they were sold by Arabs to some people from India. They pretty much kept the same inventory and services, but man, the attitude. It's family owned, and most of the people are very friendly, save for one guy. My guess is that it has something to do with the caste system. From what I've read, people over there are very preoccupied with their caste. The cook is a higher caste than the lawnmower, who is without doubt a higher caste than the trash guy. So when I go into their store, being the guy covered with bondo and rust dust, who has been working on a 40 year old locomotive from a coal mine; I'm certainly a much lower caste than the noble store owner. He gave me these vicious looks, as though he wished something grievous would befall me. It always happened when it was his turn to man the grill, so my inquiries about getting a couple chili dogs were dismissed with a shrug. Fast way to lose a customer in these here parts mister, maybe your kids will figure it out.

Anyway, I tried a different store around the corner, and what do you know, it's owned by the same Arab family that sold the other store. What's neat is that I can get the same stuff; two chili dogs for $1.89, two 12 ounce sodas for 99c, and two chocolate chip granola bars for $1.00.
So I completed a goal on the job, decided to call it a night, and get a diet Dr. Pepper on the way home. As soon as I pulled into a parking spot, a blue car pulled up nearby, with two women inside. The driver asked if I wanted a "date", which is prostitute code for turning a trick. She's assuring me that she's "not a cop", then exposes part of herself. I was a bit shocked, I don't look at porn, I don't even watch TV because of the filth. I gathered myself, and turned away, then said "No thanks" in a polite voice. Facepalm! What did I mean "thanks"? I just wanted to convey that I wasn't hostile or condescending. Wondering what to say, I didn't have to think at all, as I had rehearsed the possibility of this scene in my mind. Out popped the words "I'm married, and that would be sin".
I've been around the block enough to expect a bad reaction to those words, but that's not at all what happened. The two women were bowed over in their seat, nodding their heads in agreement. Not at all what I expected. I thought evangelism was a waste of time in this part of the country, I guess I've been doing it in the wrong neighborhood. Not that I would spend time with women other than my wife, that's a ministry for women. The memory of what I saw came back to me a few times, but it provoked me to thought. I've read that some of these women get into this occupation because they were abused as girls. Would relishing the sight make me a partaker of the things that have happened to these women in their lives?

A couple miles away is an old shopping center, at one end of it I saw this tower thing. It's operated by the police department. I asked some people in one of the stores about it; they said it wasn't manned, and was there because of the homeless. It has cameras galore, and does it bear any resemblance to a prison tower?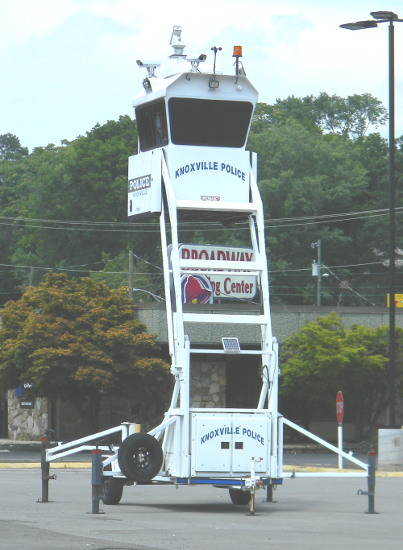 I still contemplate emigrating to a distant place. I like Russia's policies regarding homosexuality; but this perversion is so pervasive and global, that I wonder how long they'll maintain it. It will be interesting to see what the pressure from the upcoming Olympics does to their stance. I try to look at things from other angles, which, for better or worse, can really slow down the decision process. So I had this conspiracy-caution line of thought that goes like this: what if this is all a way to get Christians off in some desolate region of upper Asia, where no reporters are. I've read in more than one place about some countries, including the US, sending prisoners and detainees to Egypt, where the torture specialists are.

On the other hand, maybe it's just a matter of odds; staying here looks like certain disaster, going there might be just what it appears to be. I'm not naïve concerning the people in charge over there. But hey, did they ever claim to be anything other than former KGB? Unlike the government here, which claims to be concerned about the constitution, employment, and stability. I am concerned though, that if Mr. Putin is a defacto king, and there is a great gulf between the working class and the rich; could they not be setting themselves up for another big revolution?

The little research I've done indicates that moving to Russia is a lengthy paperwork ordeal. Maybe they would welcome hard working, innovative, self sufficient, non alcoholic families like us. Then again, what if, like Joseph in Egypt, things change later on, and my descendants regret my decision? This really comes down to my ability to discern God's leading, and world events. I think it's obvious to anyone not in denial that major things are happening.

I did think about a place near the equator, where one might live off the land, without farming. But I just read about a guy that resisted the advance of homo marriage in Brazil, he was run out of the land. It might be that there are places so far in the interior, that the government won't soon go there. However, there's no intolerance like the intolerance of a liberal, they would spend disproportionate time and money tracking down the intolerant. After all, this is Satan eliminating his opponents.

One of the things I've been guilty of is the myth of continuity; that is, that the decline would continue at the same rate as the last 50 years. It looks as though it gets faster as time passes. So maybe I won't be able to go anywhere. I think about ancient Israel, how it was divided because of Solomon's sin. The US was once a great country, one that feared God. Is it possible that He would grant one portion of this country to remain as a place that honors Him? Could people pray a covenant with Him, and what would it say? Laws that are unchangeable by majority or court rule. Laws that mandate teaching children His word, that ban pornography, and ban other religions. Sounds offensive to American ears, but the first law given to Israel was to "have no other Gods before me". The America that started in 1776 died in 1963, what's here now is something else.
Here's some clip art about the king of this land, or whatever his title is.