Sunday, September 15. 2013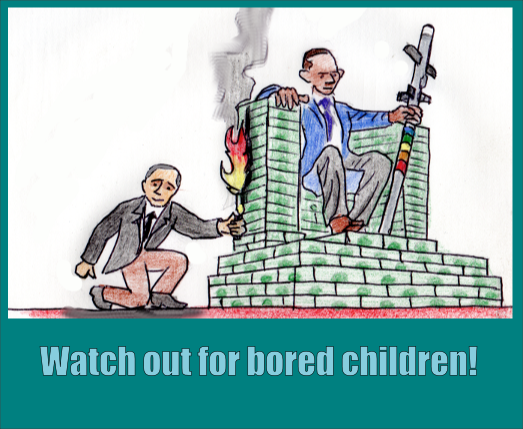 As in printed dollars. I clicked on a
link to a presentation; I think it was a banner ad at WND. A guy was
making a torturously redundant and drawn out claim that the US
economy is in grave danger because the US dollar was going to not be
the world's reserve currency in the future. I'm cautious about using
one source, so I looked for others. I saw an article, I would have to
reread it several times to begin comprehending all of it; but it
talks about a trend of foreign central banks selling US treasuries to
bolster their own currencies. I read a second article, about a deal
between Russia and China, where oil transactions would be made in
Chinese currency, not US dollars. So it looks as though there might
be something to it. Besides, look at the spiritual aspect. Look at
the second half of Deuteronomy chapter 28. Quite sobering and
ominous, but merciful of God to point it out beforehand, and in
writing. Look too at the verse from Proverbs that says:"Pride goes
before destruction, and a haughty spirit before a fall." The US has
disregarded God, and, arrogantly uses its financial position to spend
what it pleases.

As for following the situation with
Syria so closely, I can't say that I'm operating from a view to the
spiritual aspects behind the headlines, other than the above verse in
regards to President Obama's view of his own importance.. It's
actually the exchange of slights and insults that I'm looking at as
the underlying cause of the news. What will happen next, I haven't
thought about it other than from a personal perspective. Right this
moment the exchange is causing President Obama to pace the room
formulating an address to the Russian people about perverts' rights.
One can know that so much of this is
an effort to bolster image by looking at what the political-media
complex is airing these days. NPR had a piece (Thursday?) about a
lengthy dialog between John Kerry and his Russian counterpart. It was
laboring the fact that discussions about Syria's chemical stockpile
have been going on for months; and that Kerry's remarks in England
really weren't offhand. Well, the only reason for telling us all this
is if most of the world saw the remarks as offhand; maybe because
Kerry was so sure that the disarming wouldn't take place. I think
the Russians seized on the statement as a two pronged way to slight
President Obama. One, because it was an official offer made without
Obama's input, and, it gave the Russians a chance to become the
arbiters of peace. Speaking of which, notice how the Bing news
headlines proclaim a joint US-Russian agreement on Syrian weapons.
Gee, I thought it would be a Russian-Syrian agreement; or one that
included the UN. The headline isn't even in alphabetical order; if
so, it would read Russian-US agreement. The left will do anything to
save face for their guy.
As for my personal perspective, it
might be summed up in an imaginary letter to Russia's guy, President
Putin.
Dear sir, I have been following
recent events involving Russia and the US. I suspect that your
biggest difficulty isn't in navigating these waters, but in keeping a
straight face while doing so. Your counterpart in the US has exposed
his buttons, and you're adapt at pushing them. Consider though, how
this could affect people like me. You are a world leader, I am at the
other end of the social strata, a meager craftsman from the
hinterlands. As this country deteriorates, I am desiring to emigrate
to your country. As you probably know, the federal tax agency here
has been stalling the exemptions of conservative groups; the Attorney
General is selective about which laws to enforce, and there was a
suspicious helicopter explosion with 16 elite military personnel on
board. So it's obvious this administration plays by their own rules;
if they perceived that I favored your policies more than theirs, they
might do to me what happened to the homeschooling family in Germany.
Their children were seized, and their passports taken.

So please sir, could you at least
pretend to lose once in awhile?
Tuesday, September 10. 2013
Maybe by the time I write this, things
will have changed a lot more; but as of an hour ago, the vote in
congress about bombing Syria has been postponed. I assume this is
because of the news from earlier, where John Kerry was asked if
there was anything that could prevent the strike from happening; he
said that if the Syrians relinquished their chemical weapons within a
week, that would be sufficient. The message was quickly related to
Moscow, and they are willing to mediate the situation. There was a
woman being interviewed on NPR, she has years of experience in the
region. She was convinced that this is mere political posturing, but
I have my doubts. Normally, I too would think the same thing, but not
in this particular situation, and the delayed vote looks to me as
though others have the same perception. Somewhere, John McCain is
furious over the possibility of not going to war.
It's based on the current ongoing
tensions between Presidents Obama and Putin. It appears to me that
President Obama does whatever he can to insult President Putin. Maybe
it started with the Snowden incident, but who knows how far it will
go. Normally, it wouldn't escalate, but with someone as inexperienced
as President Obama, who knows? There's one incident I haven't seen
mentioned in the news or comments; but it was possibly taken as an
insult to President Putin: using the G20 summit to gather support for
the above military strike. It seems that considering President
Putin's position on Syria, President Obama should have sought that
support at a separate meeting. Typical liberal mindset; we've decided
that you're one of the bad people, so we can treat you any way we
want.

All that leads me to think that major
pressure will be put on Syria by Russia, just to make the chemical
turnover happen. Why shouldn't Syria's leader go along with it? He
can't be 100 percent sure that President Obama's efforts to get
attack approval are backpedaling his red line. So his choices are:
Maybe get bombed, maybe not get bombed if congress disapproves, or
hand a major slight to the one making the threat. I think it is very
likely that Syria will hand its chemical weapons over to Russia.
_________________________________________________
A government agency, the CDC,did a
detailed investigation into youth using e-cigarettes, and some of the
results were talked about on public radio. If you owned an
e-cigarette company, would you find the survey helpful?
____________________________________________________
I need to sit down and contemplate
the parameters of denial, or the factors of denial, however it should
be said. I'm wondering if there's a loose formula along the lines of:
the worse the change required is; and the more residual evidence of
the former situation remains, the harder it will be to convince
someone that a change is needed, regardless of how strong the
evidence is that the previous situation is ending. Which reminds me,
if the topic of zombies is so popular, maybe someone could make a
drawing of a zombie Uncle Sam. The government you once had is not
what you have now.
____________________________________________________
Once in awhile, I get an interesting
mental cross reference. I wonder if part of my image of God is One
who has the perfect answer for every gray area. But what if He
doesn't want to do lengthy internal debate over trivial decisions?
What if He regards it like the verse where Jesus said: Man who made
me a divider or judge over you? (Two brothers wanted Him to
arbitrate an inheritance) He will judge sin, and many decisions
aren't trivial, I'm not talking about those.
______________________________________________________
Here's another interesting sky picture; this was from the front yard. I guess the sunlight is coming through a couple breaks in the clouds at the horizon, then casting these bars of light on to the upper layer of clouds?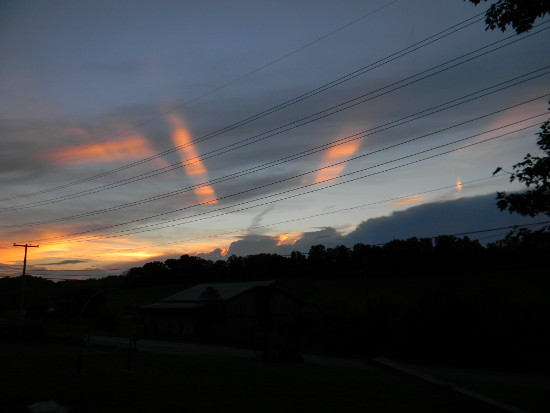 Tuesday, September 3. 2013
The myth of continuity shows up in all
manner of places...As if my schedule hasn't been busy enough, I lost
some days to a mystery on my Toyota truck. It got to where I couldn't
drive it, it would backfire upon the slightest acceleration. Upon
adjusting the distributor all the way one direction, the backfiring
stopped, but it ran rough. So I concluded that it was no doubt an old
timing chain. My oldest son has replaced several in a row for
relatives and others, so he quickly volunteered to do this one; to
see how many he could do in a row. The old chain was very loose, but
this wasn't an instant fix. A number of knowledgeable people looked
at it, but it was a mystery as to why it wouldn't start. Sometimes it
would have spark, but not others. I already had about $100 in parts
cost for the chain, but ended up buying a new distributor pick up
coil, and a replacement ignition module. The original equipment
module costs $247, but several years ago I found out how to rig a $25
Chevrolet module in place. I think the site was Monster.com, a big
off road web site. When I started having this ignition trouble, the
plugs looked to be firing fine, there was no unusual deposits on
them. But after days of not knowing what the problem was, I spent
about $45 more on plugs, wires, cap and rotor.

At that point, the truck acted as
though it wanted to roar to life with the slightest turn of the key,
but it still ran very rough. If I turned the distributor all one way,
it ran a little better; so I thought it must be positioned one tooth
off on the camshaft. When I moved it over a tooth, it was too far the
other way. It was as though my distributor shaft had been neatly
twisted. Before, with the old loose chain, and well used plugs, wires
and cap; the two wires from the module to the pick up only worked one
way. That's the myth of continuity, I was assuming it was the same
now. I was quite baffled about the distributor position thing, when a
thought suddenly occurred to me. That good of a thought, that fast,
might be God talking. Anyway, I realized that if the pick up parts
were asymmetrical, or even symmetrical in relation to the shaft in
the center, there's two wires going in there, and therefore an order
in regards to the spinning shaft. So I reversed those two wires, and
the truck ran great. Of course, with original components, the wires
would have fit together only one way, so that part of the mystery
would have been eliminated.

Here's a diagram I made of how to
wire a 1976 Chevrolet Camaro 350 ignition module into a 1978 Toyota
pick up truck. The voltage reduction part is from the factory, it's
not something I added. The two screws in the module are to remind you
to ground it. The Module is shaped a little different than this, but
close enough. The wire colors in this diagram mean nothing, they're
just to make it easier to see.You might also have to rig up a toggle
switch to throw full voltage to the hot side of the coil during start
up.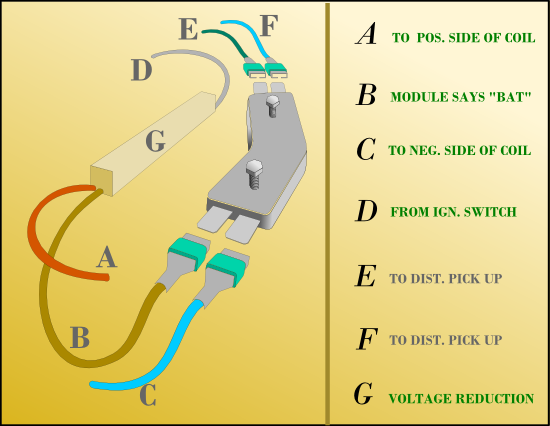 As usual, every month brings more of
the gay, gay, gay, takeover and tyranny. The court in New Mexico
ordered the photographers to render their services to the homo
couple, then the IRS announces that it will treat all homo couples
with the same tax policies that normal couples get, regardless of the
state they live in. I'm further compelled to leave the country, but
then I hear about the possibility of President Obama striking Syria,
and the reality of Russia sending warships to their ally. A tension
there could hinder travel between the two countries. Worse than that,
it could prove quite dangerous. Some might consider the warships
necessary posturing, a political move. But imagine what a ranking
U.S. Naval officer would think. This is just a guess on my part; but
something like: Never under estimate a potential foe, and never under
estimate the ability of a situation to quickly escalate.
President Obama has been crass in his
treatment of President Putin; I've tried to imagine a Russian reply
to this situation: President Obama is quite inexperienced in the ways
of the world, he is like teen-ager who is drunk on own power. He
should be careful he doesn't awaken with very bad hangover, da.
Now, I understand that he has approved of strikes against Syria, but
will let congress have final approval. Probably a face saving
gesture, including the NPR oft repeated announcements that the
President is working vigorously to get Congressional support. One of
the first he met with was John-I salivate over war-McCain.
Interestingly, there was a conversation about all this between a man
and woman on NPR, she accidentally referred to the leader of Syria as
Saddam Huessian.

I don't know what makes us the
world's policeman; so the following is not an endorsement of a quick
strike; but, my guess is that the approval delay not only gives the
Syrian government time to hide things, as a WND article suggested, it
also allows for preparation of air defenses by Syria's ally, Russia.
Does anyone remember the drone captured by Iran? Not that the
Iranians are stupid; but is there a chance that the technology behind
that incident came from somewhere outside of Iran? If the Obama-McCain war machine does
strike, maybe they should count their missiles and bombs as they're
launched. Then again, maybe not, less hangover that way.