Wednesday, January 29. 2014
How easy it is to take things for
granted. I had a client in the tourist area, their business has an
old time theme; and they regularly had me make hand painted signs for
them. The last call I had was to make a small sign that said "Please
use other doors". I thought a rectangle in the vertical format,
made to the "Golden Mean" dimensions would look nice. The stand
would be four legs, made from Eastern Red Cedar that I split to size
with wedges. Then I would use an adze to true up the places where the
cedar pieces joined. The gal in charge of purchasing the sign said
that she needed a sketch, for approval by her boss.
I've made enough signs for them, that
I regarded the sketch as a mere formality. I hastily threw a sketch
together in a sloppy way. You can see it here. The lettering is
rough, isn't centered, and there's no description of colors. There's
no mention of how I would construct the Cedar frame thing, so they
had little idea of how much work was involved.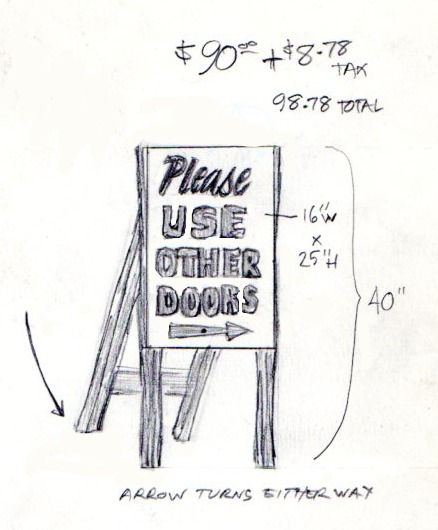 The sign never was approved, and I
haven't heard from them since. It's likely I lost the account. All
because I took it for granted.
Another job I lost was a logo to be
painted on an interior wall for the local branch of a nationwide
bank. I've had this persistent cough/cold thing, and was resting in
bed to recover. I was handed the phone, without regard for my usual
policy, said a ballpark price without learning more about it. They
emailed me the logo, and the color of the wall, a dark olive green.
This meant that I would have to make several trips downtown, which is
about 30 miles away. The logo is white, gold, and red; the best way
to make everything show up would be to paint a white rectangle, and
let it dry. Followed by the red and gold; then finally the letters.
This doubled the price of the job, and probably caused me to lose it.
Should have stuck with my own rules. This at a time when I really
couldn't afford to lose work. Things look potentially better now, I
still have to wait for some processes to go through, but it's better
than no prospects at all.
___________________________________________________________
Here's a picture of a wood chair we
have, we were given several of them. They look nice, but are always
the last ones used; after the others are occupied. The reason is how
straight the back is. Having a chair back tilt a few degrees back
makes a huge difference in how comfortable it is. So I was looking at
this chair, thinking about chairs, and remembered Mel Gibson's movie
about the passion of Christ. If I recall, there's a scene in the
movie where Jesus has invented a piece of furniture for sitting (a
chair). His mother jests about how people will sit in it. Then I
remembered the chair scenes from another Mel Gibson movie, The
Patriot. I think Mel has an interest in chair making.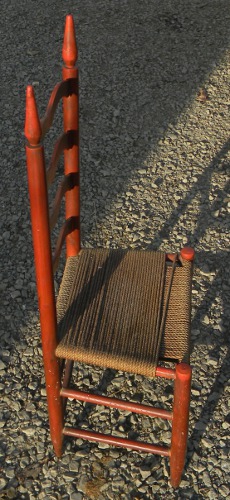 As I said before, I have a website
hosted in Russia. At this point, there's not much to it; it also has
a few technical glitches to work out. I'll post a link when it's in
better shape. My other site, the one that took a page rank hit; it's
down from 800 visitors a day to 150. One thing I have neglected is
new content, so I'll be taking care of that. In fact, I made a new
page last night,
Dad-daughter funky crate desk.
There really is a huge spam problem
from .ru sites, so it's likely that this is all just a technical
thing, nothing political...yet. But what if Google and other search
engines decide to penalize Russian sites because of the country's
stance on homosexuality? It's not far fetched at all; just look at
the left lean Google news has. Yandex is the big search engine in
Russia, but trying to promote more use abroad might be like getting
more people to use Linux. Nice idea, but we'll see. Yandex is worth
looking into, they have lots of cool and fun features.
Speaking of fun, here's a couple links
to the Yandex clubs: Guy anticipating spring, and foggy Moscow night.

Saturday, January 25. 2014
A lot going on here, definitely a case
of interesting times. The weather, well , it's a chance to learn
about living in colder conditions. This old farmhouse might be 100
years old. There have been a few different plumbing configurations
over the years; the latest was put in without any plan for low
temperatures. The plastic pipe in the front yard is about 2 inches
underground at one place. The uninsulated pipes get to their
destinations through uninsulated parts of the house, eg the back
porch, crawlspace, etc. I lost 12 hours to finding and fixing broken
pipes. And all the while is the juggling act of occasionally turning
the water on, even though the repair isn't yet complete; that way,
the entire pipe out to the street doesn't freeze. We had one day that
was 54 degrees F, then within 30 hours, it dropped to 6 degrees F.

PVC pipe and fittings are cheap, so
it's a good idea to have extras on hand. I still needed a trip to the
store, to get the glue. The glue dries in the container after a
certain time. Instead of making Joe DIY buy one single use can for
seven bucks, why can't they make a 6 pack of of smaller containers
for the same price? They don't even need to be the steel container,
just squeeze tubes. I won't go into the details here, but I get the
impression that there's a huge amount of price fixing going on in
this country. We criticize the corruption in other countries, but
ours is just a different version. The glossy version.
Anyway, I now have a better way of
preventing the frozen pipes. I sleep on the floor near the wood
stove, which isn't as comfortable as my bed, but I get up every half
hour or 45 minutes. I stoke the stove, and go through the house
running water at the outlets. There's already a strong drip at the
cold, but it all needs more run through. Last night the hot water
lines stopped twice while I was watching. I stood there and prayed,
and the water pressure pushed those initial ice formations through.
I have a lot of difficulties in my
life, some due to the parameters I've put in place; many due to my
own mismanagement. At any rate, compared to so many people in
history, and other places; I still think it's a HUGE blessing to be
able to get up to a warm house, sit in an old chair with a fresh cup
of coffee, and a pastry. Too often I don't thank God for things all
around me.
___________________________________________________________
When I was younger, I read an article
that said all the modern things like phones and freeways were taking
people apart, not bringing them together. Some people were able to
visit better, but others, who had lived for generations in proximity,
were moving apart. I've seen more recent articles talking about the
Internet alienating people from each other; but I've watched these
tablet and smart phone devices, and wondered if there's something in
the other direction. Not when people gather around a phone and watch
a truck hydroplane on a pond; but when people share what their kids
are doing, and what's going on at home.
____________________________________________________
I want it now, I'll learn to wait
tomorrow, I'll wait to wait.
______________________________________________________
I hate it when I take a lo-o-o-o-ng
time to do what somebody else could probably do much sooner, but we
each have our own side of the mountain to climb. So it is with
getting a website physically hosted in Russia. A lot of the trouble
has simply been with making a payment. The hosting companies offer a
big array of payment options, but most of those companies don't want
to deal with Americans, indications are that our government makes
that more trouble than it's worth. Sure, I could have an offshore
bank account in Australia or Singapore to make a payment from; but
that takes 8 grand to open. A bit more pocket change that I have. In
fact, if a relative hadn't given me a $45 Paypal gift card, the
process might have taken longer still. It doesn't take a lot of
calculation to think "If this guy has trouble coming up with $45,
how is he EVER going to move to the other side of the world?" Well,
when you've got a God sized problem, that's when you see a God sized
miracle. Besides, I'm not even sure that Russia is where I should go.
I have reasons I want to go there, they have some of the coolest
things, but other places are much more practical in terms of moving.
The Russian visa applications might be difficult, then there's the
immigration laws to comply with. The visa application asks for things
I'm not sure how to answer. Things like: what will be your job, name
the company and place, where will your residence be, name the flat
and a contact person living there. I looked at the visa application
again, and saw that you can write NA in some places, but how many
times can you do that? I've been self employed for most of 30 years,
I don't know that I would have a conventional job. More like the same
situation I have here, a few Rubles here, a few Rubles there.
Probably not something a government official can relate to. Then
there's residency. Me, in an apartment? The neighbors would rally
with torches and pitchforks. I mean, where does one put the milk cow?
Where does one do all manner of auto repair and customizing? Then
there's the log hewing, forge (coal smoke), welder, cutting torch,
table saw, and more. Money is a two sided coin, a really big part of
our survival is DIY. Besides, it's part of the children's education,
and a neat way to spend time with them. That, and I don't want my
kids spending too much time with the TV watching kids.

I know that there's a big reason
people leave their Dacha (summer home) and go back to the flat in
winter. Actually, two reasons, General January, and General February.
Still, some people do winter in the Russian villages, there must be a
way it's done. From what I know about country living now, I know that
there are a bunch of details in that idea, it's not to be taken on
flippantly. So much to know. I get the impression they use ceramic or
clay stoves over there. Mark twain wrote about ceramic stoves, how
vastly more efficient they are than steel. But I'll spare you the
details, other than to say, there must be a lot to know, and no room
for mistakes.

Truthfully, I've said it before, with
what I'm looking at now, moving to Russia (for a guy like me) seems
about as likely as becoming President of the US, but then again, I
see what looks like pieces falling into place. About this website; I
tried to arrange all kinds of payment options, things I didn't know
what they were. People do all sorts of things with their money, they
make big purchases of foreign currency, expecting a slight change in
the conversion rate, and a little profit thereby. I signed up for
services that make those transactions for people, not knowing what
they were. The gal on the phone asked how much I wanted to make my
first transaction for; I said about $54. She politely informed that
minimum transactions start at $10,000. Oh, I get it, gee, thanks
anyway lady. I know, what a doof, but so what, I've got a job to do.
I think I've since learned that any overseas transfer of funds
automatically catches the attention of US authorities. I figured as
much, and I've done more than a little attempt at making this little
purchase. But my reasoning is that how does one remain a little
suspicious? I mean, once you're on the list, you're on the list, and
I might as well finish the job I started. I wouldn't be surprised if
there was more to that part of this story than I've encountered so
far, but God help me with that.
I found a hosting company that would
accept Pay pal, and that makes all the difference. Pay pal is HUGELY
convenient for this overseas purchase. The company is a big one from
what I can tell, but my dealings with them have been... interesting.
That's the right word. Maybe it's a foretaste of life in a foreign
country. Then again, I've had experiences as bad stateside. What I
haven't had is the awesome interaction I had at a different company;
these people set the bar really high when it comes to service.
Unfortunately, I couldn't make a payment arrangement with them, their
name is Agava hosting. I did find this other company, the experience
has been strange to say the least. I was able to use Pay pal on the
website purchase page. The Russian hosts typically offer free domain
name with a year's worth of hosting, so I signed up for that. The
whole process stalled, I could tell I had server space, because
Filezilla on my computer let me access and modify directories at the
server, but the site was non functional. The applications section had
nothing in it, no Wordpress, no Drupal, nothing. All attempts to
contact support were completely ignored. The paypal receipt came back
made out to a guy, not the company name. I searched around on the
internet, trying to find out other peoples' experiences with this
company. I'm not tech savvy, but I had the impression that there was
some sort of wash going on, my own terminology for what these online
reputation repair companies do. You can't really undo everything
that's out there about you; but you can flood the internet with so
many positive or replacement reports about yourself, that the bad
reports get pushed lower. That's the feeling I got about this search.
I finally found one testimony that said very bad experience, stay
away from this company.

Well OK, I'll just drop it, and find
somebody else. But two weeks later, I got a couple support replies.
They were helpful, but it was part of a process, so I replied to the
replies, and...another two week delay. One of their first replies was
that I needed to pay for the domain name. I politely asked what
happened to the free one year thing, which they ignored. They did
however, fill out the applications section with an awesome amount of
options. I had asked for Wordpress, they gave me 4 pages of stuff to
choose from. All kinds of CMS's, shopping carts, blogs, stats
software, you name it. That was cool. I had tried to do a manual
install of Wordpress with Filezilla, but couldn't get the directories
right. I've manually installed Drupal before, so I know I can do this
sort of thing.

Now why deal with these people at
all? Well, I figured I had already paid for the hosting, I could make
a quicky site, put in links to a different site. With the low cost of
a domain name, I figured I'd do it anyway. They replied to my
purchase with a message like: "you decided to purchase domain name
anyway, good." The receipt for the domain name was a little more
than twice what I expected to be charged, but it looks as though they
signed me up for two years. OK, whatever. As of late, the support
reply time has decreased to where it's actually normal, as in same
day service. It all has this weird flavor, but I have the feeling
this is what transactions abroad can be like.
Now that I have a site, I can slowly
build it, the idea is to have an offshore site, that's acquiring age.
I read one place that said Google doesn't even take a site seriously
till it's a year old. This site can be getting ready for page rank
while I deal with other aspects of moving. Of course, if something so
drastic happens here that affects my existing stateside sites, that
could have a negative effect on the economies of where ever I live;
but on the other hand, my personal economy needs all the help it can
get, and a website is a big part of that.
Shoot, I don't know, this direction
looks as though it could be the leading of the Lord, but there's a
little doubt. Like, gee, something this big, shouldn't I be fasting
and praying? Praying I have done; tried fasting one day, but still
had this cough. That usual fasting-prayer-closeness to God wasn't
there; just an "OK I didn't eat today, better try a different day".


Thursday, January 16. 2014
Here's a new post at my intermediate blog, with more links to pictures in Russia.
I think I mentioned a Mobius strip here a while back; this is what I had in mind. Call it a visual aid to remember the urgency of inevitable things.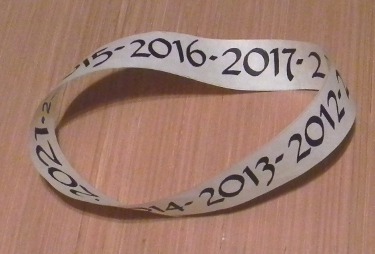 Tuesday, January 14. 2014
Well, depending on how you define
bad. I recall an episode Old Man Harvey once told me, while I was
still living in California. It's about a place on Highway 50 in
Northern California, not far from South Lake Tahoe. That highway was
only 2 lane then, rather winding, and at one point, the view is
incredible. The cliff you're driving on drops far down into a valley,
with tiny little houses visible down there. I don't remember every
exact word; but this is pretty close:
"Hey, you know that place on Highway
50 where the road goes way out to a corner, up on those cliffs?"
"Yeah". "Well you remember that little dirt driveway that goes
up the hill there?" "Yeah." "I knew a guy that would drive an
old hay truck up that highway, fully loaded. It took a long time, and
he would get cars backed up behind him. What people don't know is
that the dirt driveway comes back out onto the highway, like a
shortcut. So this guy would get all these cars backed up behind him,
then he would shoot up that driveway; and everybody thought they were
rid of him. Then he would sit up there, and wait for the now fast
moving bunch of cars to get near the other end of the driveway. Then,
he would pull right back in the road, and have all the drivers
astonished that the slow hay truck was back!"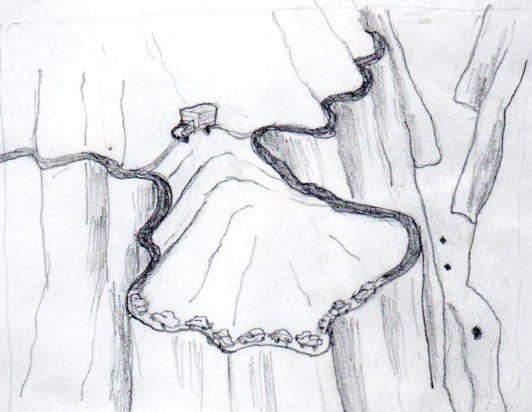 "Fast" forward 20 something years,
and I was in a situation that made me recall that conversation; and
even act on it. I was driving home late at night, just doing my usual
inertia driving bit, when a zippy little mini car is behind me. A lot
of people have difficulty driving behind me; not because I drive so
slow all the time. It's because I accelerate slowly, then coast to a
stop, depending on the situation. So this guy behind me is obviously
impatient. I guess you could call them binary drivers; they're either
standing on the accelerator, or standing on the brake. Not a way to
make a vehicle last 35 years, folks. He's right on my bumper, wanting
me to go faster. My thought is: "OK, I'm about to be up to speed,
and, you've had a couple of chances; if you've got such a hot rod,
why didn't you already pass?" Too much of a binary thought, I
guess. Anyway, follow the lower diagram, and I'll tell the rest.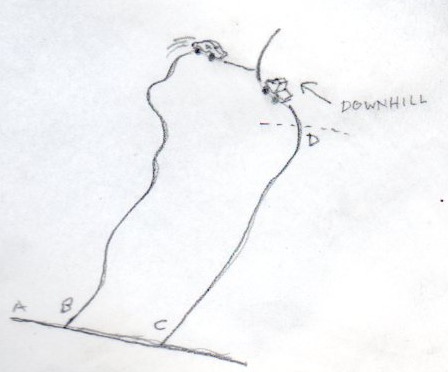 We're both heading from A to the
intersections B, and C. He makes a quick left turn onto B. At this
point, I guess what he's up to, so I make my usual turn onto C, but
don't drive slow, Not a big speed required here, as the road I'm on
is wider, smoother, and less winding than his road. So I zip down the
road, to the crest of the hill at D. I can see him heading downhill
to the intersection with the road I'm on, and he's moving fast. I let
off the gas at the ridge, so as to not appear to be putting any
effort forth. We meet at the little intersection, as I'm coasting by.
He's standing on his brakes, slides into the intersection, just
misses my truck by a few feet. It was quite close; there is a certain
prerequisite demeanor in these situations: Face forward, stoic look,
eyebrows raised, no snickering allowed, Not at least until the chap
is again behind you. Yes, I was a bad man.

Thursday, January 9. 2014
I've started a blog at Yandex, a big Russian search engine. A lot like Google. If you go to the site, you would have to click on the link Yandex Wordwide> Russia. For a long time I assumed that the former Soviet government would consider much of our stylizing, commercial in particular, to be decadent, and therefore illegal. So I also assumed they would be behind in these things, or just catching up, at best. Well, surprise, they have some really advanced and beautiful things there, equal or surpassing the West. Yandex has what they call clubs, each one with a different theme; for example, there's one called City, where people post awesome pictures they've taken, of their city, or their travels. At my intermediate blog, you can see a link to a picture of a shipping port, click on "INDUSTRY". There's also a link to my Yandex blog. I want to use the blog to drive traffic to my Russian website, when I get one. Anyway, I have a post there about the bizarre weather we've had here.