Saturday, August 30. 2014
...No escape from events that come to everyone. My mother died a couple weeks ago; I've been in California to attend the funeral. I thought I'd have several days to figure out what to do with my self, a chance to track down old friends and say thanks for the help one guy gave me when I was young. As it was, I was pleasantly surprised to have continual interruptions. I met relatives I didn't know I had. Some of them are in the old photo in front of the violin shop. 
 For years, we were told that we were 3/8 Irish, and 5/8 German. I used to tell the kids: "You MUST learn to vwerk hard, we are Cherman, ja." That's not correct, now I understand that we're actually descended from an Austrian violin maker. My father was in the USAF, we traveled a fair amount. When I was small, we lived in a housing project in DC. I think the two pictures of my brother and me were taken there. You see the neighbor kids over for a party; kids that small don't see race, or don't care.
 While I was there, I took a few pictures of haunting locations. The one is a 7-11 convenience store at the corner of Auburn Blvd and Van Maren Lane, in Citrus Heights, Ca. I remember five incidents at that intersection. Back in the 70's, there was a metal utility box there, probably controlled the signal lights at the intersection. On that box, someone had stenciled "Impeach Nixon". It stayed for years; then after the black lettering faded away, it had protected the silver (paint?) under it from turning dull; so the bright silver message was still there for years more. Later, I worked as a concrete laborer, in the California sun. The summer dirt was dry, and the dust would float up and stick to the very wet perspiration. I was always brown by the end of the day. Once, I walked into that 7-11 to get cigarettes. I apologized to the cashier for all the dirt; she smiled and said: "That's alright honey, it's HONEST dirt".
Across the street was a little strip commercial center, anchored by Farmer's Market; a supermarket. In that parking lot, when I was about 16, a car of older, bigger guys stopped the car, one got out, and started harassing me. I had long hair, and looked the part of a hoodlum. He was asking stuff like "You think you're BAD?!?" But I had an empty 16 ounce refundable Pepsi bottle by the neck; I guess that was deterrent enough for him to leave me alone. Near the end of the commercial building was a bar called the Red Baron Lounge. It had a replica of a Fokker Tri Wing plane crashed onto the roof. One new years eve, I went in there with an older friend of my brother, a black guy. I was at the bar, he decided to dance with white women. Soon as he got in a fight over it, I didn't even have a chance to react. Somebody had put me in a Full Nelson, with my face pushed against the bar top. We were kicked out. A few years later, I was talking with a distraught woman out by the street. She told me that her (boyfriend?) who everyone called "Applewhite" had been in a fistfight outside the bar. His opponents knocked him to the ground, then kicked him in the head till he died. I don't know if the story is true, but she sure was sad about it. Interesting too, is how I don't recall seeing it in the newspaper; and I was an avid paper reader. Maybe they were trying to suppress copycat crimes.
 Miles down the same street, at Auburn & Myrtle, was the Town Theater. They showed porn during the day, and late on Friday nights, they had the "Midnight Movies". I never went during the day, but was a regular on Friday nights. Always something weird, selected just for the pot smoking crowd that attended. One night, in the 70's I guess, we all came out. Not too loud, but the usual talking and jesting. Then we noticed a small car, like a Datsun, turned over on its roof. Flames had engulfed it, there was a lone passenger thrown through the windshield, cut to ribbons. He was lying there moaning. A bystander said that an old pickup truck had run a red light, hit the car, which had several more people inside it. The one thrown out was a kid, his family was in the car. Many from the theater gathered around the car and stood there in absolute silence. The only sound was the crackling of the flames, and the distant sound of an approaching siren, echoing between the commercial buildings. There are two incidents in my life where the silence is an overpowering part of the memory, that is one of them.
 During the 80's, Life didn't take a turn toward greater morality or peace; in fact, having left high school, I was a lot more of a loner. Life then can be best expressed by the sound of a popular song about the boys of summer, by Don Henley. I never did completely relate to the lyrics,and now, as a Christian, I can't endorse them. But that SOUND! The Feeling of that song, was and is inescapable. It was there, fifteen years ago, echoing loudly in a metal building when I walked in and saw something from my childhood. It was there the other night in Sacramento.
 Back in those days, I was a drug user, and a heavy drinker. As I tried to find the guy that helped me years ago, i encountered somebody that appeared to still dislike me, this being more than 30 years later. Earlier in the day, I was informed that another person was recently telling people "You think you know him, but you don't; he's a bad man". At 10:30 PM, I get a chance to drive around, see what I haven't seen in decades. My mother has just died, my past like Le Miz still with me, I'm searching for classical music on the FM dial, and clear as a bell, there it is, the Boys Of Summer. It's all a bit like no escape; except that I don't mind the song being a strange regular coincidence. I like the song, I really like the sound of the song.
 Back in the 80's, I was told, like scuttlebutt, that some of the people I occasionally did drugs with were part of a criminal gang. I have no way to verify it, which is good, I suppose, because a guy like me walks away with nothing that resembles facts. I was told by the same grapevine that one is not to ask anything specific regarding who what where; and to be suspicious of anyone asking me those things. It has somewhat of a negative effect on my relationships to this day; I don't like to ask people what they do, and other normal questions. Anyway, my life back then was in a big dark world where I felt so alone. Then I met The One who created every molecule and planet, saw Him do miracles in front of my deliberately skeptical eyes. My world got a lot smaller.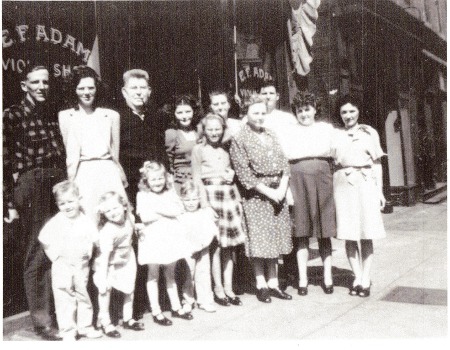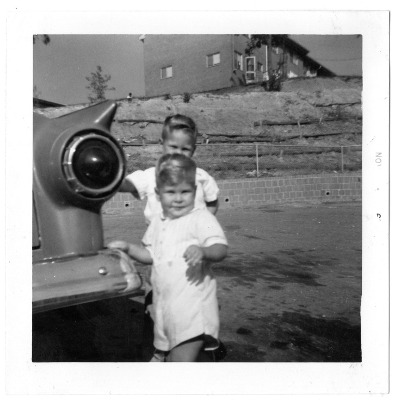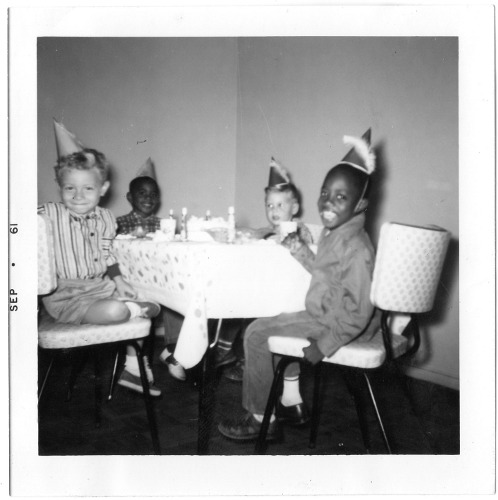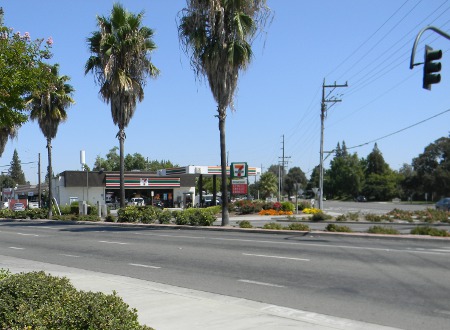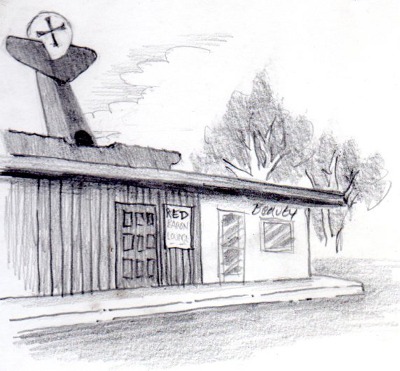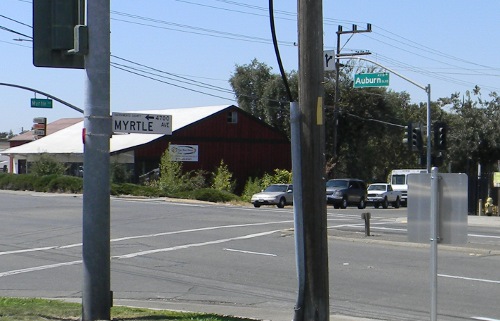 Saturday, August 23. 2014
  In Russian comments sections, they have a better awareness of the forces and motivations that are creating headlines. Western blogs comments tend to see everything as political or as caused by a group ( the Zionists, the bankers, etc.) My self, I regarded the events in Eastern Ukraine as being caused by differing motivations; with varying degrees of awareness as to the other forces moving the same direction. For example, I see the US President acting in an immediate, vengeful, irrational way, and at the same time, the liberalism of the west (homosexuality, loose living, big government, ungodly filth) moving the same direction, but in a slower, more calculated way. 
But I just had a new thought, actually a tying together of ideas. I've been thinking that the hostilities between President Obama and President Putin go back to the Snowden incident. I regarded the asylum in a Libertarian way, the way that many saw Julian A. as a defender of liberty. I was also wondering if the extreme levels of surveillance are a way for Satan to be omniscient, which he isn't on his own. At least, a way for him to force universal compliance. So what if the Snowden revelations were actually an interference with dark designs? And President Obama is Satan's loose canon, to bring European liberalism to Ukraine?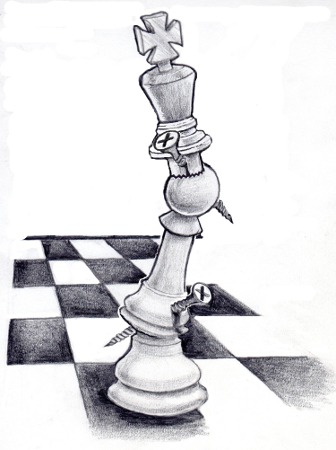 Continue reading "Random8_23_14"
Sunday, August 17. 2014
(Please note: the strange paragraph formatting is all the work of the software, but I don't care to spend the time trying to fix it...fits right in with a weird blog)
Funny how you can read a verse a lot of
times, then one day you see something new. Here's 1 Timothy:12-16.

12
And
I thank Christ Jesus our Lord, who hath enabled me, for that he
counted me faithful, putting me into the ministry;
13
Who
was before a blasphemer, and a persecutor, and injurious: but I
obtained mercy, because I did [it]
ignorantly in unbelief.
14
And
the grace of our Lord was exceeding abundant with faith and love
which is in Christ Jesus.
15
This
[is]
a faithful saying, and worthy of all acceptation, that Christ Jesus
came into the world to save sinners; of whom I am chief.16
Howbeit
for this cause I obtained mercy, that in me first Jesus Christ might
shew forth all longsuffering, for a pattern to them which should
hereafter believe on him to life everlasting.

That's
copied from The Word, which is free Bible software, really good
stuff. Anyway, look at "for a pattern". Is this saying we should
be patient with bad people, the way Christ was with Saul? I know
there are other verses that talk about that, I just hadn't seen it
here before. Now, here's Genesis 30:41

And
it came to pass, whensoever the stronger cattle did conceive, that
Jacob laid the rods before the eyes of the cattle in the gutters,
that they might conceive among the rods.

My
involvement with this verse is a bit more wordy; so the insight I
needed more. If you're a regular, then you know I occasionally say
how unpredictable my work is getting. There are people dispensing
business advice along the lines of: "You're not just someone who
sells a product or performs a service; you're a problem solver. You
help customers find what they need. " That's a good way of looking
at it, but like other things, it has it's limitations. My trade has
gone through many changes. While I'm pretty much abreast of them, and
can deliver the new methods, I usually stick with the old methods. I
end up being the guy that specializes in doing odd jobs that others
can't or won't do. That's fine as long as the job can be dealt with
in a timely way; but the problem comes when I try and do jobs that
have no good outcome; no matter which approach you take. I've been at
it long enough to have a gut feeling about them; but I tell myself
that I'm the problem job specialist, and take on the job anyway.


A
recent example was for a client I've had for about 20 years. The job
should have had a total revamp, but she wanted to add a word below
what was there. Because of the storefront's shape, there was not a
practical way to add the word. I sent numerous emails, with different
design solutions, one of which I thought was quite attractive. That
one involved making a plaque like board to put the word on. That
would allow the letters to be tall enough, and also allow them to be
mounted on a horizontal ridge like protrusion running across the
store front. The ridge wouldn't be tall enough without the plaque
board. The plaque had a subtle scroll on each side of the new word,
and the ends of the plaque were to be cut to the shape of the
scrolls, so that it wasn't just this added on rectangular board with
another word. I matched the color of the plaque to the rest of the
storefront, centered it above the door; and as I said, I thought it
was rather attractive.

But
she didn't, so after becoming frustrated with the negotiations, she
turned it over to her son in law, who resolved it quickly by choosing
to make the word smaller, fit in below the existing copy. When it was
done, they didn't like it; aren't returning my calls, and; the thing
I was trying to avoid, happened in spite of all my efforts. I think
I've lost the client.


I've
had two jobs recently like that, each time I thought of declining the
job, but these are times of economic difficulty, so I have second,
and third thoughts. You've probably heard of the 85/15 principle. I
think I heard about in relation to a paint salesman; he noticed that
85 percent of his sales were from 15 percent of his customers. So he
started turning some leads over to other sales staff; so that he
could better serve that 15 percent. It worked well for him. I've been
pondering this gut reaction stuff, when, during my personal Bible
study, I notice the Genesis passage. Jacob has the stronger animal
reproduce, not the weaker ones. Sounds a lot like the 85/15
principle.

At
least a year ago, probably two, I stopped at the "Time Warp Tea
Room" on Central avenue, in Knoxville. The had (maybe still do)
this Tuesday evening motorcycle rendezvous; cool unusual motorcycles
line the street out front, and people hang out. I got extensive
photos of a motorcycle made in Russia, it's patterned very closely to
a WW2 sidecar bike. I'll have to share those someday. What I've got
here is a hand painted sign displayed inside the place. It was
obviously rendered quickly, but it has so much character, that I
really like it. Looks like an ad for a 60's movie.


Below
that is a surprise I got while on a ladder, painting a sign on
Broadway, in Knoxville. I get a kick out of this kind of creativity.
It pulled up and parked directly behind me, as quiet as any other
car, so I didn't pay attention till I was stepping off the ladder. I
talked to the owner, he said that the ears hinge, and are mounted by
magnet. That way tree branches cause less trouble.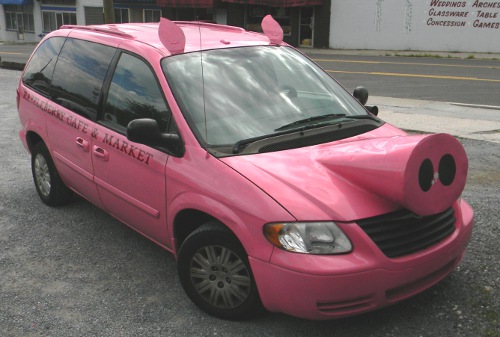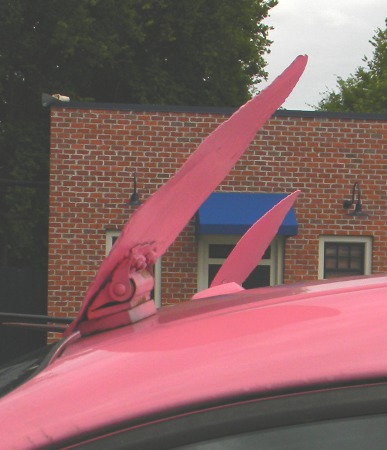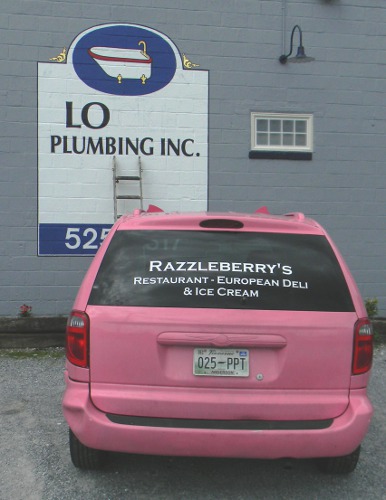 Saturday, August 9. 2014
I, like many others, hold to the myth
of continuity, even though I continually rail against it. I guess
it's how we deal with the world around us; so that we don't need to
recalculate every aspect of life at the same time. Some things have
to stay the same, I guess, I hope. They've been getting strange
lately.

I got a call last night, from my
sister in California. She said my mother was complaining about
"pressure" in her chest. The hospital examined her and said she
was fine, so she went home. The discomfort returned, so she went back
to the hospital; where they found a ruptured blood vessel next to her
heart. The leak was interfering with the main heart valve. They put
her on a Morphine drip overnight, but earlier today, she passed away.
Last year, my father in law, who
lived nearby, passed away from a marrow problem that lasted months.
My own father died from a rare affliction, which was not a sudden
thing. So that's how I assumed it would be, ten years down the road,
a sickness or some other indicator first. In fact, last year she kept
saying how she was losing her memory, but I suspected it was stress
from the death of a friend. The more time went by, the more she
recovered from the loss, and the better her memory got. In our phone
conversations, I didn't notice the memory thing at all. So I thought
everything was OK, ten years away, and all that. The phone calls,
man, that's one of the most important things I want to tell you
about.
We might have had a normal family,
not good, but normal. My dad left when I was about 11. We never did
anything religious, later in my teen years, I ran the streets and
lived a bad life till I was in my late 20's, when I read a little
book about creation. Later I became a Christian. Through all that, I
never had contention with my mother, but at the same time, we were
never close. Nobody in my family was close. We just weren't in
frequent contact. My wife's family thought that was a strange thing.
My wife and her sister Marie were often asking me if I had talked to
my mother lately. There were times when I regarded it as harassment.
I felt like saying "Hey! Let's make a deal, OK? How about you bug
me about these things in the same amount that I bug you about them?
Hmmm, how about that?"
I never said that; being a long term
recovering bad man, and knowing it. I figured that what they were
prodding me about was what normal people do, what high class people
do. My wife's father had a large family, something like 92
grandchildren. My wife has memorized all their names, every last one.
That seems to me to be a high class thing, remembering people's
names,and the details of their lives. So I didn't revolt, didn't
react, in fact, I called my mother a lot more than I would have if
left to myself. Now this. Man, am I glad I called. Dear reader, does
any of this sound familiar? Your relatives got a long time yet? Don't
talk to them often? Now it's my turn; I'm pestering you. Call them.
Watch out for the myth of continuity.
When my father passed away, I was at
his bed side a few days prior. A Christian minister had been visiting
him, so I assume the minister talked about eternal things, and, if I
recall, my cousin's husband was also telling him about the eternal
choice we can only make in this life. The choice is this:Every one of
us has alienated ourselves from God by our sin. Some have more sin,
some less, but we're all guilty. You will either be judged for that
sin yourself, or, by faith, you can trust that Jesus was punished in
your place. That's what will make you part of God's family, it's the
beginning of the Christian life.
I tried to talk to my father about
that, there on his death bed, but he would jolt from his half sleep
and ask "WHY ARE YOU ASKING?" It seemed too stressful a thing to
discuss with someone in a very frail condition. That, and other
people had been talking to him about it. I've wondered whether I
should have pressed the matter. Gently, but clearly.

I got to talk to my mother on the phone. She
couldn't respond, but she could hear, and I told her that maybe she's
trusted Christ for years, but this life is the only time we have to
decide to have Him take our punishment. I didn't miss the chance this
time. It reminds me of a video we (the family) just watched about an hour ago, never saw it before. There's a scene where the atheist professor was dying, and the minister was there to talk to him. The name of the movie is "God's not dead". I told my kids that I hoped they would remember the things going on in the lives of the people in the movie. They were very real situations; the love, indifference, and turmoils were what people around us are going through, that we don't need to watch fiction adventure movies to see the difficulties people have to deal with. Neat movie, realistic situations.
Friday, August 1. 2014
So the investigative crews have arrived
at the crash site. Why bother, when everybody's already decided that
it's the Russians' fault? Maybe I missed it, but have you seen a
single Western media outlet that wasn't biased? Even conservatives,
who distrust the media and President Obama, don't give the benefit of
the doubt. What's also interesting is how few people here seem to
question the validity of sending a loaded passenger plane over a war
zone where other aircraft have been shot down in the very recent
past. You'll no doubt hear that they were at a higher altitude, that
the other craft were shot down at lower altitudes. Say What??!? If
you discern from this cartoon that I'm saying the Separatists shot
down the plane in a case of mistaken identity, and that I'm
attempting to shift half the responsibility to the air traffic
controllers; that would be a reasonable inference. But a better
inference is that I find the flight route bizarre to the point of
being very suspicious.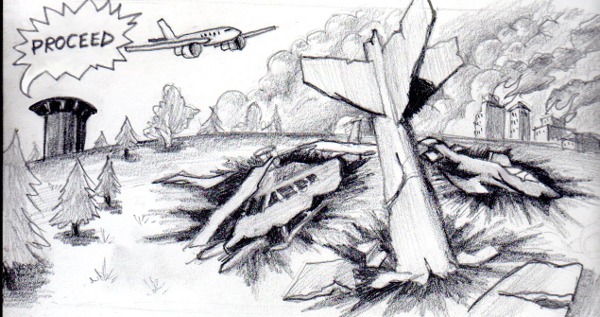 One site I saw said that the planes
fly in big circles, because of the Earth's shape. This lets them
reduce miles traveled, which means a fuel savings. So let's see, the
war zone in East Ukraine is the size of China? The route is a long
one. A detour around the war zone wouldn't amount to much difference
at all. In fact, that would be a good project, calculate the
difference in distance, then translate that to a percentage of the
entire route, and, according the the fuel consumption of a 777, the
actual fuel cost that would have been added.

If you visit Russian news outlets,
and pro-Russian sites, you'll read things that never make it into the
Western press. Here are a few: The plane was re-routed over the war
zone. There were two Ukrainian military planes following the
passenger plane. President Putin's plane was in the vicinity at the
same time. It's similar in terms of size. To the untrained eye, the
two planes could be confused, because of colors. An air to air
missile leaves different evidence than a surface to air missile.

If any of the evidence found
implicates anyone other than the Separatists and Russians, I very
much doubt you'll read about it. I go to Russian sites every day,
with few exceptions, and believe me, the news is different. What's
becoming clear is how controlled the Western media is.

President Putin is very popular in
Russia right now, my guess is because the people see what's been
going on in terms of US interventions. It's not because they've been
brainwashed. Remember, information is harder to conceal, at least
from those who want to know. Get Google Chrome browser, which has
convenient translation features, and look at Russian sites. They're
like us, they have comment sections after news stories,and in blogs.
Man do they have it out with each other, just like here. They are not
an uninformed populace. They have bitter arguments, with obvious
ancient insults thrown in, for good measure. The translation is
choppy because of sentence structure, in fact, right now, that's my
biggest concern in terms of learning the language. But here are a few
of the insults, best as I can remember: "Go hide behind your
mother's skirt", and, "Go tend the sheep". I_do_not_know what
they mean, so use them at your own risk. Here's one from a bitter
feud I saw below a news article about a cafe opening in Serbia: "You
obviously belong to a sexual minority".
The biggest problem here in the West
isn't that people don't have information, it's that they do not
connect the dots. If it looks like you see another story behind what
the media is saying, you probably do. If it looks like your president
feels he's been dissed, and is looking for revenge, you probably see
that. When did the US ever make an issue over Ukraine before? If the
big fuss is over them joining the EU, why isn't the EU handling this?
America is falling apart before our eyes, and our president is
spending a lot of attention on a financially tanked country on the
other side of the world? Makes total sense.
-------------------------------------------------------------
I wrote a bunch of notes the other
night; stuff I might expound on. One was a reaction to a term you've
no doubt read: Rant. This gal was going on how she just had to rant
about this and that. I thought that I need a different word. Instead
of "I want to write how angry I am about this", I need one for "I
want to write about Just when I thought I had seen it all".
Something that includes jaded amazement, disbelief, and maybe a
quarter teaspoon of hopelessness. Well shoot! Tonight I might have
been led the right direction. Like the word "decimated" , the
word "disillusionment" has been used in a wrong manner by many.
Decimated is a Roman military term regarding the destruction of a
tenth of your enemy's army.

Tonight, I was reading from "My
utmost for His Highest", by Oswald Chambers. The reading for July
30th starts thus: "Disillusionment means having no more
misconceptions, false impressions, and false judgments in life; it
means being free from these deceptions" He goes on to give a good
lesson on having realistic, but balanced expectations. The facing
page, July 31st, is also very good. A book mark goes there
for me. In spite of other people raving about the book, I don't
always agree with it. But those two pages, man, easily worth the cost
of the book.