Thursday, October 30. 2014
For those not familiar of my Bible study method, it involves a Bible, notebook, pen, and categories list. The list is one I made; things I'm interested in. I read the list to have the categories fresh in my mind; then start reading a part of the Bible. If I see something in the text that matches something in the categories, I make a note in the notebook. When I'm looking for things, I find more; as opposed to merely reading without the categories. They are whatever you're interested in; for example: Calvinism, end of O.T. law, miracles, etc.
  Recent notes for Genesis 31:52 are: 9 Political, 35 Forms of Government. These two categories are seldom used, probably because I'm more interested in others. The second one includes family as a form of government. The context is Jacob leaving Laban; this was long ago. I wrote:
In that time and place, what other government was there? Even if there was a government over the area; this monument stood as a reminder of a declaration between these two men. Maybe I could call it a culturally authorized arrangement. Is this why the current populace of the U.S. doesn't value its own constitution? Its a arrangement from a previous culture.
A different culture indeed. Notice the nurse that disregards her quarantine. Either she's privy to information the rest of us aren't; or she just says "the hell with everyone else." Speaking of Ebola, I was thinking about the way states are taking protection into their own hands. I thought that when I get time, I should make a cartoon of an angry President Obama gritting his teeth and wanting to retaliate against those states, the same way he forbade states to protect the southern border. Then on the radio, at about 4:38 pm Monday October 27th, 2014, on WUOT, I hear that over the weekend, the president was pressuring states regarding these protective measures. This is surreal man. The nurse isn't concerned with what happens to us, the president is, but his intent looks hostile. This is surreal man!
  There are a number of things to ponder here. Maybe a stretch, but I'm reminded of the days prior to our Civil War; a group of states resisting the will of the federal government. Then there's the Army setting up quarantine for its troops. Maybe a coup is a "million miles away", but could this be remembered as the day the military started acting on its own? What's more important to me is that I shouldn't any longer have to explain to people I know why I want to leave the country. There's no way of repaying the national debt, economic troubles are inevitable. When the collapse or civil war comes, a replacement government will be needed. But it's like the line from the movie, "who you gonna call"? Who will fill all the positions required? The nurse is a typical sample of Homo Americanus. Traits include re-electing a destructive president. Symptoms also include not being shocked that one of the largest states now has a law allowing transgendered school children to choose which bathroom they identify with. A majority of Americans are not capable of governing or selecting a government. If by some unbelievable stretch you actually put in a conservative government, at least half of the population will vote for self destruction as soon as possible. What will you do with these people? You're stuck. You're toast; I'm hoping to leave.
  Speaking of culture, I was sure I had previously written about an incident between our clan, and a neighboring clan over chonder in the other valley. I can't find it in a search, and, in order to relate what happened a few days ago, I need to tell it. Pardon the length of this post.
 At least a year ago, I was informed that a group of men from their family had beaten a lone member of our clan, my brother in law. People were quite upset about it. I guess charges weren't filed, but I was expected to go confront these guys. It's my thought that if a woman is left to do a man's job too many times, she'll start acting like a man. I have a keen appreciation of things feminine, and I'm not looking forward to any gender role modifications. "Tell them they had better stop doing this." Says I:Um, look, there are only two possibilities here; either I'm in essence begging, or there's a fight. And in my estimation, if they're not Christian, that's the appropriate response to a threat, to immediately challenge the enforcement of the order. Those are the only two possibilities. I don't mind doing your bidding, but I want you to at least acknowledge that this is most likely a fight.
It was a matter of serious prayer. Being that we try to keep government involvement to a minimum, and so do they, it was reasonable that we confront them, but I just couldn't see a third option. I had an afternoon off from work so I needed to deal with this; but had to wait till those guys got home. I thought about going out in the hay field and doing some martial arts stretches; which I hadn't done in 20 years. I never was a star student in the Dojo anyway; more like the cigarette smoking doof. That or I could go up to the ridge and split firewood for the widow lady. I went up the ridge, had a grand time splittin' and talkin'. She told me some history, and gave me a jar of home made Chow-Chow when I left. Never had it before, hit wuz right delicious.  Then it came to me, praise God, there IS a third option. I remembered Proverbs 15; where it says that the eyes of the Lord are in every place, beholding the evil and the good. I would go with a Bible in my hand, and point out that they shouldn't think they're getting away with this thing.
  That's what I did. It didn't mean I felt completely safe; I was headed toward a group of rough guys, and remember, up there in the woods, there's no eyewitnesses. I don't sing to myself often, and maybe the world's better off for it, but that day, I was a-singin'. Martin Luther's "A mighty Fortress" to be exact. I finally found these guys, they came out of the house as a group, and didn't look happy. I walked to them, large print Bible in hand. Conversation was tense at first, but a few of these guys are old friends, so things got more kindly as time went on. They related the incident from their perspective. I found it believable, because one admitted to throwing the first punch. He said he kept being pushed back, and realizing the inevitable, swung. They told how this was just the latest in a series of conflicts caused by my relative's 'condition'. I'll spare the details, but I'm well aware of the man's 'habits'. That, and I've been the 'black sheep' in our clan before; I prefer to do my own investigating before I take sides. Finally, I convinced them that I believed their account, and we were chatting like old friends would under other circumstances. We almost made a horse trade (literally) but I figured I didn't want to show up with news of an equine purchase. Not from them anyway. My report wasn't received at first, but later on, everyone was given solid evidence to validate it.
  So fast forward to the other day, there was another incident, no details here, other than it wasn't a repeat of the previous incident. I asked them if they reported it; they had. We conversed awhile, their intent was to inform our family about the situation unfolding. I guess that since I went before with a Bible instead of a fist, I'm now the liaison of sorts. Back to culture, the Hill People's like that, they sought a peaceful resolve. Be careful how the media portrays Hill People, it's usually incorrect. Be careful how they portray anybody, for that matter.
Monday, October 27. 2014
This blog was started to inform my neighbors here in the "Bible Belt" about some of my theology, Bible interpretations, and philosophy; and how those beliefs manifested into everyday matters. The scope of content has broadened, and what was once important isn't as much of a priority. Besides, my family has never liked the name. As for me, it was perfect at times, fun for a guy that has seen some bizarre things. 


Friday, October 24. 2014
I'm reading the preface to Justification of the Good; part of it for the third time. I went a little father than before, and now he's really making a point. He talks about pleasure, suicide, pessimism, all leading up to the idea that life has a meaning outside each individual. PLEASE read it yourself rather than relying on my relating it. Here's a quote that sums up what I've read so far:
"The meaning of life obviously cannot coincide with the
arbitrary and changeable demands of each of the innumerable
human entities."
I've started a new work related blog, the idea being to attract readers interested in what I encounter in my travels around this area; and, to maybe have a mailing list to alert people to new posts. So far, all that's there are work projects, but it's off to a good start. HERE'S the link. On one of my jobs, I had an interesting encounter today. I'm working very close to the place where the "Vol Navy" docks. There must be other boats-yachts-SHIPS joining the group, because Auburn fans have a definite presence there. One guy told me that he's expecting the arrival of a 130 foot yacht from Florida. The boats are anything but common, one of the closest is a big $3-400,000 houseboat. Pristine condition. A more friendly and humble group you couldn't find. The owner of the boat next to the houseboat talked with me about my work. I'm having limited success getting whitei-ish rain streaks removed from one side of a red metal caboose. I've been experimenting with different products, apparently more under the observation of the boaters than I realized. The boat owner said they didn't have much to do tomorrow; as the big game was Saturday, and offered to help clean this caboose for a few hours. I immediately laughed. Not because I considered him incompetent; but because we're obviously polarized in terms of economic status. The idea of me going down to his dock, knocking on his door, and asking him to  help with my scrubbing project seemed very strange.
Tuesday, October 21. 2014
A few days actually; Sunday afternoon and Tuesday. I finally got the ingredients I needed to make 1 quart of automotive paint for the roof and hood of my truck. It's a lot more expensive than house paint, and I didn't have the money. I was holding out for metallic, the last time I painted that section, I used an Ivory color. I figured metallic would bring me up into the later part of the 20th century, at least paint wise. I had a pint of a really bright brass colored metallic; but that's not enough, and the bright color would distract from the gold leaf letters on the doors. I had this theory that gold metallic is really silver metallic with translucent gold pigments in the binder part of the paint. If you've ever stirred a can of gold metallic that has settled, you'll pull up a bunch of silver particles on your stir stick. I found some slightly blue grey metallic. I countered the blue with a little orange, then added safety yellow. The blue and orange make a brown, which is an acceptable  way  to turn the yellow to gold. There were two different kinds of paint, a little anyway, by the time I was done it was a strange chemical brew. I applied it rather heavy, and the finish is nice. It dried right, is glossy, and thick. I was aiming for a lighter gold, a replacement for the ivory; but one that wasn't intense in the yellow department. I got that, and more. It's almost like that flip-flop paint that was popular a few years back. It drastically changes color. When the sun is directly on it, it's almost ivory. But get in the shade, it's tan like Autumn leaves. This morning I looked on it from above, and it was a definite green tinge. the law of unintended car color.
 I took the masking paper off, and drove it onto the lawn to try and get a picture before sunset. I looked at the sky, and there was a weird bright spot to the right of the sun, almost like a second sun. I got a few pictures, they do a pretty good job of showing the weird thing. In the picture, the sun is behind the tree. The bright spot is probably the edge of a cloud bending light in an unusual way. There is probably a scientific explanation, but that doesn't make it less noteworthy. At least not to me; I'm 54, and don't remember seeing this before. In the second picture, I've blocked the sun with my hand. Notice the radiating lines of the contrails. I've taken other pictures of weird stuff in the sky over the last few years, I've just been negligent in posting them.
  This morning I went to see friends about painting their barn roof. I took my daughter along to visit their daughter. As we got to the end of the road, the old familiar road sign took on a whole new meaning. (Mr. Maxwell House?) The black dual headed arrow on yellow background; man, what a graphic expression of binary. I shared my discovery with my daughter, and took the opportunity to explain the tertium quid fallacy. Also, what R.C. Sproul calls "The Impossible Tertium Quid". That's where somebody wants a third option that does not exist. I used the example of Lot in the Bible; he could stay and die, or go and live. He hemmed and hawwed, wanting a third option where there wasn't one.
 Later in the day, I'm driving to that same intersection, and remember that I want a picture of the sign. I'm reaching over to the passenger seat, getting my camera out of the bag, so it can be all ready. This kind of efficiency, well, it's in the Mission Impossible zone. Not that there's  so much traffic out at this country intersection to demand quick action; it's just that a guy has to be familiar with that stuff. You never know man. I'm a bit old for the Navy Seals, but hey man, gotta stay in practice. Women readers, don't try to understand, it's a guy thing. Several car lengths from the intersection, I pull to the right, so the truck behind me can go around. I didn't realize it, but behind him is...Mr. Sheriff. He pulls alongside my truck and asks if everything was OK. Not being a good time for "Well, er, um...you see officer..." I went animated while explaining this morning's conversation with my daughter. Not too jovial, but enough to convey that this was just a fun thing...I ended with a raised voice:" LOOK BUDDY, YOU HAVE TWO CHOICES HERE, THIS OR THAT, NO OTHER CHOICE SEE??" He laughed, and the last thing he said was "You be surprised how many people DO GO STRAIGHT over the edge."
  That was on my way to hopefully sell and paint some window lettering for a car dealership. When I got there, what the guy was actually asking for was wall lettering along with the windows. I spent awhile measuring and making a scale pencil sketch. He liked it, but needed approval from his manager at the lot down the street. The manager arrives, and I'm thinking that at least it will be yay or nay, binary, you know. But no-o-o-o, this guy too needs approval from a superior. Tertium Quid go away? Maybe they'll call tomorrow. It's Tuesday afternoon, and I'm still doing sales. When I said in the previous post that things are great, I meant the inquiries. Had one come in over the weekend, replied to it Monday morning; still no reply. Probably gone. Had one Monday afternoon, pretty cool logo on pine boards job; that's in Limbo, waiting spouse approval. Half my readers probably think I should just lower my bids, but trust me, there's a threshold. The time and gas I would spend going back and forth to these jobs would leave me with ten bucks an hour, if that. I can do that closer to home. Really, with all the sales time, and other non billable chores, I charge forty per, just to hopefully make eighteen. That's when there's work at all.
  I'm not whining, just letting people know what to expect when they go out on their own. See also the picture of the green crane. I was asked about lettering a nickname on the boom of it. The shop worker handling the project was joking around and thought it would be cool looking with a CCP with hammer and sickle painted on it. Maybe Soviet stuff is having a style trend right now. He wondered what the supervisor would think, the supervisor is conservative, so maybe that was the direction of the joke. I kindly asked him if he realized that the USSR ended about 1990, that the country is now the Russian Federation? I said Russian letters would still look cool on it. I WASN'T ABOUT TO let on that I could write out the name in Russian/Cyrillic on the spot. Or that I was listening to Russian language tapes on the way over. He might revert back to the USSR mentality, call me a communist; at which point I would have to bring out more questions: What city is the largest in Europe? Moscow. Which city has more millionaires and billionaires? Moscow. How soon does he think they want to revert to the state owning the means of production? You gotta be ready for these situations; it's a guy thing I guess.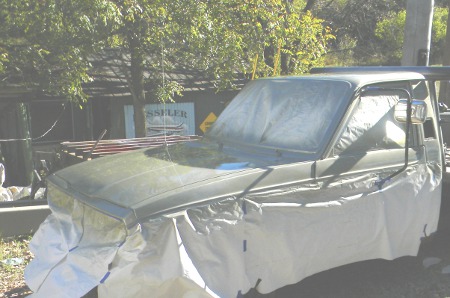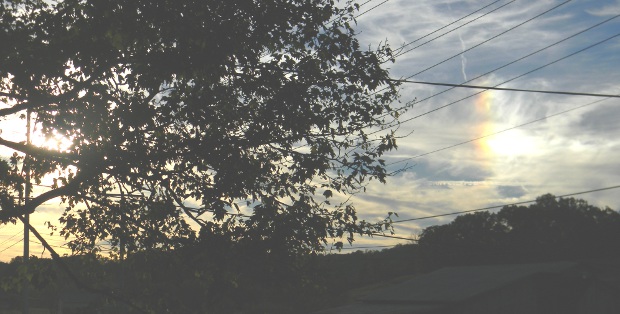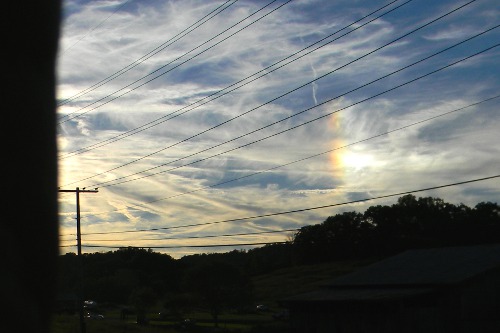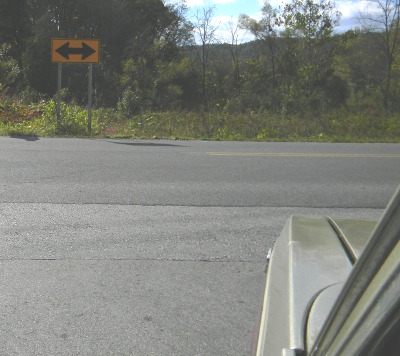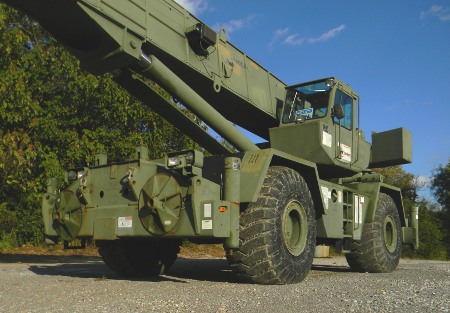 Monday, October 20. 2014
On Thursday Oct 9th, Russia
Insider published an article titled "Putin's Christian Vision".
Russia Insider is a new website dedicated to news and politics from a
Russian perspective. If you want to read something other than the
monotone progressive indoctrination, go HERE. The article noted that
President Putin is rebuilding churches in the Kremlim, churches
destroyed during the time of the USSR. It also said that The
president has instructed regional governors to read works by three
philosophers regarding the relationship between church and state.
These three works are:
"The
Philosophy of Inequality" Nicholas Berdyaev, "Justification
of the Good," Vladimir Solovyov, and "Our Mission"
Ivan Ilyin.
In the comments, there was of course, some debate. One reply was that
a comment above it was from a Protestant perspective, and that the
commenter didn't understand the relationship between the Russian
Orthodox church and the state. I asked for a brief explanation, but
none was offered. I surmised that maybe this was a hint to
investigate the works cited for myself.
As
it turns out, an English translation of the second one is easily
available, probably the others too. I downloaded a PDF at LINK. I've
read the first few pages twice now, in different states of mind, each
with its pros and cons. The first time, I encountered what I call
compounded coffee. A day starts in a ho-hum way; which is an
illusion, mere inattentiveness. So I have three large cups of coffee,
then encounter something that reminds me how startling or exciting
life can be. Yes, I live in "interesting times". Then all the
caffeine kicks in, and it's runaway horses harnessed to the wagon.
Someone gave me a comprehensive book on the life of William Tyndale.
When my internet connection gets slow, (right computer), then I do
graphic work on the left computer. I actually do have newer monitors,
but they're attached to the children's educational computers, along
the left wall. Besides, for me, cheap/thrifty is an art form. The
dust is voluminous, deposited by a wood burning stove a couple meters
behind me. Anyway, I didn't have any really pressing projects, so I
started to read the Tyndale book. Read, skip, read, skip, trying to
get past all the minute details which I cannot possibly see being
relevant to anything later in the man's life. Quite tiring. So I
decided to find the works cited in the article. I did, started to
read, and that's when...compounded coffee. The author, Vladimir
Solovyov, wastes no time getting to thought provoking ideas.
The
second time I read it was late at night, beyond my coffee cut-off
time, so I was able to read it without all the distractions regarding
how EXACTLY alike it is to my contemporary musings. It is related to
things I'm contemplating, but not identical. Calmer heads prevail.
Dr. Jekyll, Mr. Maxwell House.

Speaking
of binary, one of the points the author makes is that we must choose
a good path or a bad path. Those who claim to follow a third path,
something like an animal living out its natural desires, are
actually on the bad path; for the animal doesn't have the capacity of
this choice. Having left the good path for anything else, by and by
all other choices end up on the bad path. Please note that this is a
simpleton's recollection of an English translation, it would be much
better to read it for yourself.

Not
everything I read in the book is binary; here is a great and
intriguing quote:

Moreover,
it should be noted that even
when
conscious choice has been made, it cannot be observed from
outside.
The distinction of principle between the two paths has
no
empirical definiteness and cannot be practically defined. I have
seen
many strange and wondrous things, but two objects have I
never
come across in nature : a man who has finally attained
perfect
righteousness, and a man who has finally become utterly
evil.
A
caveat of sorts: The author speaks of "the Good"; and it appears
he alludes to God. Being a fundamentalist, I would be more explicit.
I'm guessing that he doesn't want to distract from the main point of
the book, which is the choice we must make. I can certainly relate to
that; I see very morally upright Christians coming close to terrible
detour by the seemingly small choices they make. At any rate, I look
forward to the remainder of the book.
______________________________________________
Now
part of what Mr. Maxwell House was thinking: making a choice reminds
me of what I contemplated earlier in the week; that some of what I
call paradoxical is really just indecisive weakness. There may well
be conflicting factors and outcomes in a given decision, but
sometimes one must sternly make a decision anyway.

What is paradoxical
is watching this country die, but continuing to teach my children
things they need to know, and being paid to make graphic art that is
to a degree for entertainment's sake. You have to be in the "zone",
you need to be intent on making something over the top cool looking,
while other people are dying from infectious disease. Bizarre, I
guess. Hi, weird neighbor at your service.



Now about that
decision making. I was convinced that not all jobs that I'm contacted
about are worth doing; but easier said than done when you're out of
work. A guy emailed me about a large mural he was paid to design;
he's out of state and needs local artists to render the work. In the
past, I've had almost universally negative experiences when I'm the
vendor for someone else's work. The exception is Gemini Letters, that
was actually quite good. Anyway, the mural is to go in a factory, the
work would be done on weekends. That gives me at least two bosses to
answer to, not including any supervisors. That's not good, as they
usually aren't coordinated; I get caught in the middle. The designer
wants me to use a projector connected to a laptop. I have a
projector, but not digital, this would be an initial expense. Now, we
encounter the realm of file compatibility. Always something to watch
out for. The bottom of the work is twelve feet off the ground, and I
think that the floor is already occupied by factory equipment. I
tried to explain to the designer the difficulty in aligning multiple
projector images, made worse by having the projector up on a huge
A-frame ladder. Remember, I can't just put the projector at twelve
feet and angle the image upward. Too much distortion. So a twenty
foot tall ladder is in order, the base of which is big. Not easy to
precisely move, especially around factory equipment. Then there's the
issue of partial payments as I go. Who will do the approval of enough
work completed? Big companies often take three weeks to pay. These
are just the problems I could easily foresee, doubtless others would
arise. But try explaining this to people. People that think you're
making excuses while unemployed. One good thing did come of my
wrestling with the dilemma: new, clear terminology. Downright
succinct, I tell ya. The distinction is between a project and a job.
I'm calling the 'thing' above a project; other work is a job. Right
now, I need jobs. Grab hold, knock it out, get paid, repeat. So I
turned down the project. The phone keeps ringing with some really
cool work. Hasn't been like this in years. Of course, I've got
financial catch up to do, and winter is coming; but hey, the big
decision turned out alright.


I've been thinking
about how to improve a county's economy. Being that this country is
so committed to self destruction, these things won't likely be
implemented here; I must have been thinking about some other country.
Yeah so anyway, this is not the big solution, just one little part.
It might bring part of the big solution. Graduating students need an
internet presence; whether they seek employment, or to start a small
business. I estimate that three fourths of my work comes from the
internet. Give them a free website and domain name for a specified
time, like five years. At the end of that time, they could pay the
normal rates for both. This way, the data would all be theirs. They
would also learn about building and maintaining such things.
Employers could learn about the students' abilities, interests,
grades, and current projects. A popular news site in that country
could have an ongoing blog or forum dedicated to innovative ideas for
developing new products, technology, methods and more. An online
public think tank for the improvement of the country. Participants
would link back to their own sites, so that their site's SEO would be
helped, and people could learn more about this innovative person.. Of
course, if a country was put in a position where it needed to be more
self sufficient, it would need to have the big tickets items
addressed. Things like making and using lots of your own steel. Those
are God sized problems. I'll be blunt, it looks to me as though the
US started losing His help when we replaced prayer and the Bible in
schools with Darwin's abomination. Remember what Jesus said about
those who offend children: it would be better if a millstone were
hung around their neck; and they were tossed into the depth of the
sea. Ebola, falling stock exchange, huge public debt, another
predicted "solar vortex"; look at the US now. I was taught in
school for a fact that there was no God. Later, I saw science from a
creation perspective. I was a creationist before I was a Christian.
In this day, the evidence for, and the presentations available about
creation science are very strong. I wonder what would happen if
schools presented this evidence to children.

Continue reading "Books, decisions, and more"
Tuesday, October 14. 2014
Haggai 1:6 says:
  Ye have sown much, and bring in little; ye eat, but ye have not enough; ye drink, but ye are not filled with drink; ye clothe you, but there is none warm; and he that earneth wages earneth wages [to put it] into a bag with holes.4
I've been told of foods grown by modern agricultural practices that  are lacking nutrients. Whether it's true of not, I can't say at this time, but it reminds me of this verse.
__________________________________________
Voyeurism lite?
 I see women revealing more of themselves than I think they should; areas I consider for private viewing by her husband only. It makes me wonder if they would also reveal private activities?
_______________________________
Lately I've had a continually reoccurring thing; it's an awareness, it's not mild, and hasn't faded much. I started thinking about teaching English in a foreign country, and have noticed how slang my own speech and thoughts are. Things like -gonna- instead of going to, -ardy- instead of already.
_____________________________
Some business/ website tips and improvements I'm making: At my level, I recommend Wordpress over Drupal; it's easier to use, especially considering upgrades. Way, way easier there. I started using Drupal because like other sign people, I was looking for a new place to use my graphics and sales abilities. Some have started making websites for people. I've yet to do that, but thought I would learn a difficult CMS so that I would have more design options later. The promotions for it say things like: Build a site in less than an hour! After tinkering with it for a long time on my own site two years maybe, I read a reply on a forum that put it all in perspective. A poster was angry at the difficulties he was having. A techy woman replied with something to this effect: Look we're al volunteers here, you have to learn more and ditch the attitude. Drupal was made by programers for programers, all the plugins available are just conveniences for repetitive tasks. Well OK then, I "get it" now. Just to clarify, I wasn't the angry guy. Not that time anyway.
Yeah so, moving right along, I'm now kind of embarrassed of that website, but I'm working on improvements. I guess the worst part are the blocks on the left with all the utilitarian plain text links. I read somewhere that text links are better for SEO than image links, so I figured the look was acceptable. Ive also been trying to get an email address at that site, so that it's Jim@donahuesignarts.com. There's a glitch right now. At this time, I use a private email address, and other sloppy practices. Not only do I want that address, I need to get it on my cards, stop handing out cards with various email addresses and phone numbers handwritten on them.
  Another new thing is starting a blog for my work. I might get together a mailing list; so I can send out notices of new postings. In my travels around this area, I get to see a few things that others don't. Vistas from tall buildings, a rickety ancient homemade ladder occupying the same space that a freight elevator does, old signs in basements, and more. I'll show my more interesting work, along with new methods and results. That blog can be seen at: Noticed
 At that blog is a post about the green stepside that I showed before. I'm working on a yellow fleetside right now; it might end up being the best I've done. And that's without the experimental method I want to try in the blue ribbon at the bottom. as they say, "I'll keep you posted". Nice thing about the internet, people have to track you down in order to physically kick you in the shin for lame jokes.

Tuesday, October 7. 2014
A couple of weeks ago, a guy calls me
about painting a sign on a wall. Man, was that good news. Work was
nonexistent, but of course, the same couldn't be said of the bills. I
went to look at the wall, and talk to the man; always a good idea in
this kind of work. The texture and condition of each wall is
different. This one had paint coming off in sheets; but strangely
enough, the wall beneath the paint was very clean. Usually, the lower
layer of paint is disintegrating, and that's what releases the top
layer. Anyway, this guy is ticked that a new business across the
street has started offering the same product/service that he has been
doing for six years. His speech includes profanities, but I somehow
regard it all as a manly rant. We actually shook hands on a design
and price, but then I reminded him that he said the day before his
crew would pressure wash the wall. The sale fell through. Ouch, I
needed that work. He was stressed about the price I quoted, and I
realized that I was now the likely target of his next rant. I also
realized that complaining is complaining, profanities or not.
So I'm back to financial crisis; at
least from a limited perspective; it's not as though I'm two hundred
seventy thousand dollars in debt. The worst part of having a utility
or service cut off is having to pay not only the money I owe, but the
reconnect fee. It's like salt in the wound. Just to clarify,I'm
relating my tribulations, not complaining; you know that, right?
Yeah, so anyway, I'm all remorseful, while working on the kitchen
faucet, which has finally gone out. I'm twisted under the sink,
disconnecting hoses, and the phone rings.
The man on the other end is a family
friend; he runs a ministry where they bring troubled inner city kids
out to the country. He uses horses and activities to teach about God,
and important lessons. My children are rather knowledgeable about
horses, so they volunteer to help at these ministry outings. The
man's voice is halting and obviously troubled. He tells me that the
horse my daughter was riding reared, she fell to the ground, then the
horse fell on her. She was briefly unconscious, and a doctor in
attendance was rushing to her side. I told my wife, and we drove to
the place.
When we arrived, an emergency crew
was already there, and had my daughter on a board, with different
pads and straps to keep her head from moving. The crew said that a
helicopter was en route. I asked about all these procedures; and they
said that since she was showing signs of possible trauma, and the
fastest way to the only trauma center in the region was by
helicopter. The ambulance moved to a nearby empty grassy area, where
the 'copter could land. The helicopter pilots are obviously
experienced; on their initial approach, they hovered for awhile over
the adjacent pasture. This caused a couple of Llamas to flee, and
made the group of horses next to the grassy area move farther away.
They didn't go far, but were quite curious as to what this noisy
flying thing was.

By the time they waited to transfer
my daughter to the helicopter, the delay was such that any advantage
of flight over driving was lost. I voiced my skepticism, but they
said traffic might be heavy. Hmmm, don't ambulances just drive around
backups? Procedure is procedure, I guess.

At the hospital, her condition was
steadily improving. They administered some tests, and asked
questions. The doctor came, a younger guy with vice grip handshake.
He checked a couple things, asked her some relevant questions; then
engaged us in a discussion. He was actually quite attentive to our
opinions. We were surprised and pleased he would take the parents
that seriously. They removed the IV tubes, released her, and she
walked out. Never mind all the rest, she walked out. Thank you Jesus.
She could have been paralyzed, comatose, who knows, but she's fine.
Some details: I was given a ride from
the grassy area back to my vehicle, the helicopter is lifting off,
and a man stops me. He asked if I was the girl's daddy, I said yes.
Maybe the 'copter was loud, he repeated the question. I affirmed that
I was her father. He pulled a stack of money from his pocket, and
started handing me C-notes, five in all. He said he wanted mt to take
a few days off to spend with my daughter. All this noise and hurry,
and in the middle of it, this good news. By that time, a few
witnesses told my wife they had a better view, and that the horse
didn't fall on her. The three of us drove home, stopped at the Golden
Arches. It was late in the afternoon when we got back home.

Before I was under the sink, I told
my eldest son that we need to replace the faucet; his mother
suggested he look for a used one. I waited for awhile, then decided
this was taking too long; so I went on Craigslist, to look for one.
I found one that looked nice, $35 was nice for a guy in my position.
I left a message, but when the guy called back, he said he was sorry
he hadn't taken down the ad; but he just sold it a little earlier.
After this eventful day, I'm laying
on my bed, my wife is there sitting up. We were glad for the Lord's
mercy, even though my debt free status might be on a long vacation.
Hope that place has liability insurance. Oh yeah, is there a way I
can block the hoses under the sink; so we can turn the water back on,
my wife asks. Sure, I guess so, but let me tell you about my usual
less than stellar attempt to buy a faucet. Same old Craigslist story,
says I, same old stupid story. I had an irritated tone in my voice,
but wasn't entirely serious. I always joke this way, life is so
paradoxical that sarcasm and gloom usually overlap. At least for me.
Maybe there's a label for this particular psychosis, maybe it's just
my style.
Yeah, so anyway, I'm telling my wife
that it's always the same, if you're selling something, they never
show up, if you're buying, it's always: sorry, but that's gone,we
just forgot to take the ad down. Its always that way, Honey, always.
My son walks in the room, to ask how everything was going. We tell
him everything that happened, then he relates that he went out to
exchange his faulty smart phone, and on the way, he bought a used
faucet for $35. I asked if by any chance the guy's name was Bob. He
said yes it was. By this time my wife is having a gleeful bit of
laughter, and starts in on me with Nya-nya, Mr. Grumpy, Mr. Grumpy,
it's always that way on Craigslist, it's ALWAYS that way on
Craigslist, poor Mr. Grumpy. I tried my best to subdue my own
laughter, one must maintain appearances you know.
That was on a Saturday, Monday
morning came round, and the daughter who was in the mishap was
helping my wife with a chore; so I figured it would be a good time to
do some needed changes at my commercial website, and maybe work on
generating some sales. That was sorely needed. Afterward, my daughter
had other things to do, and I just continued my office stuff. I
reasoned that the stranger wanted me to be able to be at her bedside,
if she was at the hospital. But since that's not the case, well, I
can keep doing the office stuff. The same reasoning prevailed for the
first part of Tuesday, but then I gave it a second thought.
Sometimes, you just have to do the literal thing. Sure, maybe the guy
was talking about bedside time at the hospital; but if the Lord sent
the guy, shouldn't I just spend some time with her,and drop the
reinterpretation? Hmmmm. I re-enacted a scene from a movie I really
like, called Courageous. I found my daughter, held out my truck keys,
and asked if she had her learner's permit. (She's very familiar with
the movie.) She said no, and I said well, looks like we can't go out
for a pair of running shoes, but let's go to the feed and tack store
and look around. I didn't realize it, but the children don't have a
Lasso rope of their own and they need one. I really didn't want to
lay out the cash, but I ended up buying one for $43.

Then the phone starts ringing with a
number of good jobs. Here's a picture of an old stepside I'll
probably hand letter. For a sign guy that's been out of work, and
that likes historic stuff, this is just about as close to heaven as
it gets on this side of the river.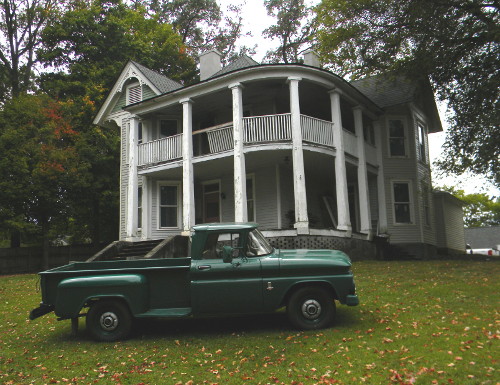 Friday, October 3. 2014
Jesus said "What shall it profit a man to gain the whole
world, and lose his own soul?"
I'm wondering, what shall it profit a man to defend his country
from all manner of foreign threats, only to lose it to subversion
within? Britain once honored God, now it doesn't. Look at how their
greatness has declined. The U.S. once honored God, it was blessed in
a great way. Then it stopped honoring God, and America 1.0 ended in
the early 1960's. America 2.0 began the process of self destruction;
now it is beyond the point of return. Currently The
Russian Federation does a better job of honoring God than the other
two. I believe that because it does, it will continue to defeat its opponents. Just the other day, it was reported that a pool of
oil as big as the Gulf of Mexico was found in RF territory. I
sincerely hope that the entire country is prospered, from the Pacific
to Ukraine, from the Arctic to the Black Sea.

 What I'm contemplating now are two threats:  The first is when the people of the RF, in their successful resistance to threats from the West, start
thinking that their strategic and tactical decisions are sufficient for survival and prosperity. At
that point, they might make compromises with the blatantly ungodly, thinking
that the progressive version of tolerance will work. That a lasting
stasis can be had. This overlooks the conflict between God and Satan.
Satan wants no less than the expulsion of Christianity, and is
continually working toward that end. There is no stasis with him.  Here in the U.S. millions of voters in California had their will overturned by a single homo judge. A Christian baker, photographer, printer, and others are being forced out of business for not promoting or conforming to the homo filth. The A.G. of the entire country has declined to enforce laws banning homo marriage. So much for tolerance, worse is coming. Part of the ongoing change is that those who were once opposed are finding a way to de facto compromise. I predict that the new trend for Republicans will be to claim they regard the issue as boring. That way, they can say they still consider it immoral, while not making a public conflict. As I said, expulsion is the goal, for those that will not compromise. I'm not sure that homosexual behavior is the peak of immorality; but it is somehow the litmus test as to whether a person will abide by God's word.
 There is talk of a fifth column in the RF, I suppose every country has one. The second threat I'm contemplating is from what might be called the sixth column. People who are very loyal to the Kremlin, specifically President Putin. These people have keen and brilliant political analysis of current events; but the analysis always blames central bankers, ideologies, arms manufacturers, and so on. This could influence others to see these things as cause, and not the effect that they are. The idea that our decisions can save us, we don't need God; is the beginning of self destruction.
 To get an idea of what that looks like, cast your gaze upon the U.S. We once honored God. He restrained our problems, and gave us victories. That ended in the early 1960's. Now we have a ruined economy, a national debt that cannot be repaid, continual natural disasters, children killing each other, a huge prison system, school children (lots of them) on prescription drugs to modify behavior, a high percentage of children in fatherless homes, and the list goes on. God removed His restraint.