Sunday, December 21. 2014
  Ah, thee name, thee name, eet is back. After a Bible study, when most of the family was there, I brought up the blog name. I was surprised at the feedback. The worst I got was "I don't really care, so long as I'm not personally involved". On the other hand, one daughter said that the old name was better because the new name would make people think that all I wanted to talk about was the collapse of the country. 
  As for me, the 'weird' name is more fun; but "Coup of the surreal" more accurately describes the takeover of strangeness around me. Maybe it's just the deterioration of order. At any rate, in spite of the last post, I do care about some things; but I have to continually turn myself back toward them. Maybe it will be easier with one of them from now on. I came to a clearer realization of how important it is for me to regularly do my Bible study. It's not just a personal development thing, through learning and the joy of seeing God bless me with insight into His word. It's a responsibility to those around me. It helps me to think right, to make important decisions in a world where the masses are deciding wrongly.
  I've been lacking-slacking in the study department, hence, I'm still in Genesis; but here's what I saw tonight: As usual, I read my list of things to look for in the text, this helps me to find more. Often though, a verse stands out not because it fits one of the other categories, but because it fits in #12, "interesting". That is, I'm reading along, looking for things like #2 "evil of mediocrity", and a verse just has this unspecific draw, if that's the word. Maybe "rise" is better, it catches my attention. Maybe because they did things different back then than we do now. 
  So it was tonight, I was reading in Genesis chapter 32. The end of verse 16, Jacob sent the gifts to his brother in separate groups, a little at a time. Is this a lesson about human nature? That one large presentation isn't as good as a series of smaller ones? Jacob instructs his servants to give a verbal message with each gift, this might be more effective than the wow factor of one huge gift. That would start to wear off, plus there would be a whole lot of busyness brought onto the scene. 
  So...maybe Esau's huge company of armed men was a similar thing; in that he didn't intend to attack his brother, but this show of force would turn into a show of mercy. Now to contemplate this some, one could say that when it comes to force and violence, the only effective way to make the presentation is to show it all together; whereas the presentation of good things has more flexibility in how it's presented. There is plenty of room for contemplation of how this idea might be used for persuading people in the places that we present our viewpoints or pitches; but that's another discussion.
  Right now, I offer this related contemplation: I often wonder about beauty and art in our world. Sometimes I think it's just remnants of the time before sin entered the world, and now we just cobble together bits of beauty to make life better; but it's like using an alternator from a car that's not running any more to make a windmill generator. The car as a whole was made for something else; and the true nature of this world is in the horrific things people do to each other. We patch it up and try to feel better, but beauty is just leftover stuff from an entirely different world.
  I don't always see things that way, but my life isn't always easy, besides true empathy would be to relate to people in awful circumstances, regardless of how posh mine were. That's brutal honesty for me, to let my day to day contemplations go negative when it's time to. Maybe you can't appreciate the light until you know the dark? This is starting to sound trite, mushy, corny, something overused, but bear with me. Put these two methods of presentation into the context of Heaven and Hell. Jesus made an awful presentation of Hell; it was like all the 400 armed men coming at once. But think about Heaven; how much detail was given about that? So what if...every time you see a cute puppy, an awesome sunset, your wife dressed in striking attire (looking you in the eye), and every other neat beautiful thing; what if that's God's incremental presentation of Heaven?
Sunday, December 7. 2014
I don't know if it's the continuing gradual decline in readership here, or what; but I'm beginning to think I spend too much time on the internet.  For months,I have been quickly putting boards and beams in the barn, without much order; and what a mess. I spent some hours this afternoon straightening that out, and found some beautiful wood while doing so. We'll see if it lasts, but there's a liberation in not being able to maintain the numbers. I took some of the wood and started making it ready for signs. Not ones that businesses have ordered, but ones I hope to sell online.
 

While I was working out in the shop, I thought that maybe people wonder why I haven't addressed current issues in this country. Let me tell you about a plan I had for some murals on local barns. The street I live on runs parallel to one that is known for its historic homes. They're old, but really nice. They even had famous visitors back when, I think Andrew Jackson came by. My idea was to make a historic loop. There are small towns in the Midwest that attract visitors because of the murals painted therein. I reasoned that if the barns along this road had murals depicting local history painted on them; then it would attract visitors, and maybe even create a few jobs. Where applicable, the murals would include a relevant Bible verse.
 But then I got the news that California had passed the law allowing school children to choose which bathroom they perceive their gender to be. That's it man; end of story. No country that does that to children can be saved. Too far gone. I had locations and artwork arranged for the murals, but forget it. Waste of time. I don't comment much on domestic issues in this country for the same reason. If I do comment, it's to try and prove a different point; but not 'this is what can be done to save it'. So it is that I don't comment on police shooting unarmed African Americans. Even if I did want to comment, I'm not informed enough to say much. That statement alone will probably anger some, but that's just another of the problems facing this country: the disregard of due process and free thought. I'm not allowed to say I want to know more about each case. If a 285 lb guy tries to take a police officer's gun, then sorry, he might die. Too bad, end of discussion. If it was a white guy the same size, doing the same thing, would there be an organized protest by the same crowds? Is justice their true motive? The white guy's death probably wouldn't get airtime outside of a 50 mile radius.
 Don't think I hold the police in high esteem. That would be difficult considering how often they pull me over. I guess I'm being profiled, but that's another matter. The point is that not only are the police turning into a bunch of dangerous idiots; but, we have an Attorney General whose enforces laws only if they conform to his filthy liberal agenda,  and we have a race of people who can't be treated like other suspects, lest they burn the town down. A grand jury reviewed the evidence, if you don't like that, you don't like order, and will reap the consequences. I'm not saying every case is the same, some are probably the wrong outcome, but I doubt all of them are. I've wondered if I could say the above in person in certain parts of town. Come on, tell the truth, "be brutally honest", you know it would be a big risk. There you are, free thought not permitted. So this increases interaction between races, right? Increases whites shopping in black districts, decreases racism, right? There was a time that I really wanted to be known as "a righteous man"; like some of the guys in the Bible. But now, in this country, I'm the bad guy. A regular life time member of Bad Men Anonymous. Should I care?
Saturday, December 6. 2014
I have a website that is hosted in Moscow Russia. Pretty wild if you ask me; ten years ago I never would have thought it would be. But that's not important compared to the content there, or, a VERY touching analogy I almost missed. I have a series of pages there I call the Papa challenge. It's a friendly challenge to fathers to spend more time with their children. One of today's projects was finished enough to make into another page. Just as I was about to leave the site, I thought about the third picture down as the life of a poor kid left to himself. The last picture is the life of a kid whose dad tried to intervene in a positive way.  To me, it's so graphic and almost sad, that I hope I never forget it. Not only that, is it possible that if your life has been a struggle, and you were one of the kids left to him / her self that God says: I know what you went through, you did the best a kid could do alone. I'll help from now on.
I have to be careful not to mislead; the Bible says that we're all separated from God by our sins, not anything else. He paid an incalculable price to get people back, but it's on His terms. Jesus took man's sins upon himself for those who would receive that substitution. Then he makes people new, or "born again".
Saturday, December 6. 2014
Webstats for this blog aren't showing positive developments in the last couple of weeks; so maybe an attempt at damage control is in order. I miss the coffee cup picture, but I tried to update this old software, and just about lost the entire blog. Absolutely blank white page. Finally, I was able to get an equally old theme, and everything showed up again. I'm supposed to have backups , but there would probably have been some delay with that. I really like the old name, maybe I  can come up with one as fitting, time will tell. The family didn't like the name, and, well, priorities, you know, some things are more important. There's another issue I'm not sure about, it's speculation, but could be a matter of deep regret. Lastly, there's this "bad Men Anonymous" card. Sorry if it offended, but I get a big laugh out of it; try to understand the context. In that particular incident, I was using sarcasm to reply to a guy at another site. If the other site doesn't have a way to upload images, you just upload it to another site,  and hotlink to it, that's why it was here. Anyway,he was either a troll, or blindly conformed to all that the MSM has been spewing forth. What makes the card endearing in an enduring way is how applicable it is to other incidents in my life. When you're a kid, in school they go on about how virtuous George Washington was with the story of the cherry tree; or Abraham Lincoln walking 12 miles to return some lady's penny. I thought man, I want to be like that. Lately I've  been wondering if it's possible to regard oneself as a very honest person, indeed "brutally honest"; all the while overlooking an area where an examination from a different perspective might show the whole honesty perception to be an illusion or delusion. The contemplation didn't yield anything concrete, but did bring up some big things to keep an eye on. 
 So yeah, anyway, honesty can really alienate you from a lot of people. It happens different ways; if someone is asking me about something that I know will have an uncomfortable answer, then I try to be vague, or even change the subject. If those don't work, and I'm pressed, then the result is often another incident that cements my membership in the Bad Men Anonymous recovery group. And political discussions, oh man just sign me up for the LIFETIME membership. Come to think of it though, it's really quite liberating; not expecting approval. A lot like the freedom found in being the village weirdo.
Enough of the attempts at explaining; we just set up the manger scene on the front yard today. The little building anyway. The back is made of the same straw bales we used for our Thanksgiving display. Too bad how people are inconvenienced by that holiday, but we get several hundred dollars worth of stuff at the end of October. Huge pumpkins, Indian corn, squashes, corn stalks, all kinds of good stuff, for free. They get it hauled off, and we use it for a month. I have a sign with "Oh give thanks unto the Lord" from Psalm 105. This year, for the Christmas display, I want to have a sign with the same words as the artwork here. I hope people will think about the severity of disregarding Jesus.
 Speaking of disregarding the Lord, I was reading one of the "Bible Story" books to my children the other day. They're those blue ones put out by the 7th Day Adventists. You just read them with a little caveat about their particular doctrines, and you'll be OK. What's nice is how they're a paraphrase that the kids can understand, and they always enjoy my reading them out loud. Of course, it probably doesn't hurt that I do my own dramatization of some parts. We read the part where the people made the golden calf while Moses was on the mountain. It's late, so I'm not going to research the details; but weren't they still getting the Manna from heaven each morning? If I recall, they put up the idol, and said "Oh Israel, these be thy gods". So maybe they were acknowledging the manna in the wrong way. A case of interpreting God to fit your own desires. If so, things haven't changed much.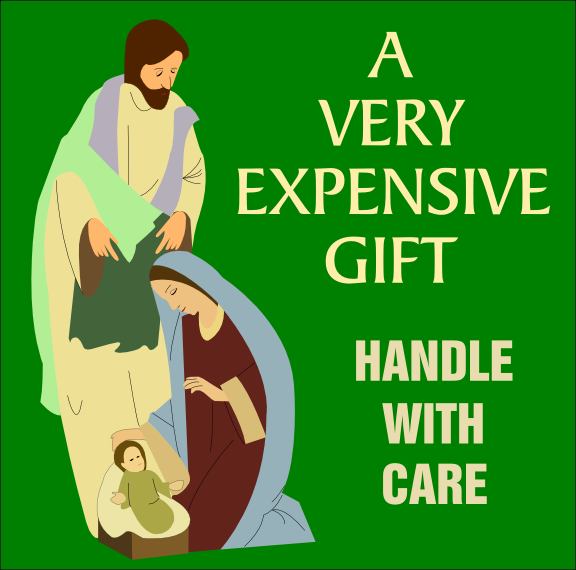 Tuesday, December 2. 2014
Just for the fun of it: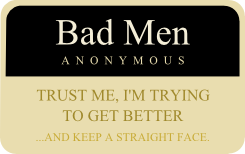 Tuesday, December 2. 2014