For probably more than a year now, I've been predicting the likelihood of a Hillary presidency. I thought we'd see the same old game plan; make the Republican nominee so liberal that conservatives are disinterested. I would celebrate being wrong about Hillary, and will be the first to admit it. Speaking of being wrong about Hillary, is Joe Biden wondering about the matter himself? The consequences could be grave...he might end up getting so depressed he commits suicide, or has a plane wreck.
Now though, there are quite a few choices among Republicans. I'm a little suspicious of Donald Trump. Alan Keyes might have alluded to my doubts in a recent column, where he mentioned something about back room scripting of the angry conservative. I don't remember the exact wording, or the exact meaning for that matter; but it might be exactly what I suspect: The progressives know their agenda is in trouble; so they need a proportionate distraction or wrench in the opponent's machine.  They confer on what an angry conservative would sound like, then get a well known figure to play the role. Conservatives need to have a good alternative ready, so they're ready for some Perot like tactics.
 On the other hand, one could say that Trump's comments and actions are (disclaimer follows) similar to when Christ was accused of casting out demons with dark power. ( What an awful comparison; but I'm not mentally cross referencing anything else.) That is, the progressives wouldn't use something to awaken the conservatives. The progressives would be like a house divided against itself. If Hillary does pull through, it will probably be a combination of the media political alliance convincing the public that the emails are only classified because they are now being reviewed; and the short attention span of the public. Hmmm, maybe yet another consequence of all the car chase scenes and other stuff on TV. "I'm tired of this email server stuff, let's get some bread and go see the chariot races."
  Of course, I still maintain that America's problems aren't political, but spiritual. And not in a vague, we should all read the Bible and pray more way. I've been finishing a difficult job that demanded a lot of time. While there, I listened to the radio much of the time. I was really getting put off by the continual emphasis on politics while never mentioning God. I don't mean a vague mention but more like what does God think of this, and what is He doing, or more likely, not doing. I mean I was REALLY getting put of by what looked like a denial that was in fact idolatry. Relying on something other than God to help. Sean Hannity said "The world without America is a dark place". Actually sir, the world is becoming a dark place BECAUSE of America. The world is a dark place without CHRIST.
 But...MAJOR PARADOXICAL CELEBRATION of being wrong about one thing. I guess it was a couple weeks ago, Glenn Beck devoted the first segment of his show to the very issue. Citing an Old Testament passage, he said that this is us. This is our last chance to turn back to God. My words here can't express how good that was. It was great. Paradoxical because the message is so grim and real. By either natural consequences, or the supernatural consequences, we have no future without seeing recent events as critical milestones.
  This is how it all looks to me, call it my theory. Jesus said that God is very offended at those who treat children badly. Specifically, he talked about children of faith, but in my theory, ruining the faith of all children is offensive to God. It would be better for the perpetrators to have a large stone tied about their neck and be cast into the sea. So...
  By removing Bible and prayer from the classrooms of the country, and replacing them with a theory that says God factually doesn't exist; America offends God bad enough to remove His restraint from us. The country falls apart. People are deceived into thinking things are manageable by the lie of debt. Even if one denies that there was a supernatural reaction, the natural consequence is to have generations without moral compass (think mass shootings). Now we're at the point of seeing those effects in the abortion videos. The thing I'm concerned about is that before, we were in free fall, without God's intervention. Now, He might not be passive about His intervention. Even if we suffer only the natural consequences, it is this: If we can't stop this, we can't stop anything. Is California suffering a drought because of their recent new laws regarding misguided trans kids? Even if the rains come back, the underground aquifers might be permanently damaged.
 The following will probably get me labeled as racist, but so what, I'm already a major bigot for my views on the homo agenda. If "Black lives matter" then why do blacks treat themselves so badly? Aside from the violence, they maintain a culture that is incompatible with the rest of society. Maybe they don't want to conform to white peoples' ways, but I've got news: it's the international culture of technological progress. Business and academic dress and speech codes are the same for whites and millions of Asians. I just realized something a few days ago: I have not a single recollection of hearing an African American playing anything other than black music. I have never, not once, heard classical, western, or classic rock coming from their sound systems. It looks like self inflicted isolation.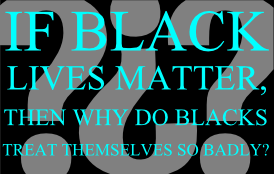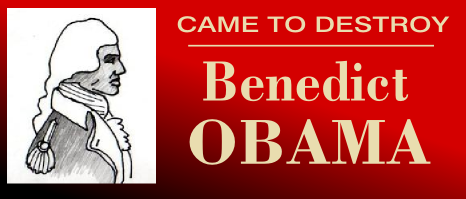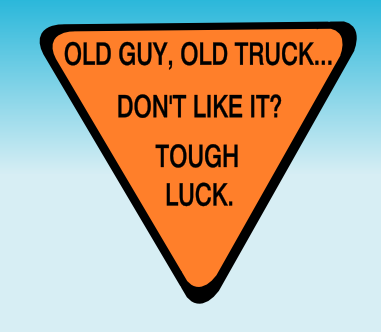 Continue reading "I would celebrate being wrong..."