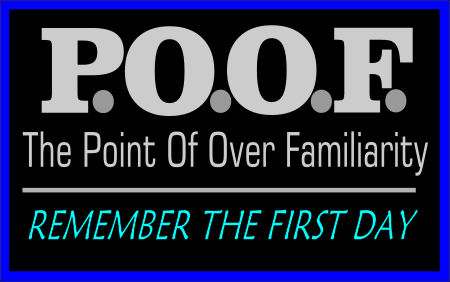 You might be surprised how technical a nice looking piece of graphic art can be. Much of what makes one design look more appealing than another can be measured; and has been put into rules and principles for consistently making better work. There is a point though, where inspiration and emotion move a design further.
Regardless of how neat looking the work is, if I spend a lot of uninterrupted hours on it, I get over familiar. I can't tell if it's appealing any more. I call this the P.O.O.F. Fortunately for me, a quick remedy is to look at it in reverse. Hold it up to a mirror. Then the relationships of the lines, spaces and curves shows in an new way, and I can tell if I'm going the right way with it.
Think how this applies to other things, such as relationships. Think if you had been single for five years, and just met your spouse for the first time. If you both were at the same meeting, you would remember their presence as much as or more than whatever else happened there. Then there's the first time you're in a smaller group together. Man, SHE (he) was there. Then imagine if you were single, and you both were sitting on the same couch or bench. You go home to do your usual routines, but your mind keeps going back to HER (or him). Then there's the first time you put your hand on hers, or he put his hand on yours. Man, oh golly, if I have to use a power saw today, I need to concentrate, lest I lose a finger.
Try this mindset next time you're near your spouse. They'll see you standing there all wide eyed and mumbling something about "It's HER..." but they won't mind too much. For the really big application, think about the first time you knew God was interested in you.