A friend has recently come back to the sign trade; he was a sheriff's officer for years. I asked him why he took up that line of work, and he said that the sign trade was too stressful. It is, but I'll spare you the details. He paid somebody to make him a website, they pulled a few SEO strings, and got the site to the top position when searching for "hand lettering" in the Knoxville Tn area. I've always emphasized the term "sign painter", so I didn't consider it too much of a threat, but decided that I should try for the #2 position in the other term.
For me, getting page rank (named after Larry page, really) has been a big task, because I don't know any clever optimizing tricks; I just rely on long term additions of content. If dealing with competitor's sites wasn't enough, the biggest hurdle is probably those sites full of listings. The sites have a list of companies in the field, but little information about each one. They're made by people that are tech savvy, and always have good page rank. What's been nice is that the two aforementioned fields have so little competition, that there hasn't been a big presence of the listing sites.
So I added keywords to my sites, to try and get the #2 position. Then, I looked, and my site was #1, but my friend's site was #4. #2 and #3 were occupied by listing sites! It's as though whenever there's competition in a field, there are auto-bots that show up and make additional sites.
________________________________________________________________________


If you've read previous postings, you're aware of my concern for the vitality of the black business community. My reasoning was that if black business owners are harassed when they try to move into other areas, then a pragmatic solution is to get white customers into black neighborhoods. If I'm correct, blacks comprise about 13 percent of the population. That's not a big enough customer base, they need other races shopping at their businesses.
I was at a gathering in someone's house, and I brought up the subject of an author interview I heard on the public radio station. It was probably Terry Gross, interviewing a man named David Kennedy. He wrote a book about violence in African American areas, and progress that has been made. I was glued to the radio, actually pulled my truck off the road to hear the interview. It covered a bit of ground, told how most of the shooting in those areas was done by a very small part of the population. A new approach was formulated that coordinated the efforts of police and social agencies.
My friend responded by telling me of failed efforts made here in Knoxville, and of an attack on a delivery driver he knows, who was making a delivery in an African American area. My friend did not at all share my optimism. So I made the mental adjustment that it's the side streets which are dangerous, not the more exposed main thoroughfares. Recently, I got a call to fix some window advertising I did for two adjoining store fronts in that area. The one business owner said that one evening a couple of the next door neighbor's girlfriends got into a fight, and broke the windows. Some of these panes are 6 or 7 feet off the ground. My assumption is that this wasn't the result of fist fighting or clubs. I think the windows were shot out. This doesn't sound like it fits the scenario of gang violence.
So my next mental adjustment was that people need to shop in that area only during the middle of the day. But it's getting ridiculous. I guess I'm just one guy dealing with stuff a lot bigger than me, a guy that places more weight in his ideas than they merit. I should have known, I should have remembered what Chuck Colson would say about the situation; he would say that it's a moral problem, not a political or economic problem. Like everyone else, those people need Jesus Christ more than anything else.

______________________________________________________________
Here's a child's toy that is at least honest in it's alleged benefits: The glory of war. Maybe I'm wrong, maybe this is a Navy rescue helicopter, and the glory is in saving lives, not taking life.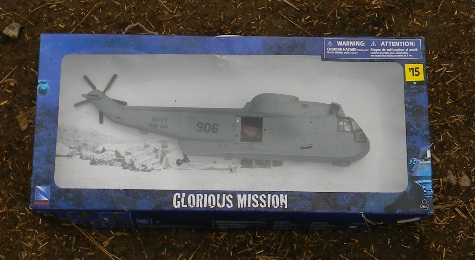 Governor Jerry Brown of California recently signed legislation that makes it illegal for a therapist to administer homosexual recovery counseling. There's a long list of other laws that endorse the homosexual agenda, especially to schools. I'm reminded of a practice over in South Korea. The people inflate large helium balloons, and attach Christian messages to them. This is done when the winds are blowing toward North Korea. So I wonder how long it will be before people start floating the same style messages over California: "you don't have to live in sin..."or, "other places have a constitution that talks about FREEDOM OF SPEECH..."
__________________________________________________