Thursday, June 27. 2013

Life can be so paradoxical. On the one hand, I have some really rewarding projects I'm involved in. A few of them involve wood working; and I want to explore the idea that some types of art are more an act of worship than others, because they involve materials that show God's design in them. Below is part of the painting I did on an old saw blade for a customer who wanted their logo put on it. This is the background art; I refer to it as an Appalachian tribute. The logo isn't in this picture in the event that they don't want their business associated with the posts I make here. I'll spare you the details, but this project involves some experimental methods that worked well, which makes me quite glad. Also pictured is my truck door, which I just lettered with 23 Karat gold leaf; a project I've wanted to do for a long time.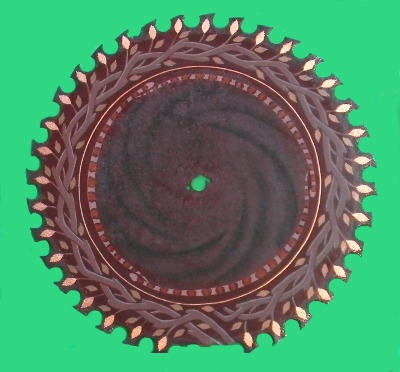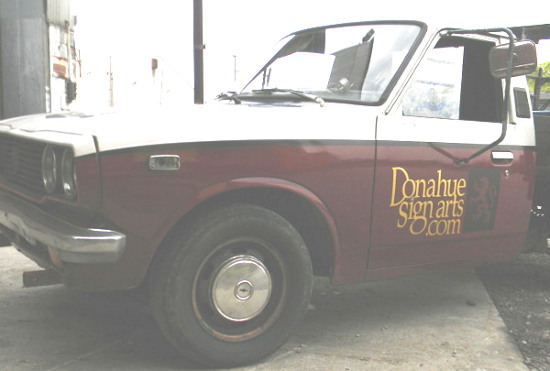 On the other hand, the moral and political changes that are happening are ominous. When I say "we read a book" it means I was driving or working on something, while my wife read a book aloud to the listening family. We read a book about the life and travels of a family in one of the satellite countries of the former Soviet Union, just after the end of WW2. They still had a chance to get out, but the government takeover was fast approaching. The couple was talking about it; they said it's outrageous to think that X could happen, but if it does, that's our cue to leave. They did get out, just in time.
As for me, I try to tell people around me that maybe things are farther along than we realize, that these 2nd Thessalonians events might be what we're seeing. What I get is the same response; that people have been saying this for hundreds of years, and it wasn't the end yet. That is true, but logically, one generation has to be right. A couple of days ago, I got the verse about "if My people will humble themselves and pray, then will I hear from heaven,. forgive their sins, and heal their land". I'm not convinced that it's talking about anyone other than Israel. But for the sake of conversation, when it says that verse in the Bible, it's talking about the country of Israel, in that immediate context, right? Think about it, the WHOLE COUNTRY was Israel. So God was saying that if the COUNTRY repents, then He will save it. I'm in complete agreement that a verse can have more than one meaning; but I'm having a problem with the numbers here. There are a lot of people in the U.S. That claim to be Christian, but those who let God define the term by His word are a minority. So, for the sake of conversation, let's say that ALL of those make a proclamation of repentance. A big portion of them will sneak back to their internet pornography. This leaves a small part of the whole country in repentance. I'm having serious doubts here. It's as though people think the Bible events happened so long ago; and we haven't seen any epic events in our time; so no, something so familiar as the U.S.A. couldn't actually play a big part in the end time, neither could everyday technology like the internet. It's almost always parents that deny the possibility of my end time speculation; one hardly let me finish the sentence without a resounding "No!". Yet they have less evidence for their disagreement than I have for my suspicions, but the answer is always denial of the possibility. I think they don't want to face something that pessimistic for their children's sake. Logically though, there must be one generation that has to face it in their youth. And think about it, the youth might have to forfeit the marriage, children, house and American Dream, but their parents actually have it worse. The parents already have children which are threatened by the encroaching state liberalism. As for the youths themselves, when they know for certain that this is upon them and all of us, they can face it as that noble generation who aided others and did the Lord's work in the last few years.
So I''ll talk to my wife about setting a tipping event, the same way the couple in the book did. Personally, I think we're beyond the tipping event, but I'm pretty much alone on that idea. The more I think about this stuff, some of it gets clearer. For instance, I wondered if I would be told what I was allowed to say on this blog; then realized that the blog will be terminated. I won't have to worry about compliance. A few more thoughts:
Have a list that starts with two possibilities; one, we're able to get out of the country, what will we try to prepare for. Two, we can't get out of the country, what will we prepare for. If I'm not allowed to sell my services, or get a job, then maybe I can arrange a sharecropper type existence. I have a wide variety of skills, I can help a number of operations with maintenance and marketing. If we did have to flee or move, would it be better to have nicer looking luggage? Psychologically, the family might get better treatment than if we had our stuff in black trash bags, or something scruffy looking. It could backfire, in that people would try to exhort more, but I'll have to look into that. Just a few thoughts I want to ponder while I still can do so in relatively relaxed conditions.
Again, I'm not convinced things will get that dire, but they really look to be going a way that is against Christianity. Why would they stop at something less than making it illegal? There are countries in existence right now where Christianity is actually or de facto illegal. On the other hand, The Bible says that the gates of hell will not prevail against His church, and that His return will be like a thief in the night; that is, a lot of people caught off guard. I expect difficulties to fundamental Christians; the god of the liberals is government, and they have no hesitation to use it.
Speaking of this blog, readership is up, that's not to boast, in fact it's a bit intimidating. The reason I bring it up is because the left loves to publicly smear the opposition; and I want to say now that I lived a wicked life prior to being saved by Jesus Christ, dirt can be found if one wants to dig for it. Now, onto more of the offensive blog material:
I was waiting in a line, and handed a local newspaper, the Knoxville News Sentinel, June 11, 2013.
The front page has a story about ex police officers admit beating a guy that was handcuffed. They beat him so bad his ribs were broken. One of the officers was on the guy's back, and asked the guy if he wanted to perform a homosexual act. Shades of the militant left? Two of the officers will be seeking to serve their sentences on probation. I wonder if an ordinary citizen could get that treatment? Extended immunity, I guess. Is this really news? I guess if the public thinks it's an unusual occurrence, then to them, it is news.
Below that is a story about an 11 year old Oak Ridge boy suffering bullying. It was to the point that his folks decided to home school him. The article says "Gay 11 year old". It starts off talking about his fingernail polish and eyeliner collections. His father says the boy wears them when he wants to feel special. How does an 11 year old know he's homosexual? It says he was watching a video and thought "Wow, that guy's really hot". I say poor kid never had a chance. The Bible is clear that parents should teach and talk about God's word as an everyday thing. This kid didn't have that, so when a demon comes along and gives him the "hot" thought, he's defenseless. Not only that, but I have this idea that if your house is welcoming to God's Holy Spirit, you'll have a lot less of the bad stuff happening; less of the dark ideas in kids' minds. Less illness too. If you're skeptical that it's demonic, then I propose that Christians continually pray for this kid. If one day he repents of this homosexual abomination, then you'll see the power of the supernatural. His name is Marcel Neergaard, pray for him daily.
The article says he's become somewhat of a celebrity for launching an online petition. That petition got an award rescinded from state Rep. John Ragan. His crime was being linked to the "don't say gay" bill that failed two years ago. If I recall, the bill was about teachers saying homosexual, instead of gay.
Then, the next day, I believe, was an editorial in the same paper by one Ina Hughes. She started off talking about a cute kid born to an interracial couple. The child was in a commercial, and there were internet comments deriding the interracial marriage. Then Ina goes on to say that it's the same bigotry that disapproves of the Boy Scouts' recent decision. She says that the bigots support their views by picking and choosing which Bible verses they want to live by. Well guess what Ina? You do too. If someone brutally abused and killed someone dear to you, or stole everything you own; would you say there's no basis for that being wrong? You would probably choose a few Old Testament verses to say that it was grievous sin. Maybe you can find a few New Testament verses to say those things are wrong? Try Romans chapter one for a passage about homosexuality. Notice how she uses a case of racism to segue into a case about homosexuality, the classic liberal pattern.
Some days after this, comes the news that a well known ministry for helping people repent of homosexuality has closed, with an apology for being such a problem over the years. The Southern Baptist Convention caved in its response to the Boy Scouts' decision. The supreme court just did away with DOMA; that was predictable. To me, the hearing was just a formality. Knoxville Tn. Now has billboards around town that denounce bullying, allegedly sponsored by the police department. This is a way to bring more pro homosexual agenda into the classroom.
Then there's the case of the Kentucky T shirt printer that's be charged with a human rights violation because he wouldn't print shirts for the homo pride event. I went and read about it last night, apparently there's no case verdict yet. What is interesting though, is the public furor over this. One group has tried to buy the mortgage on the property so that the shirt company would be evicted. Does any of this sound like "not able to buy or sell"? Or the days before Krystal Nacht? To see how people are already conditioned to get angry, read the discussion going on at the sign forum. There's a link in the prior post titled "Typical tirade". Things are moving fast.
I do get glimpses of resistance or a backlash against liberal encroachment, though. The article about the 11 year old made the bullying out to be widespread. NPR played a little news blip the other day, I'm pretty sure it was the same afternoon, the 11th. It said there was something like a tolerance seminar given in Tennessee, about a Mosque that was burned. There was a woman addressing the crowd, and as soon as she mentioned the event; the room erupted in joyous laughter. The woman can be heard saying "Shame on you!". Then there's the prosperity of Chic-Fil-A. I was driving down Broadway in Fountain City, and noticed that a new one was being built. It looked very nice, tip top shape. I know there'll be those who want to say that I'm endorsing the burning and bullying, just run with it, because I'm already a bad guy, a bigot in fact, so heap that on me too..
In spite of the backlash, I know that liberals can't take no for an answer, and I doubt the situation can remain static. For better or worse, I look for patterns in things. The T shirt printer is in Kentucky, which borders Tennessee. The 11 year old kid is in Tennessee, so was the Mosque burning. The events in the discussion at the sign forum are in Tennessee. If that means anything, I don't know.
Whatever happens, Christians need to prioritize some things:
If we are that generation, let's face it to the glory of God, and not be in denial or hope for things from the past.
We're to go into all the world with the gospel. A very good way to do this is radio. I was led to the Lord via radio, so I know it works. It can go where missionaries can't. My plan is to support radio as long as I can, then more of an in person ministry, if it comes to that. It's like doing as much damage behind enemy lines as you can, before being caught. I also want to resist the encroaching darkness as long as I can. What's interesting is the way that discussion at the sign forum went. One guy standing alone at first, then the entire direction turning. I try to look at things more than one way; so, I'm not concluding that society can be changed by people standing up that way, or that there was awesome debate ability displayed. I think it's quite possible the parents were aware of the discussion,and despite all the turmoil created, God wanted them to remember: "Be still and know that I am God".

Saturday, June 15. 2013
Hi all, much to say, but I need time to actually type it. For now, here's a link to a typical tirade at a sign forum:
discussion
Monday, December 17. 2012
The Supreme Court is about to review
the issue of homosexual marriage. From my perspective, they'll give
it an all thumbs up. I hope I'm wrong about that, and the idea that
the Democrats will nominate Hillary Clinton (or some other woman
candidate) in 2016. While it's true that one could say there's a self
evident aspect of it; that they wouldn't be considering the cases if
they didn't have a change in mind, that's not what I'm thinking
about. I 'm not just making predictions, hoping to be right; that's
a fast way to lose credibility. Even if I'm right about every last
one, the issue isn't credibility in and of itself. The issue is to
try and validate a way of looking at current events, or at lest get
people to add this perspective to the way they're thinking now.
Another imperative for me is protecting my family.
People think it's the Republicans
versus the Democrats, or the conservatives versus the liberals; or
capitalism versus socialism, but look behind the scenes. What's
strange is how some very intelligent people who are or claim to be
Christians make no mention of what God or the adversary are up to.
They mention Bible verses, or start discussions about current events,
but never talk about forces behind the events. I understand not
wanting to play the role of prophet, or add to the Bible, or
misinterpret what's already written in it. Another thing they might
be thinking is that they need to persuade as many people as possible,
so let's not alienate the agnostic conservatives.
The problem is that leaves you
thinking that you're working in the realm of cause and effect, while
you're really only in the latter, and it's not even the effect you
think it is. I've been impressed with Libertarian thinking, but the
problem there is that there's no neutrality in life. Libertarians try
to draw a line that most people can live with, expecting that the
line will stay where it was drawn. But we're dealing with huge forces
here; that won't settle for partial success, the Libertarians have
merely drawn a new line of scrimmage.
I want to say it's Satan vs. Jesus,
because some people say good vs evil, or God vs Satan, but have a
wrong definition of those words. But I can't even say Satan vs Jesus,
because we told The Lord that we didn't want Him around. There is the
likelihood that God Himself wants His Name removed from this mess, so
He is overseeing that much. That leaves Satan as the biggest force at
work here. If you want to predict what will happen, think about what
outcome he would want. Again, I hope I'm wrong about this pending
court review. Being wrong would be a small loss compared to not
having a stable future for my children.
I've spent a bit of time reading the
Bible, or listening to it being read. I've also heard the major
theological positions regarding how the end times will occur. I
haven't studied them closely myself; in fact I haven't worked at it
much at all. I don't want to be obsessed with end times prophecy, but
not apply myself to teachings about everyday living, or Christian
renewal. I'm the scruffy grouchy guy that needs to work on "Love
God with all your heart, mind, and soul; and, love your neighbor as
yourself". So, when I see current events, I try to see whether they
fulfill any Bible verses I know. One passage is interesting to
consider, that's 2 Thessalonians chapter 2:


3
Let
no man deceive you by any means: for [that
day shall not come],
except there come a falling away first, and that man of sin be
revealed, the son of perdition;
[NET Notes, TSK]
4 Who
opposeth and exalteth himself above all that is called God, or that
is worshipped; so that he as God sitteth in the temple of God,
shewing himself that he is God.
[NET Notes, TSK]
5 Remember
ye not, that, when I was yet with you, I told you these things?
[NET Notes, TSK]
6 And
now ye know what withholdeth that he might be revealed in his time.2

[NET Notes, TSK]
7 For
the mystery of iniquity doth already work: only he who now letteth
[will
let],
until he be taken out of the way.

9
[Even
him],
whose coming is after the working of Satan with all power and signs
and lying wonders,
[NET Notes, TSK]
10 And
with all deceivableness of unrighteousness in them that perish;
because they received not the love of the truth, that they might be
saved.
[NET Notes, TSK]
11 And
for this cause God shall send them strong delusion, that they should
believe a lie:
[NET Notes, TSK]
12 That
they all might be damned who believed not the truth, but had pleasure
in unrighteousness.


1:
A falling away, this probably means Christians not caring about God's
ways;


2:
A man of sin that opposes all that is called God,

3:
Some sort of restraint being removed.

4:
People not loving the truth, so they get a strong delusion.

Christians
live lives very similar to their secular neighbors; Christian symbols
are being removed form our culture, now "BCE" is everywhere; and
morals are being discarded in society.

Other
than prophecies, the clearest verse about Satan's intent says:"(John
10:10 [KJV])

The
thief cometh not, but for to steal, and to kill, and to destroy: I am
come that they might have life, and that they might have [it]
more abundantly.
It
would be easy to say, there you have it, all destruction comes from
the adversary, but can we be more specific? For instance, how does
gun control benefit Satan? Facilitates his coming dominion? There is
a verse that clearly says God will show people things to come, it's
in John chapter 16: ]
13 Howbeit
when he, the Spirit of truth, is come, he will guide you into all
truth: for he shall not speak of himself; but whatsoever he shall
hear, [that]
shall he speak: and he will shew you things to come.
I assume you have to be walking close to Him. I try to do that, but
I'm careful about labeling any thought as from God.


.
I left California because I could objectively see the changes coming;
but at the same time I could just feel it in the air. Liberalism is
this big encroaching thing, like a locust cloud the size of Canada.
It has no room for any opposing ideas. The people in positions to
resist it ... don't. OF COURSE Boehner was going to cave on the big
bad "cliff". You could just feel it. If it were proven beyond any
doubt that the president wasn't born in the US, it would not matter.
Nothing would happen, I can feel it, I can feel the seething
liberalism at work. One could say that there's evidence to make that
feeling, that the country which kills the preborn by the millions,
and passes unthinkable debt on to those who live beyond the womb,
doesn't have the stamina to resist.


Have
you ever seen one of those comparisons that shows the proportions of
an atom? I don't remember the details, but it's something like: take
a soccer ball, put it down. Walk across the field, place a tennis
ball on the ground, and that's the dimensions of an atom, the nucleus
and the electron. There's a lot of space in what we call reality.


God
existed before this world, is alive now, and will be forever after
this world. He's the reality that matters, focus on Him. Everything
here rusts, wears out, gets stolen, gets outdated, gets confiscated
or taxed by government, or is lost to foreign invaders. Look at
history, that's been man's story. The only thing that makes us think
we're different is the time bought with the public debt we're passing
on to the next generation. People spend a whole life building their
castle of dreams in a place that's full of corruption.

These
supernatural forces are huge, they're the cause behind the effects in
the headlines. Try to see that reality, and the implications of it. I
don't see a likelihood of widespread repentance among the populace,
so my advice is not to look for group protection (politics). I urge
you to look for an individual blessing from God. I'm seeing Him work
in my life, in spite of very unfavorable odds in my employment.
Reasoning says I should have no work; not only am I employed, but I
have some interesting jobs right now.

The
Bible verses above were copied from The Word, free Bible software
available on the Internet. If you've heard a verse before, but aren't
sure where it's located, this software will help you find it fast.
Also, you can search for phrases, then save them in studies that
you've labeled yourself.
___________________________________________________________

P.S. Please pardon the bizarre layout and typography above; it looks fine in the edit section, but goes 'weird' here. Maybe the blog name dictates it.
Saturday, December 1. 2012
I heard the president on the radio
today; he said that he wants all Americans to help him pass his
resolve to the "Fiscal cliff". Oh really? Because of him the
constitution is destroyed, the republic is ended, I'm considering
learning a foreign language and moving to a run down third world
country; and he wants MY help? I'm reminded of the Bible verse in
Proverbs 26:28, where it says "A lying tongue hateth those that are
afflicted by it; and a flattering mouth worketh ruin". Not that I'm
taken in by it, but he lies about us working together, add that to
his boot already on my neck, I think he hates me.
Speaking of fiscal cliff, do you
really think this is an issue? My gut reaction is that the GOP will
cave, the only question is how badly. But it's the political side of
things, I just had what might be a reminder of what happens when
people practice politics rather than draw near to God.
When I do my Bible study, I first read
a list of subjects I'm interested in. They include things like cause
and effect, the evil of mediocrity, and taking matters into your own
hands.. Those are just several, there are a lot more. I also have a
note book and pen. When I see something interesting in the Bible
text, I make a note. The list of subjects helps me find more notes.
That one there about taking matters
into your own hands hasn't produced a lot of notes. That's not to say
the Bible doesn't talk about it much, just that I'm not being keen
enough to see it. Until now, the most obvious example is where Sarah
and Abraham used the servant to make offspring. That lineage has been
a difficulty to Abraham's descendants for a long time. Right now, I'm
at the end of Genesis 19. The two daughters of Lot have done their
deed, which gives rise to the Moabites and the Ammonites. They too
were a big difficulty for the Hebrews, for hundreds of years.
When Christians practice politics, are
we likewise taking matters into our own hands? I don't know that it's
all one or the other, but I wonder if weak Christian practices have
left us scrambling to save ground by means of politics instead of
God's blessing. Look how many things were started by Christians. Ivy
League Universities to promote Christian higher learning, public
schools to promote literacy for reading the Bible, and Seminaries
that are advocating homosexual ministers. All now enemies of God.
For the sake of accuracy, what made those three institutions
attractive to the adversary wasn't that they were started through
moral weakness; but that they were places of structure and authority,
which he wanted for tactical reasons. But isn't politics structural
and authoritative?

I'm not 100 percent sure of this, but
I think that the availability and consuming nature of secret sins
will keep the Church in America from making a comeback.; and is an
indicator of end times. Why would God bless a people who "honor Him
with their lips, but whose hearts are far from Him"? There was a
time when people could ban porn stores from the land, and regulate
television, but can the internet be regulated? As it is, maybe, but
the servers are all over the place, what's to stop some workaround
technology? The fact that anybody can publish on the internet has its
advantages, and I'm not one to quickly advocate government control of
a thing. I'm just contemplating our position in man's timeline.

Of course, if we are near the end,
then one wouldn't need be concerned about starting something which
will have long term negative consequences; but the point is not to be
distracted by that thing which seeks to save the land with little or
zero consideration of God. You only have so much time in the day, be
sure to draw near to Him by meditating on His word, let politics be
second place. Or third, or whatever. You might be spending a lot of
time with Him soon, best not to be a stranger.
Friday, June 15. 2012
Pornography causes brain mutation.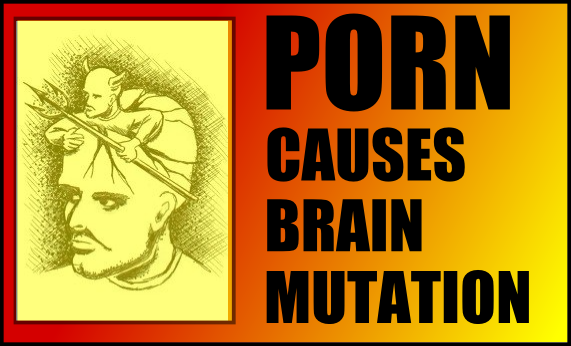 I
don't look at it myself. I try to be careful about looking at women
at all; my guess is that men think "I can handle it. It won't own
me, I've got it under control."

Consider the lives of two guys I know.
Both were married, had children. Both had attractive wives, not in a
small way. The first one got so much lust on his brain that he
molested his daughter, a young girl. How could anyone make a gauge to
measure the effect and damage this does to a child? How can anyone
know the depths of offense and rage a mother feels when this happens
to her child? Her reaction doesn't reveal details in this instance, I
just cut her slack, because I cannot relate. I suppose that it's as
bad as it gets. A note however, if women see pornography in the
home, don't think it's racy adult stuff; know that this is a huge
threat to your children and family. You need to attack it as though
it were a molester caught in the act. Fingernails in the eyeballs,
whatever it takes. Really.
The other guy would be one of the last
I would suspect. Calm, intelligent, responsible, religious; like one
of the straight and narrow guys from a '50's TV show. And his wife,
man, top shelf stuff. There's a saying that I first heard from her
family:"Every lady is a woman, but not every woman is a lady".
This lady personifies the first part of the saying. Nice personality,
great manners, good with children, has memorized lots of Bible
passages, from what I've seen, she's as good as it gets. That's just
how she acts; her looks, well, they equal the way she acts; I trying
to say that as tactfully as I can.
So this guy has her all to himself.
But he gets the mutated brain from porn syndrome, and starts visiting
prostitutes. Think about what a prostitute is: Back when, 40 years
ago, I guess there were two or three venereal diseases going around.
Now I understand there are close to 40. My guess is that some of
these bacteria and viruses wouldn't last long exposed to the
elements, they need to live in a host body. Sort of like a petri dish
in a lab. A prostitute is a walking bacteria repository, billions
upon billions of them being sustained there in her body fluids and
members. Carried about and kept alive in the host organism. Like a
mega bank of microscopic activity where the clients come and make
deposits and withdrawals. They take away more than they bargained
for; they probably don't want to know. It might not be possible to
know till years later. That's just the physical aspect, is it
possible to pick up spirits there too?
This guy traded stunning gal that he
had all to himself; for filthy science lab, that every guy shared.
Lots of guys. No qualifications other than money, day after day, how
many guys does she do in a day? 10? 20? I honestly don't know.

This is brain mutation. No doubt both
of these guys thought they could handle looking at pornography.

Sunday, June 10. 2012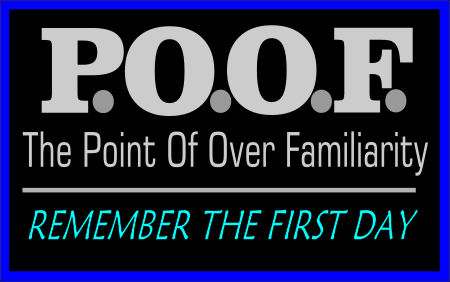 You might be surprised how technical a nice looking piece of graphic art can be. Much of what makes one design look more appealing than another can be measured; and has been put into rules and principles for consistently making better work. There is a point though, where inspiration and emotion move a design further.
Regardless of how neat looking the work is, if I spend a lot of uninterrupted hours on it, I get over familiar. I can't tell if it's appealing any more. I call this the P.O.O.F. Fortunately for me, a quick remedy is to look at it in reverse. Hold it up to a mirror. Then the relationships of the lines, spaces and curves shows in an new way, and I can tell if I'm going the right way with it.
Think how this applies to other things, such as relationships. Think if you had been single for five years, and just met your spouse for the first time. If you both were at the same meeting, you would remember their presence as much as or more than whatever else happened there. Then there's the first time you're in a smaller group together. Man, SHE (he) was there. Then imagine if you were single, and you both were sitting on the same couch or bench. You go home to do your usual routines, but your mind keeps going back to HER (or him). Then there's the first time you put your hand on hers, or he put his hand on yours. Man, oh golly, if I have to use a power saw today, I need to concentrate, lest I lose a finger.
Try this mindset next time you're near your spouse. They'll see you standing there all wide eyed and mumbling something about "It's HER..." but they won't mind too much. For the really big application, think about the first time you knew God was interested in you.
Monday, April 30. 2012
Funny how sometimes a verse or line
hits you as never before. Our youngest little guy has taken a big
liking to the song Amazing Grace, by John Newton. The words "twas
grace that taught my heart to fear" became crystal clear the other
day. Before I was a Christian, I was so lost that I didn't even take
God or the possibility of there being a God seriously; He's had to
show me how serious He is. I guess when you're thinking about how bad
the other guy is, there's that three fingers pointing back thing.
I was thinking about people I've met
who oppose God. Witchy people that work for the other side. I'm not
talking about atheists or agnostics that doubt God's existence.
What's strange is that they work against God, but breath His air,
drink His water, and so on. It really is like the lesser side in a
war calling a cease fire, then hitting up the greater side for more
provisions and ammo. Bizarre but true.
Then there are other incidents in my
life; spending the last how many years hanging out on line with
intellectuals (it was understood that I was a guest, a wannabe, etc).
I learned a lot about politics and economics (if there's a big
difference), but let my guard down in regards to their sin; many
claim to be Christian but make you wonder if it's so. I became
acclimated and wasn't walking close to the Lord. Not commission of
sin, with the possible exception of idolatry, but omission of
learning God's wisdom.
There's more, yesterday, following
another guy's lead on Facebook, I tore into the liberals. I ended by
saying something like:"Liberals are a curse, they're like locusts
in your crops or leeches on your leg. Can't hold it against them
though, poor creatures are only doing their job." Dummy! There
were liberals reading the thread, what ever happened to:"speaking
the truth in love"? Just because something is very true, it might
not be the right time to say it. Spiritual retard, but at least I see
it.
So it is, I now contemplate the line
as: "Amazing grace, how sweet the sound, that saved a spiritual
retard like me".
Speaking of politics, I thought of
something recently. I can write about Liberals, their policies and
motivations, creating anger in hopes of it being a motivator. But the
root of the problem is people turning away from God. Shouldn't I be
making people as angry at sin as I do at progressive politics?
Speaking of slow -and- politics, just
tonight, in our family Bible study time, I think I finally understood
a verse I've read many times. It's Proverbs chapter 24 verse 21. "My
son, fear thou the Lord and the king: and meddle not with them that
are given to change..."
I used to think it was referring to
shifty indecisive people, now I think it's talking about
progressives, people wanting to do things the new way, not God's way.
Thursday, December 15. 2011
My wife is incredible. She is very
people oriented, hates wickedness, remembers names well, among other
things. Lately, she's been wanting me to have a talk with the
children after I discipline them. Sometimes it's being grounded on
this property, or in the house, or even in their room for a day.
It might be having to stand in one
place for ten minutes, write something ten times, or some other
punishment. I've always been of the mind that you can be angry at me,
I'll let that slide, but there are certain rules which are non
negotiable. She wants me to change that with these talks.
My earlier life was a lot coarser than
hers, I haven't developed the social skills she has; so I rely on and
trust her judgment in matters like these. I thought I'd be at a loss
for what to say, but I did OK. I present this for others who may feel
awkward in that situation.
It has been about a week since it
happened, I don't remember the details, so this is approximate.
The boy was caught taking something
which he didn't ask for. I sat next to him on the couch and said:
We don't like you to get in trouble,
but sometimes that's the only way to make children remember what we
expect. We need to teach you to be less selfish. A lot of the bad
things people do to each other is because they care more about
themselves than other people.

If you keep doing these selfish
things, that will be who you are, it will be your identity. You can
pretend to be something else, but it's just a big act. It's like a
jar of pickles. The label on the outside can say Kluasen, Del Monte,
or Kroger brand, but inside it's still pickles. Quite a long time
ago, there was a lady that felt sorry for all the wounded war
soldiers. They didn't have many people to help care for them. So she
started taking care of them, and getting other people to help.

Do you think that people remember her
for what her hair looked like? Or what kind of dresses she wore? Or
do you think they remember her as that nice lady the helped the
soldiers when they were hurting? You're right, they do, they remember her
as Clara Barton, the lady that started the Red Cross.
So go on now, and think about what
kind of boy you're making yourself into.

Friday, November 4. 2011
 -I just heard a wicked country music song at the supermarket. A big concern is that I didn't think to say an objection to the management. Another concern is how long it took me to come up with a worthy reply to the most common answer the store people give. It wasn't for inability; rather, a lack of tenacity. The common answer is this: "We can't do anything about it". Spoken with finality of course. 
 The appropriate reply is:"Sorry, I have a hard time believing that; if a song said I hate blacks or I hate Gays; then you would change the music really fast. I guess you think that it's OK for families to hear this trash about ___, right?
-People need to rethink the old saying about a man's home being his castle. Now it should be a man's home is his fortress: a place where the lewd unclean communication of the world is kept out.
 -I wonder if there are web sites that show the cost of the current wars by type of expense? That is, so many billions on troop salaries, so many billions on tanks, and so many billions on bombs and bullets. Could be enlightening as to motives.