Sunday, August 17. 2014
(Please note: the strange paragraph formatting is all the work of the software, but I don't care to spend the time trying to fix it...fits right in with a weird blog)
Funny how you can read a verse a lot of
times, then one day you see something new. Here's 1 Timothy:12-16.

12
And
I thank Christ Jesus our Lord, who hath enabled me, for that he
counted me faithful, putting me into the ministry;
13
Who
was before a blasphemer, and a persecutor, and injurious: but I
obtained mercy, because I did [it]
ignorantly in unbelief.
14
And
the grace of our Lord was exceeding abundant with faith and love
which is in Christ Jesus.
15
This
[is]
a faithful saying, and worthy of all acceptation, that Christ Jesus
came into the world to save sinners; of whom I am chief.16
Howbeit
for this cause I obtained mercy, that in me first Jesus Christ might
shew forth all longsuffering, for a pattern to them which should
hereafter believe on him to life everlasting.

That's
copied from The Word, which is free Bible software, really good
stuff. Anyway, look at "for a pattern". Is this saying we should
be patient with bad people, the way Christ was with Saul? I know
there are other verses that talk about that, I just hadn't seen it
here before. Now, here's Genesis 30:41

And
it came to pass, whensoever the stronger cattle did conceive, that
Jacob laid the rods before the eyes of the cattle in the gutters,
that they might conceive among the rods.

My
involvement with this verse is a bit more wordy; so the insight I
needed more. If you're a regular, then you know I occasionally say
how unpredictable my work is getting. There are people dispensing
business advice along the lines of: "You're not just someone who
sells a product or performs a service; you're a problem solver. You
help customers find what they need. " That's a good way of looking
at it, but like other things, it has it's limitations. My trade has
gone through many changes. While I'm pretty much abreast of them, and
can deliver the new methods, I usually stick with the old methods. I
end up being the guy that specializes in doing odd jobs that others
can't or won't do. That's fine as long as the job can be dealt with
in a timely way; but the problem comes when I try and do jobs that
have no good outcome; no matter which approach you take. I've been at
it long enough to have a gut feeling about them; but I tell myself
that I'm the problem job specialist, and take on the job anyway.


A
recent example was for a client I've had for about 20 years. The job
should have had a total revamp, but she wanted to add a word below
what was there. Because of the storefront's shape, there was not a
practical way to add the word. I sent numerous emails, with different
design solutions, one of which I thought was quite attractive. That
one involved making a plaque like board to put the word on. That
would allow the letters to be tall enough, and also allow them to be
mounted on a horizontal ridge like protrusion running across the
store front. The ridge wouldn't be tall enough without the plaque
board. The plaque had a subtle scroll on each side of the new word,
and the ends of the plaque were to be cut to the shape of the
scrolls, so that it wasn't just this added on rectangular board with
another word. I matched the color of the plaque to the rest of the
storefront, centered it above the door; and as I said, I thought it
was rather attractive.

But
she didn't, so after becoming frustrated with the negotiations, she
turned it over to her son in law, who resolved it quickly by choosing
to make the word smaller, fit in below the existing copy. When it was
done, they didn't like it; aren't returning my calls, and; the thing
I was trying to avoid, happened in spite of all my efforts. I think
I've lost the client.


I've
had two jobs recently like that, each time I thought of declining the
job, but these are times of economic difficulty, so I have second,
and third thoughts. You've probably heard of the 85/15 principle. I
think I heard about in relation to a paint salesman; he noticed that
85 percent of his sales were from 15 percent of his customers. So he
started turning some leads over to other sales staff; so that he
could better serve that 15 percent. It worked well for him. I've been
pondering this gut reaction stuff, when, during my personal Bible
study, I notice the Genesis passage. Jacob has the stronger animal
reproduce, not the weaker ones. Sounds a lot like the 85/15
principle.

At
least a year ago, probably two, I stopped at the "Time Warp Tea
Room" on Central avenue, in Knoxville. The had (maybe still do)
this Tuesday evening motorcycle rendezvous; cool unusual motorcycles
line the street out front, and people hang out. I got extensive
photos of a motorcycle made in Russia, it's patterned very closely to
a WW2 sidecar bike. I'll have to share those someday. What I've got
here is a hand painted sign displayed inside the place. It was
obviously rendered quickly, but it has so much character, that I
really like it. Looks like an ad for a 60's movie.


Below
that is a surprise I got while on a ladder, painting a sign on
Broadway, in Knoxville. I get a kick out of this kind of creativity.
It pulled up and parked directly behind me, as quiet as any other
car, so I didn't pay attention till I was stepping off the ladder. I
talked to the owner, he said that the ears hinge, and are mounted by
magnet. That way tree branches cause less trouble.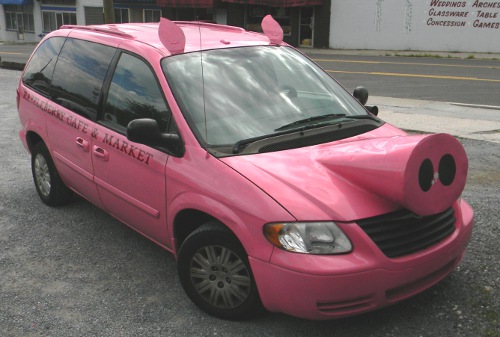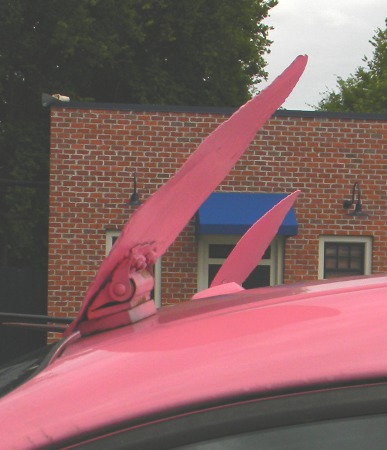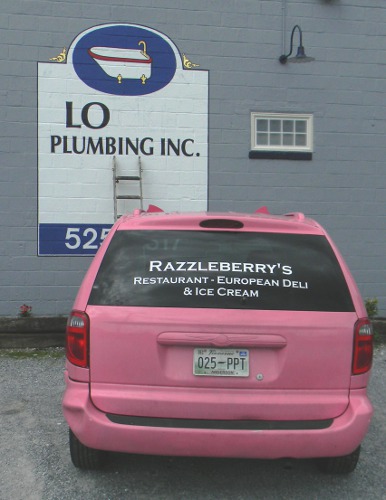 Monday, July 21. 2014
I want to start a web page that challenges fathers, in a friendly way, to spend time with their children. There are already a few pages about projects I've done with my children. This wooden wheelbarrow is the latest. There is more information at that site, it's two clicks away.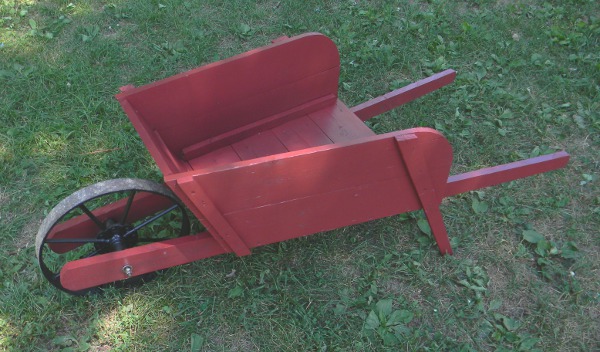 Tuesday, January 14. 2014
Well, depending on how you define
bad. I recall an episode Old Man Harvey once told me, while I was
still living in California. It's about a place on Highway 50 in
Northern California, not far from South Lake Tahoe. That highway was
only 2 lane then, rather winding, and at one point, the view is
incredible. The cliff you're driving on drops far down into a valley,
with tiny little houses visible down there. I don't remember every
exact word; but this is pretty close:
"Hey, you know that place on Highway
50 where the road goes way out to a corner, up on those cliffs?"
"Yeah". "Well you remember that little dirt driveway that goes
up the hill there?" "Yeah." "I knew a guy that would drive an
old hay truck up that highway, fully loaded. It took a long time, and
he would get cars backed up behind him. What people don't know is
that the dirt driveway comes back out onto the highway, like a
shortcut. So this guy would get all these cars backed up behind him,
then he would shoot up that driveway; and everybody thought they were
rid of him. Then he would sit up there, and wait for the now fast
moving bunch of cars to get near the other end of the driveway. Then,
he would pull right back in the road, and have all the drivers
astonished that the slow hay truck was back!"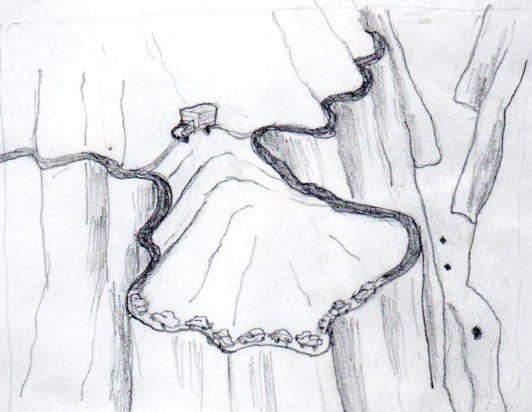 "Fast" forward 20 something years,
and I was in a situation that made me recall that conversation; and
even act on it. I was driving home late at night, just doing my usual
inertia driving bit, when a zippy little mini car is behind me. A lot
of people have difficulty driving behind me; not because I drive so
slow all the time. It's because I accelerate slowly, then coast to a
stop, depending on the situation. So this guy behind me is obviously
impatient. I guess you could call them binary drivers; they're either
standing on the accelerator, or standing on the brake. Not a way to
make a vehicle last 35 years, folks. He's right on my bumper, wanting
me to go faster. My thought is: "OK, I'm about to be up to speed,
and, you've had a couple of chances; if you've got such a hot rod,
why didn't you already pass?" Too much of a binary thought, I
guess. Anyway, follow the lower diagram, and I'll tell the rest.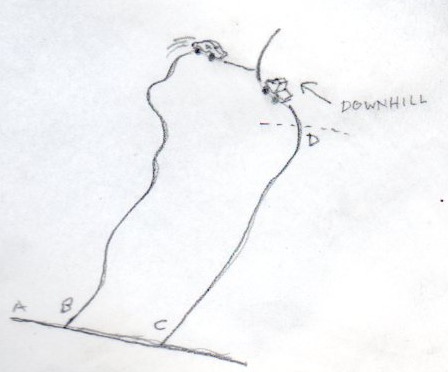 We're both heading from A to the
intersections B, and C. He makes a quick left turn onto B. At this
point, I guess what he's up to, so I make my usual turn onto C, but
don't drive slow, Not a big speed required here, as the road I'm on
is wider, smoother, and less winding than his road. So I zip down the
road, to the crest of the hill at D. I can see him heading downhill
to the intersection with the road I'm on, and he's moving fast. I let
off the gas at the ridge, so as to not appear to be putting any
effort forth. We meet at the little intersection, as I'm coasting by.
He's standing on his brakes, slides into the intersection, just
misses my truck by a few feet. It was quite close; there is a certain
prerequisite demeanor in these situations: Face forward, stoic look,
eyebrows raised, no snickering allowed, Not at least until the chap
is again behind you. Yes, I was a bad man.

Tuesday, December 31. 2013
The first thing to do is get Google Chrome browser. That way, when you visit a Russian site, it will offer to translate the page to English. A very convenient feature. I've already pretty much learned the Russian alphabet, and can slowly read words, but most of the words I don't know. There are a few that I can read, like 'hosting'; I would think that they would find a Russian word that means the same thing as hosting, but they didn't. They used the same word, but spelled it with their  alphabet, which is phonic. Pretty cool to be sounding out words, then realize I know one. This is what 'hosting' looks like in Russian: хостинг
 Yandex is a big Russian search engine, they have a lot of features, I have a blog there. Here's a link to a beautiful Christmas display, actually, this is the detour blog I was talking about, you'll see the link there.
Sunday, December 29. 2013
Hope you had a
good Christmas, ours was small, calm and nice. It's easy to look at
difficulties in my life, and not see the good things. It's really
nice to see all the kids buying and wrapping presents for each other.
They have to, because they don't get much from me. My income is
sporadic, when I do finally get paid for a job, I scramble to keep
the bills paid, and little else. That, and the fact that I was raised
in a home where Christmas was a huge deal. I told myself that when I
was on my own, I'd take a break from the Christmas stuff. I guess
I've been on break for 30 some odd years. But look at what people go
through; all the expense and stress, no thanks. Still, it is good to
see the way the kids care for each other. We're all gathered in a
warm house, no fighting, no drinking, no hurrying, no TV. Homemade
pancakes for breakfast, one of the kids got me a box of my favorite
Earl Grey tea. I need to start getting presents early in the year;
say January.

My oldest son
brought home a CD of the "Piano Guys" Christmas album. These guys
became popular on u-tube. I really like this album, especially the
secret agent/spy movie version of God rest Ye Merry Gentlemen.
Seriously, that's what it reminds me of. Maybe I'm a sucker for all
music that's over the top cliché, I don't know. Maybe that verifies
the name of this blog, whatever, listen for yourself.
________________________________________________
I see that the TV
show "Duck Dynasty" is causing a stir. I've never seen an
episode; never saw an episode of Friends or Jerry Seinfeld either.
I'm not the least bit deprived of entertainment, in fact, I have to
be careful not to play too much. Earlier this year, when I heard that
the guys on the show were Christian, I was concerned; I figured the
adversary would send some slinky temptation to make a very public
fall of one of them. I guess that didn't work, so he decided on plan
B, to make an example out of them. I'm glad to see them set an
example of standing for what's right.
______________________________________________
There's an SEO
trick, scam, whatever it should be called; it's been called
technology from the last century. For the uninitiated: SEO is search
engine optimization; it's where you try to get the big search engines
to favor your site, and give you better page rank. They can't
possibly go to each site and see if it meets their criteria of an
informative site; so they have computers do it for them. One of the
indicators of an informative site is that people have linked to it
from other sites. Consequently, web site builders are always trying
to get links to their sites. The trick mentioned above involves
making a link to a site, then, the automatic webstats part of that
site generates a link back to the first site. Webstats is a place
where a site manager can go daily and look at records of activity at
his site. There is a page that shows which sites have linked to his
site; but these sites are recorded as actual links, not just a
written web address. I guess for convenience sake, so that you can
just click on it and view that other site. Even though this list of
links is hidden in a file where visitors to the site won't see them,
they're still links.

My little bit of
research indicates that since this is such a big problem, Google
won't hold it against you, even though there appears to be a tech way
to stop this kind of link activity. A big amount of this activity
comes from .ru sites, which is a suffix for sites in the Russian
Federation.
Enter yours
truly, who was a short time ago unaware of the method. I noticed the
.ru sites continually linking to my site, but just figured that for
whatever reason, there were people over there interested in my
donahuesignarts site. It has quite a variety of pages on it, from
paint tutorials to historic restorations. Being that I'm becoming
fascinated with things over there, I went and looked at the sites
linked to mine. There were nice looking sites for building supply
places, dentists, and even a retailer of small, high powered magnets.
It's not unusual for people to exchange links, so I decided to make
links back to some of these .ru sites.

Big mistake. At
least it looks that way; my visitors went from a steady 900 a day
down to 250 a day, and have stayed there. I'm not the SEO expert, and
don't work at it a whole lot, so it took years for it to get to that
900 level. All is not lost; even though I get probably 80% of mt work
leads from the internet, I have two sites which both generated a
similar amount of leads. So the alternate one is still showing up for
searches of my services. All that to say two things: first, don't get
stupid and do that link back thing yourself. Second, I'm planning on
making another blog or site just for .ru links.
I've spent a bit
of time learning about the country via the internet. They have some
beautiful things over there. I guess I assumed that the former Soviet
Union forbade all things stylish, and compared to the style saturated
West, they would be in the position of catching up. But not so! Their
web sites, their architecture, so much of it is stunning. So...I want
to post links to what I've seen; but after the great rank crash I
just suffered at the other site, I'm very wary of making any .ru
links here. The link blog or site will be so I can show you some of
the things I find there.

I've also been
wanting to establish a web presence in Russia. The reasons for that
are:
_I read that
Russians are more likely to interact with a Russian website.
_This country is
unstable, I want a site physically hosted elsewhere.
_One of the
criteria for page rank is an older site, so getting one established
right away is important. That way, if I do move there, or anywhere,
the site will have some page rank, and can inform people of what I
do. There are a number of things which one must comply with in order
to get a visa; one is where do you work, and what is the position.
Well gee, I've always been self employed, so I'm not sure how to be
in compliance with that part. At this point, I'm wanting to start a
unique on line design service. I had what you might call my first
client, so maybe I can show that as employment.

The truth is, I
have a number of things I think about doing for income, but I'm
prepared for the reality that things are so different overseas, that
I could end up doing something else entirely. Enter: teaching
English. What's likely is that I will do there as I do here, a few
Rubles from this activity, a few Rubles from that activity. Or Pesos,
or whatever.

I have
established a blog in Russia, and will post links to it as well.
I wish you and
yours a safe and happy new year. The optimism I espouse is to be adaptable, and to know that compared to eternity with Christ,
our time here is short.
Wednesday, October 17. 2012
Once in a while I'm contacted by
someone looking for employment. A young woman contacted me looking
for work as a graphic artist. She was a college graduate, said she
could design logos, layout ads and business cards, make web sites and
more. I asked if she had her own web site, she didn't. No portfolio,
nothing to show. Amazing. Not only is a website a good way for people
who are looking for your service to find you, it's a good portfolio;
and it documents your career, like a resume.

So...you're saying you build web
sites, but you don't have a single one of your own? I don't even
claim offer the service professionally, but I've made about six
sites. There are times when 75% of my work comes from the Internet.

A man contacted me looking for work
this winter. He has worked in the tourist area for 20 years doing
airbrushed T shirts. There were times when a guy could make a good
living doing that, but according to him, those days are in fast
decline. So I asked if he had any pictures of work he's done. Not one
picture. Man, even in the days before computers, Internet, and
digital cameras, sign painters took pictures of their work. We could
sell our services with a simple photo album.

Both of these people had the same
problem: the myth of continuity. She thought that life was still as
it was back in the 1950's, or sometime when you could spend your
entire career working for a small number of agencies, one at a time.
Job security, go home at five, retirement, bonuses; whatever that
idyllic situation was. Life isn't that way anymore, if it ever was.
His version of the myth was that the arrangement would continue; that
the trend and demand would continue, that the economy would allow
people to be tourists, and so on.

The new situation is in one word:
fluid. That, and rely on no one, absolutely no one but yourself to be
in charge of your career and employment. You're a free agent, even
when working full time for one company. Documentation is crucial.
Even if the second person had never done artwork in his life; let's
say he was a fine cabinet wood worker, I would have been more
inclined to include him on some of my more diverse projects if he had
decent documentation of himself. Something like the pending faux
finish on metal handrails. Or a deck painting job that I was asked
about. I would know that he was attentive to details, finished what
he started, and had the awareness to document and promote himself. I
could pitch him to my existing clients, and place more trust in him.
Notice another thing above: how
diverse I am in my work. While it's true that old school sign work
includes a number of fields, I've stretched it lately, just to stay
employed. I used an airless sprayer to paint boxcars, when asked if I
could paint a house, I knew I could get through it. That produced a
referral for a second house painting job. The owner of the caboose
I'm working on asked me to include some other work, like reattaching
a door, and other odd things. On the outside of the caboose, I merged
my knowledge of computer graphics with the research I did to
replicate period methods with modern technology. This allowed the
lettering paint to be applied in a way very similar to back when; but
the computer files can be shared on the Internet with other people
doing their own research. Which is: Ding-ding!, more content,
traffic, links, and documentation.
Meanwhile, I've become nearly
obsessed with content for the website. I always have the camera, I
document much of what I do. I have a Facebook page for the more
artistic stuff,
a website for my sign work,
and I think now that
spending more time on Linkedin than FB will have better interaction,
links and traffic back to my sites. It takes a while to learn, but
it's not complex.
One of my sons is gifted mechanically.
He has a wide knowledge of parts, operations, and repairs. Once in
awhile he buys something cheap, and fixes it. He bought a used motor
boat at a steep discount because the motor wouldn't run. It had all
new ignition parts, wires and spark plugs; but wouldn't run. My son
found out that sometimes the tachometer in the dash shorts out, and
stalls the whole motor. That was indeed the problem, now he has a
more valuable boat. I am now telling him to document every project
with before and after pictures. I fully expect that in time he'll
move up from boats and large lawn mowers to bulldozers and other
equipment. Having the progress documented will build trust with
future customers.
The old days are gone, adapt now. I
think denial is part of life, this is what I wrote while doing this
morning's Bible study. I'm reading in Genesis, where Lot is being
told to leave the city before it's destroyed. Here's the entry:

Little oblivion, bug oblivion...
To make a place in this world, a home,
a clearing of comfort in the thicket of difficulty, pain and
disorder. A place to raise a family. The great paradox of beauty next
to treachery. We keep the sorrow and evil in check, we get accustomed
to this, the masters of denial. But the whole world is a story, a
timeline with an end, a judgment. Much of what we work against
involves time: decay and disorder. Let us not be conditioned to
denying time and change in work and technology.
Tuesday, May 15. 2012
I've wanted to write this article for quite awhile; now, sadly, it appears the ideas may be less workable. I just read a WND news article about a mob of black youths attacking two white reporters in their car.This may provide the mob some vengeful satisfaction, but can only lead to greater isolation of the African American community.
 As for the news article, the page allows for comments at the bottom. By the time I read it, there were close to 400 comments. The overall tone was terrible, talk of shooting back, running people over with the car, sending blacks back to Africa. I commented two or three paragraphs, along the lines of my suspicions about the media portraying conservatives as racist, and emphasising that all blacks are not of a violent mob mentality. There were also comments saying that this is happening in other cities as well.
 The above aside, following are my ideas about -part- of what could be done in the African American part of town. I don't recall when I first started thinking about what could be done there, but an event made my thoughts much clearer and urgent. I was called to do some of the same style of window advertising that I had been doing along Magnolia Avenue; only this was for an African American Lady who was moving her hairstyling business to West Knoxville, which is probably the most affluent commercial area in these parts. As I interacted with her, I learned some of what she was dealing with. She works hard, saved money, carefully bought used but nice equipment for her salon. All the styling chairs, hairwashing sinks, and tasteful decor. It was common for her to be working at 9 or 10 pm.
 I don't know the details, but there was a lot of resistance from the white neighbors. They were suspicious, made phone calls, watched her, and complained. One instance stands out in my memory: a lady friend of hers was going through a difficult time in her life, and the gal who owns the salon was consoling and conversing with her in the car. The neighbor's reaction? Well, two black people setting in a car for a prolonged time, it must be a drug deal. That was part of what she had to put up with. She finally left, went back to another part of town, where she is now.
 My own life hasn't been easy, some of it just my own dumb decisions, so I'm not pleading for sympathy; just giving a little insight into why on some things I can quickly be pragmatic. So it is, I figure whites have had hundreds of years to figure out that all blacks are not the same, and if they haven't got it yet, well, don't hold your breath. I got to thinking that if black business owners can't move into white areas, then what's needed is for white shoppers to go to black owned businesses, wherever they're located.
 If whites think that they'll get mobbed, they'll stay far away. It was already bad enough; I'll tell you how it was, white people would be thinking and praying something like this: Oh Lord, if I drive on this road, I can cut 15 miles off my course, but Lord, PLEASE_DON'T_LET my car break down here! How did I think that kind of prayer? I probably have more interaction with African Americans than many white folks, but it was in church, with other Christians. Driving through the minority neighborhood is like:"Man, those guys there are bad lookin' dudes, they look like they're from THE 'HOOD. Of course, once I started working there in the black owned businesses, spending hours on end there, I was a lot more relaxed. I got used to being in a non church setting, they're already accustomed to the occasional white person being around. 
 As for my ideas, they're not complicated, maybe that's an advantage. In marketing, you pitch the benefits of the product, not the product itself. Tires are family safety, air conditioning is home comfort and health. So what pitch can be made for a place like Magnolia Avenue? For starters, diversity. There are other ethnic groups and businesses there. In order to make i visual splash with the area's diversity, one could make large exterior wall paintings with strong and distinct ethnic flair. I did an online image search for African, Mideastern, and Asian fabric patterns and pottery patterns. So the wall would be painted sort of like a mural, but simpler, fitting well withing the theme of ethnic and cultural atmosphere. I don't envision murals with political messages, just very esthetically pleasing huge wall paintings decorating that part of town.
 It might even be possible to created a few jobs with the project. A few of the paintings would have to be done for free or very low cost. But maybe one could do it in this way: First, you find out from a neighbor or through casual conversation what country the owner of a convenience store, or his parents are from. You make a color sketch of his store with the pattern painted large on a prominent wall. You approach the owner of the store with this pitch: "Say Nassir, we'd like to paint this on your store." He's probably going to recognize the artwork right off, but if he doesn't want to spend much or any money, offer this deal:"Well, we'd really like to see this happen around here, so here's our proposition: You let us see your sales tax returns for the previous and the following years; and we'll do it for___ (or free).
 You go ahead with the project, but the goal is to be able to show the other businesses the economic benefit to having their store freshened up with the ethnic artwork. This might arm you with enough facts to be able to charge for the work, and pay the helpers, which are from the immediate area.  As to how to pitch the neighborhood to shoppers from elsewhere, you might get help from newspapers and so forth.Below is a picture of artwork I made that is supposed to look African, I think this would look pretty cool done large on a wall.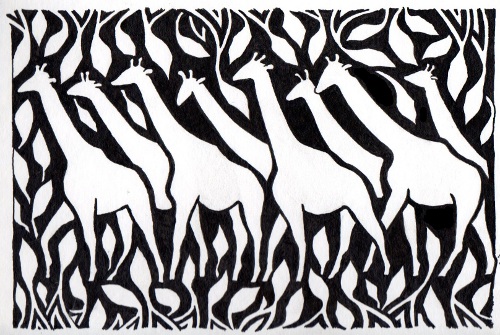 Thursday, March 29. 2012
At a popular sign makers' forum, a post was started with the title "I got robbed this morning". When you clicked on the link, the page said "Pump #6". My reply is this:
Granted, I drive an old truck, but I get much better mileage at 40 mph than 50.
I wish there was a way to stick it to the oil companies in terms of
supply and demand. Here's an idea: what about some sort of facebook like
site or app where when you're about to go on an errand or drive 20
miles in a direction, you post it at the site, then you can deliver an
extra parcel or passenger to a destination along the way; thereby
eliminating the fuel consumption of an extra vehicle.
That alone
isn't the idea that would bloody their nose, but with technology being
what it is, ideas like this could be gathered and shared...
Thursday, November 3. 2011
Here's a picture of one of the cards my sister in law often sends to my children: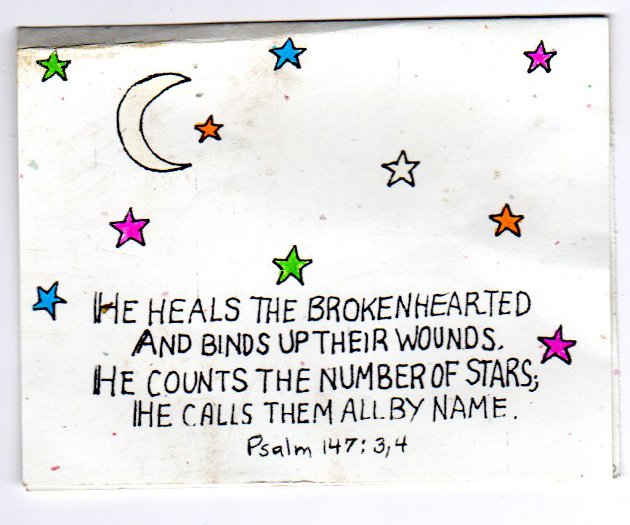 Continue reading "A case of "the last shall be first"?"