Tuesday, October 4. 2011
I did more exterior house restoration over the weekend; was pleased with the results. I had replaced the broken shingles the prior weekend, and now was trying to paint. Only problem was running out of paint. I wasn't sure when I started if I would have enough, it turns out not. The old shingles really absorb a lot of paint. 
 So I looked around and found a quart of Dutch boy white, and a gallon of Bob Villa "light tint base". It looked rather white, but I wasn't sure how much pigment it actually had. Being desperate, I reasoned that it must have -some- white pigment, or it would be clearer when I tested it on a piece of wood. Also, what store would sell just the base? The odds are that they did add pigment. So I put the quart and gallon in the pail, and it worked great. Here's a couple of pictures: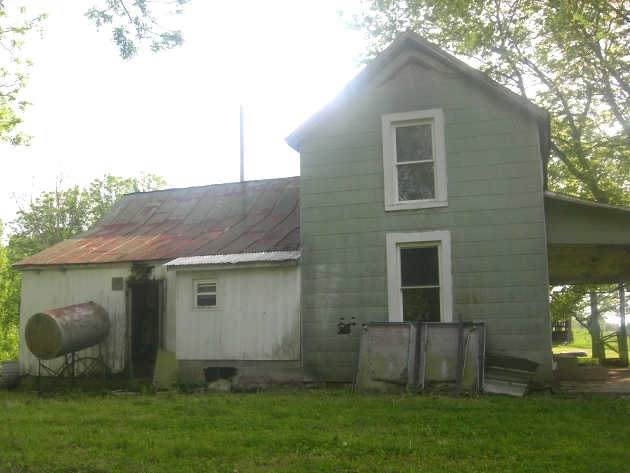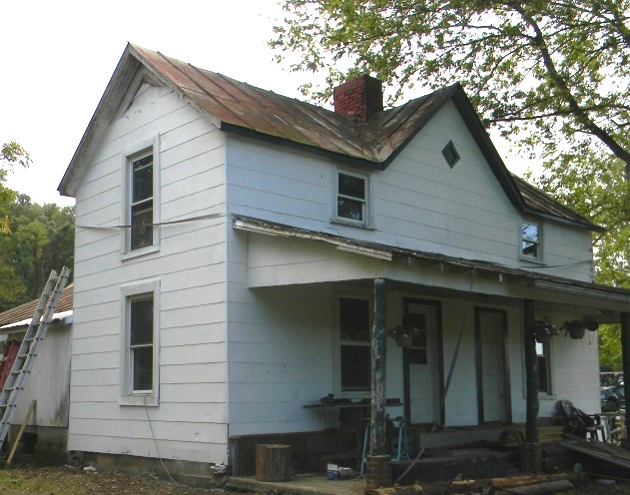 Continue reading "My own Monastery?"
Monday, May 9. 2011
I was going to ask that you allow me to coin a new word: parentoia. But I just Googled it, and others are using that term. The site I looked at used in regards to parental fear for their child's safety. I wonder though, if they're familiar with the dictionary definition of paranoia: illusions of grandeur or persecution. 
 So my version of parentoia is for parents of teenagers: illusions of authority or relevance.
- - - - - - - - - - - - - - - - -
Would an aspect of dry humor be material that's only half kidding?
Monday, April 25. 2011
Somebody was throwing away a tile cutting saw, still in the box. It had been used, but probably only once. There were cut tile pieces next to it, so I'm thinking that maybe a guy had some tile work he wanted to do, bought a cheap Harbor Freight saw. Used it for the work, then threw it away. I took it home, and Saturday afternoon, tried cutting some rocks with it; as a with-kids project. I already had the rocks; I was saving them because I really like the way metamorphic rocks look. I study their appearance because I want to be able to reproduce that layered look quickly and easily with paint. 
 As it turns out, The cut edges show the layers in a very nice way. Here are a couple pictures of the results. Most of these rocks have a spray clear coat on them, to make the patterns show more.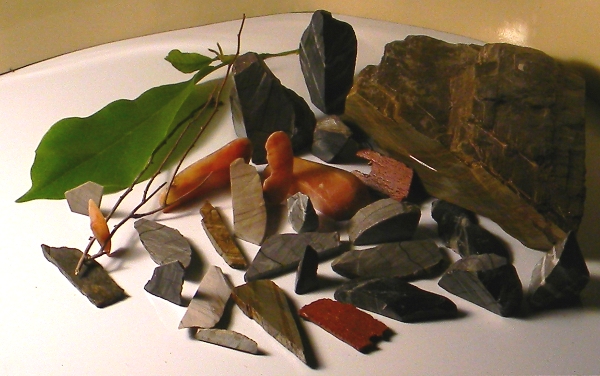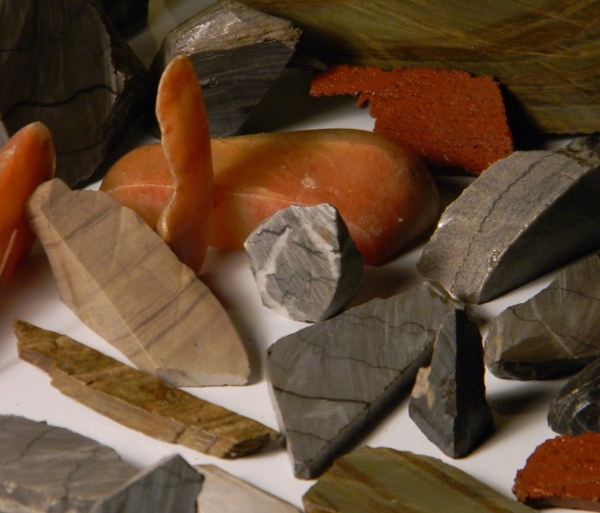 Wednesday, March 23. 2011
Be careful with used computers and hard drives, OK? The other night, some of my daughter's pictures got deleted from a computer. Some time back, I had been online at a hotspot where I have permission to use their connection. I was asked if I wanted the latest version of CClean (registry cleaning software). I did, and while at the site, was asked if I also wanted other free software. They offered a data recovery program, so I got it. As a note, I'm quite pleased with CClean, use it all the time.
 So I decided to install the as yet unused software on the computer, and see if we could retrieve the lost pictures. We did, but what was shocking was how many other pictures were also pulled up...something like 12 thousand. A lot of them were repeats, so the real number was a third of that or less, but it was still amazing. Things I hadn't seen before, maybe from the previous owner of this computer.
 I know a guy that's a lot more computer savvy than I am, I asked him about it. He said that if you've ever seen the abbreviation F.A.T., like in FAT32, what it means is file allocation table. There's a little place at the beginning of the hard drive that tells your computer where stuff is stored on the hard drive. So, when you format a drive, you THINK you're erasing it, but you're not. You're only erasing the info about WHERE it's stored on the HD. All the data is still there.
 I get a kick out of taking old throw away computers, and seeing if I can make them work. Most are so locked up that they take 20 minutes to fully boot. the cursor will hardly move. So I install CClean, clean the registry, empty the temporary internet files, do the basic clean up stuff, the defrag the disk. The computer has new life. It's really dumb what people leave on their computers, they don't even try to delete files. The ones with bank names, names on accounts, etc, etc. I have no need for the stuff, but had it fallen into the wrong hands, watch out.
What you need to do is overwrite the disk. 'Google' "zero out" and you'll find info on how to overwrite you disk with new data, which will erase the old data. Hmmmm, I just thought of a new question for the tech guy: If I delete the data out of a certain folder, and load new data of equal or greater size into that folder, will the first data be overwritten? That way, you could give away or sell a working computer, and know that sensitive info is erased.
 Always new stuff to learn, but for sure, be careful when disposing of computers and drives. Seriously. I'm only an intermediate tech guy, at best, and I can easily retrieve this stuff. Even if I couldn't boot the computer, because of password issues, or a virus, I can put the drive in an external HD enclosure, and take -anything- I want from the drive. I did it for a friend who couldn't get his computer to start. Recovered some pictures he wanted from it.
Sunday, February 13. 2011
It's easy to get so busy that you don't spend as much time with your children as you would like. We have a lot of used bicycles, which supplies me with enough parts to make enough for each child to have a working one. 
 The problem has been that I didn't have good repair methods, so only a few bicycles are ever working at a time. Now, however, I have set up an easy and efficient bicycle repair station in the carport. Most of the stuff was already there, the only real addition was the half drum with water. What I have is: the half drum/barrel with water for testing inner tubes, a sitting/standing stool for sitting closer to the ground than a chair would allow, a ratchet and sockets, a few wrenches, several tire spoons, a can of spray lubricant, a little tub of grease, a package of tube patches, and an air compressor.
 You could replace the compressor with a tire pump, and I found that the patches with the little tube of glue work better than the newer style that has adhesive already applied. This is actually starting to be fun, and at the end of the day, I feel like a million bucks, knowing I've fulfilled part of my role as a father.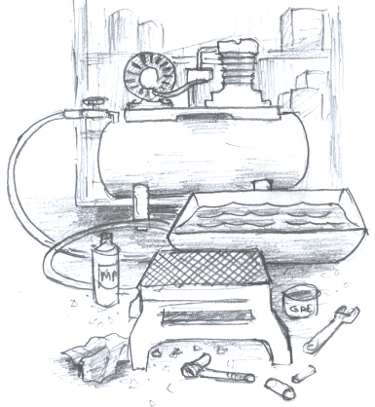 Friday, November 26. 2010
This isn't about some unusual herb or
combination of minerals; it has more to do with commission vs
omission. Specifically, omission. I must confess (LDS readers don't
shoot!) that I'm no stranger to coffee. I've even tried the "energy"
drinks. Most of them I immediately rejected, WAY too much sugar. Even
the one that claimed to be natural fruit juice (Sambo, or Bongo,
something like that) didn't work for me. I have since found the one
called Vitamin Water energy formula, and another called Hydrive,
which also purports to have vitamins. These two I like better than
the others. Basically, they're a vitamin water formula that's low
sugar, no artificial sweeteners, and caffeine added.
But really, that's NOT what this is
about. For years I've struggled with physical energy. But now, I
think I have it conquered for good, provided I maintain the method.
Which is WHAT you're wondering?? Simple...cut the size of your meals
in half. You can always carefully munch on something in between meals
if the need arises. Before, I could drink 4 cups of coffee, and feel
just normal. Now, I have to be careful with a couple cups, so that I
don't have that too much coffee feeling.

I do know for sure that for many years
I've had to be careful with sugar intake. I'm surrounded by people
who would be aghast if I said "Maybe I'm slightly diabetic". To
them, it's related to a confession of faith, your spoken words can
work against you too. Well, I understand the reasoning, really I do,
but I tell them that you can't fix a problem till you admit that you
have it. One of those paradoxes in life. Here's a good rabbit trail:
I've thought about listing the great paradoxes I've seen, in order of
their magnitude, but then I realized that trying to order them might
be a paradox in itself. And no, I don't think about these things too
much, you just let you mind go to mush in front of the TV, so there!
Oh yeah...while you're turning off the A-musement (no think), grab an
energy drink...just kidding.
Have I talked to a doctor about this
sugar intake thing? No, not yet. I try to live debt free, which means
I spend an inordinate amount of time keeping old things working, and
I moved to a part of the country that's "economically challenged".
So I'd get there, he/she would say that I have a mild issue with
sugar, but if I watch what I eat, and exercise moderately, I'll be
fine...and I owe them $500 please. Some things I can figure out on my
own; in fact, I wonder if we humans haven't gotten out of touch with
the signals that our bodies send us...but here again is my propensity
for rabbit trails.

More about this eating thing: the
following may be pure baloney, or it may be a bulls-eye. Either way,
it's worth thinking about. Horses and founder. If you know nothing
about horses, you would probably make the same fatal (for your horse)
mistake that many new horse owners make, that is regarding them as
like other pasture animals. They_are_not. Consider the differences in
suspension and gearing between a Porsche and a freight truck. Each
one does what the other does not. So it is with horses and cattle. In
order for a horse to be as fast and powerful as they are, a design
compromise was made. A horse has one small stomach, and must eat
cleaner food than a cow. No moldy hay here. Founder is a very common
condition among horses, if you're not careful, I can almost guarantee
that it will happen to yours.

Let's say that Mr. Horsey finds a
full, opened bag of sweet feed. This is grain coated with molasses,
horses like it as much as people do ice cream. Anyway, Horsey gorges
himself on the grain, then stands there in his corral or stall. His
little stomach can't handle all that rich food, so it sours. A common
saying about horses is that they have "5 hearts". What is meant
is that there's one heart in the chest, and just above each hoof is a
bunch of small blood vessels. When the horse runs, these blood
vessels pump blood back through the body. The bad news is that when
food sours in a horse's stomach, the toxins clog these fine blood
vessels, and the horse is injured for life. If you catch it in time,
and walk the horse around for a few hours, it might be saved,
otherwise, it'll never run or pull harness again. It's called
FOUNDERED, you absolutely must remember this if you own or work with
horses.
Another rabbit trail? Not this time. I
wonder if we don't do something similar to ourselves when we overeat.
Think about the tiny vessels around your heart, man they work 24/7.
They would be in contact with toxins more than other veins. And think
about how very TINY the veins in your brain must be. People talk
about a "sugar buzz"...could this be what's happening? Sure, I
know about things like insulin and dopamine, but this is worth
thinking about...call it "food for thought". Bad enough to use
old cliches, worse still to abuse them. Wait, I know, call it food
for a-musement.

Whatever you call it, man this works
for me. And keeps working...some things work for like a week, then
fizz out, not this.
Sunday, July 18. 2010

I've had a bit of a problem with spam at this blog, so I changed the settings, but I think I did so incorrectly. So if you've tried to reply, but couldn't, I think I fixed the error. Sorry for the inconvenience. All replies will still need to be moderated, not to weed out contrary opinion, but rather, obscenities and off topic ads.

Sunday, July 18. 2010
This is one of my experimental projects from this week. It's been 30 plus years since I've drawn Asian lettering, but I've always liked the look. So it was a pleasure to draw this Chinese character for "eternity". I drew it as a black and white image using pen and ink, then scanned and vectorized it. Now I can have a plotter draw or cut it large enough to put on a sign.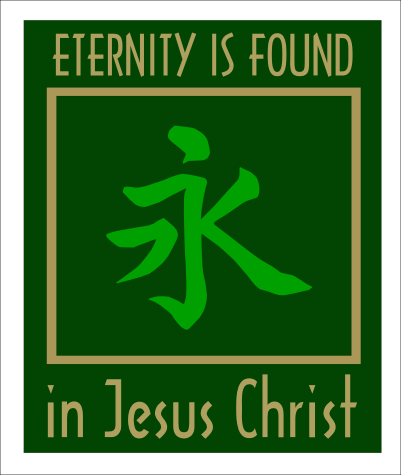 Saturday, July 10. 2010
A more concise conclusion of the
previous post entitled "Ups and Downs" would have been: As
contrary as it sometimes feels, having fun with cutting edge graphics
methods will actually improve my income, living space, and community.
One of my favorite mediums is vehicle graphics. I've thought about
what a Christian approach to designing in this medium would look
like, and wrote about it at:
http://twoedgegraphics.com/serendipity/index.php?/archives/20-Christain-art-and-vehicle-graphics.html
It's a blog entry on Thursday May 20th, 2010.
In this post, I want to think about
what defines beauty. This is just 'off the top of my head', so future
revisions wouldn't surprise me. Of course you've heard that "beauty
is in the eye of the beholder", and obviously, it's quite a
subjective topic. Maybe that's why my contemplations quickly turned
toward first defining ugly. That is probably something more people
would be in agreement on. I'm going to try and insert 3 pictures into
this post...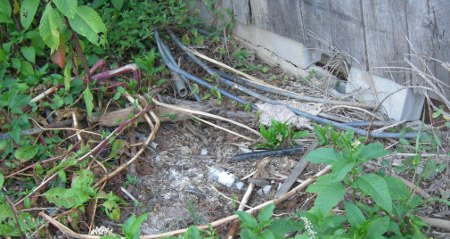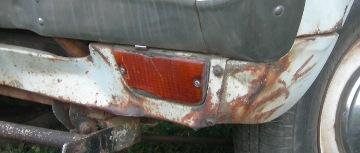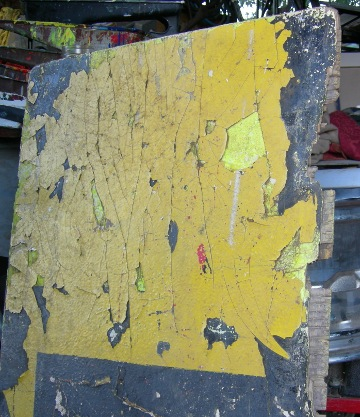 The first one is some junk next to a
shed. If it doesn't show, there is an empty drink bottle in the
center of the picture, a rag between the pipes, and crumbled
something near the bottle. The shed was falling over, so it's propped
up with blocks. This scene is quite ugly to me. But why? If the area
was only weeds, some dead, some fallen over, brown tree leaves fallen
about the weeds, it wouldn't look this bad. It could be early
indoctrination as to the ugliness of litter, but I think it's more
than that. I think that a lot of it has to do with disorder. The
disorder is compounded by the mixing of the types of objects. If it
were all plant matter, that would be one thing. But to add a
discarded drink bottle, a used rag, sections of pipe, and crumbled
construction material, there's no similarity. If it were a pile of
curved pipe sections, dropped on some clean asphalt, it would
probably even look appealing, some wise guy might get NEA funding for
it.
Now consider the other two pictures.
One is an older mini truck, below the front fender. The other is a
piece of plywood that was once part of a billboard. These too are
quite ugly to me. But why? There is a lot less variety of objects
here. The truck front is rumpled metal, paint, and rust. The plywood
is paint and layered wood. I think what drives up the severity of the
ugly here is that it's a loss of order. These things were once more
orderly, and now have broken, deteriorated, and lost their former
glory. Any viewer can see that there is destruction here. I think
that we're reminded of that continual process around us. It has been
called entropy, for every one of us, the inescapable result is death.
The end of our life, the end of the ones you hold dear. Could it be
that these scenes of slow destruction continually bring it to our
attention?
This is related to an experience we
had. We were driving in a 1968 Ford Falcon, nice body, fresh paint,
save for the front fender, which had been crumpled a bit. I made a
large band-aid from aluminum sheet, painted with accurate colors.
This was till I could take the time to fix the fender right, body
work ain't easy. Most people liked the band-aid so much, that I
wasn't in a rush to fix it. Not everybody though. We pulled into a
parking lot where a (church?) group had set up a fund raising car
wash. Parents and children alike were there to do the work. As soon
as our car was in the parking lot, the entire crowd stood still,
looked at us with sour faces, and someone actually said:"eeeeyyooo".
So I did a u-turn and departed. This and other experiences got me
thinking about people's attitudes. Of course the worst part was the
adults passing this along to the children, but I wonder if this is
nigh unto a religion. I call it new-ism. It's as though people are
painfully aware of the entropy, the slow destruction of everything
around us; and the sin in the world. Lying, stealing, all the forms
that selfishness takes. So they try to partition themselves from it
by having everything around them new. New and shiny. They get to the
point where old (even if very well made) is yucky. I've seen it too
many times.
Again,a lot of this is thinking out
loud. I have a few mural like projects I'm moving forward on, but
want to be sure that they are designed in an intelligent way, which
reminds me, I think one aspect of beauty that we create is that it's
a gift, we bring pleasure to others with the effort.